Model Information: This is Micro-Trains first body style. It was introduced in 1972. Its is a model of a Pullman-Standard PS-1 boxcar from circa 1957. Micro-Trains does not market it as a PS-1 so as to allow themselves some latitude so they can use this car to model non-PS prototypes. Hundreds of different releases have used this body style in various paint schemes and road names. They are equipped with 6' sliding doors, either Youngstown (4/5/4 rib pattern) or Superior (7 panels). It is not a model of a "modern" steel boxcar as the length (40 foot) and the roofwalk are more typical of the transition era (1939 - 1957).

In 2019, Micro-Trains started releasing this model with new body-mounted couplers attached to a new underframe.
Prototype History
: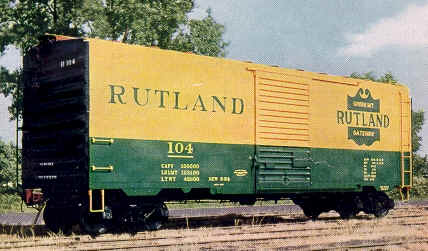 The 40' Boxcar is widely known as one of the most popular freight cars used by railroads as they transitioned from steam to diesel. In particular the Pullman Standard or PS-1 design was one of the most popular and was widely used by North American railroads. These boxcars were built beginning in 1947 and share the same basic design, with certain elements such as door size, door style or roof type varying among the different railroads and production years. When production of these cars ceased in 1963, over 100,000 had been produced.
So just what is a PS-1? Well the simple answer is it is any boxcar built by Pullman Standard from 1947 on. The design changed over the years – sometimes subtly, sometimes for customer request, and sometimes in a larger way. In general, most PS-1's built from 1947 to 1961 share the same dimensions and basic construction techniques. These cars all had a length of 40′, a height of 10'5″ or 10'6″, welded sides and ends and roof of Pullman's own design. The greatest variation was in the size and style of doors used. Pullman Standard also offered 50′ and later 60′ boxcars – also with the PS-1 designation.
Road Name History
: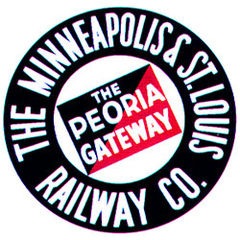 The M&St.L dates to 1853 and received the M&St.L name in 1870. They ran west from Peoria, Illinois to Oskaloosa, Iowa. There the mainline split. The more heavily trafficked line headed north through Marshalltown, Albert Lea and ended in Minneapolis. The other route from Oskaloosa headed northwest to Des Moines, then traced a big arc thought Spencer, Iowa; Winthrop, Minnesota and back to Minneapolis. A northeast to southwest diagonal line connected these to parallel routes. In addition to some shorter branches, there was a very long branch from Winthrop, Minnesota to Aberdeen, Leola, and Akaska, South Dakota. Although they had St. Louis in the name, and they were known as "The Louie" by locals, they never went anywhere near that city. Total mileage during the 50's ran about 1,400. That's just a bit smaller than Western Pacific.
The M&St.L called itself "The Peoria Gateway." Peoria, Illinois, like Chicago and St. Louis is a gateway between eastern railroads and western railroads. M&St.L was in a position to forward freight from Great Northern and Northern Pacific in Minneapolis to Peoria and its connections with Pennsylvania, Nickel Plate, Toledo Peoria & Western, and their favored connection, New York Central's Peoria & Eastern subsidiary. Because Peoria was far less congested than Chicago, it often saved a day of transit time between Northwest and Eastern end points.
M&St.L also jointly marketed a route with Illinois Central for traffic between Chicago and Minneapolis under The Albert Lea Route name. It was surprisingly successful given that Burlington, Milwaukee Road, Chicago & North Western, and Soo Line all served the same corridor.
Passenger service was not their forte. Rock Island served the same major cities with nicer trains. That left M&St.L with a fleet of doodlebugs, often running with one to three trailers to serve local communities. An average passenger on the M&St.L traveled just 90 miles. In later years, Budd streamlined coaches served as trailers.
M&St.L operated in receivership from 1923 until 1942, longer than any other railroad at the time. Lucian Sprague, the receiver and later president dumped the oldest freight cars and bought new ones. By 1950, the steam fleet (the largest engines of which were light Mikes and light Pacifics) had been completely replaced with diesels.
M&St.L had more Alco RS-1's than any other line (35) and painted them in NINE different paint schemes. SD7's were painted in one of those schemes: black, cream, and gray. F units were painted in two versions of yellow and green with orange pinstripes. Switchers were black with modest striping. A new president in 1956 brought a new red and white paint scheme that was a nod to his alma mater, the University of Nebraska. Incidentally, that is the TENTH paint scheme for the RS-1's. A bit later, they began painting freight cars in the same red with big jaunty M&St.L lettering that Lionel made nationally famous.
During this period, M&St.L tried to gain control of Toledo Peoria & Western and the Monon. Pennsylvania and Santa Fe joined forces to block the TP&W acquisition and that was that. The Chairman (Ben Heinman) left M&St.L to head the Chicago & North Western. In 1960, C&NW bought the railroad assets of the Minneapolis & St. Louis and merged the operations. The M&St.L corporation became an empty shell, which changed its name to MSL Industries and got into the hardware and finished steel businesses. MSTL reporting marks are still used today by Union Pacific to denote certain leased car fleets.
Brand/Importer Information
: Micro-Trains is the brand name used by both Kadee Quality Products and Micro-Trains Line. For a history of the relationship between the brand and the two companies, please consult our
Micro-Trains Collector's Guide
.
Manufacturer Information
:

Micro-Trains Line split off from Kadee Quality Products in 1990. Kadee Quality Products originally got involved in N-Scale by producing a scaled-down version of their successful HO Magne-Matic knuckle coupler system. This coupler was superior to the ubiquitous 'Rapido' style coupler due to two primary factors: superior realistic appearance and the ability to automatically uncouple when stopped over a magnet embedded in a section of track. The success of these couplers in N-Scale quickly translated to the production of trucks, wheels and in 1972 a release of ready-to-run box cars.
Micro-Trains Line
Co. split off from Kadee in 1990 to form a completely independent company. For this reason, products from this company can appear with labels from both enterprises. Due to the nature of production idiosyncrasies and various random factors, the rolling stock from Micro-Trains can have all sorts of interesting variations in both their packaging as well as the products themselves. When acquiring an MTL product it is very important to understand these important production variations that can greatly enhance (or decrease) the value of your purchase.
Please consult our
Micro-Trains Collector's Guide
Item created by:
CNW400
on 2019-05-15 08:34:29. Last edited by
CNW400
on 2020-07-01 14:33:13
If you see errors or missing data in this entry, please feel free to
log in
and edit it. Anyone with a Gmail account can log in instantly.