Specific Item Information: This model appears in an 80s vintage Life-Like catalog. It may never have been produced. It may be an import of a Mehano GP40. If anyone has one or finds one, by all means, let us know!
Model Information: Life-Like introduced this model in 1996. This model was one of several pretty good quality locomotives created by Life-Like in the 1990s. The model uses a dual-flywheel design, but the chassis is NOT a split-frame. Running quality is fairly good, but a DCC install is likely fairly challenging. Lighting is NOT directional. Due to the simpler design, Life-Like was able to offer these models at a lower price point than Atlas or Kato. Hence they were fairly popular. Since Walther acquired Life-Like, we have yet to see a re-release. Likely the chassis is a complete throw-away, and the shell is a bit on the simplistic side for what modelers expect in the current marketplace (2017). This model was sold either as a SD7 or a SD9, as there is little visual difference between both prototypes.
Prototype History
: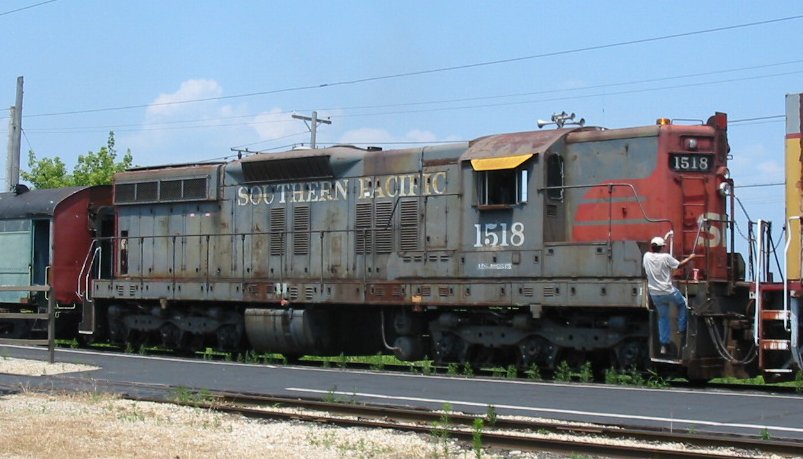 An SD7 is a 6-axle road switcher diesel-electric locomotive built by General Motors Electro-Motive Division between February 1952 and November 1953. It had an EMD 567B 16-cylinder engine producing 1,500 horsepower (1.12 MW) for its six traction motors. 188 were built for United States railroads. Starting in August 1953 a total of 26 SD7s were produced which used either the 567BC engine or the 567C engine. These units are noted on the roster below.
This was the first model in EMD's SD (Special Duty) series of locomotives, a lengthened B-B GP7 with a C-C truck arrangement. The two extra axles and traction motors are useful in heavy, low speed freight service. SD series locomotives are still being produced today, with the SD70 being the most popular example in current production, and with many SD40-2s and rebuilds to SD40-2 specifications, or SD60s still in operation.
Yesterday's Special Duty eventually became today's Standard Duty, and yesterday's General Purpose has become today's Special Purpose ("time" freight and other time-sensitive lading). True GPs were discontinued after the completion of the last GP60 in 1994. Recently intermodal and other fast freights may be hauled by 6 axles locomotives with 4 powered axles, such as the SD70Ace-P4.
Many earlier model GPs, most particularly GP40s, GP39s and GP38s, also their SD equivalents, SD40s, SD39s and SD38s have been rebuilt to Dash 2 standards for another 30 to 40 years of service.
From Wikipedia
Road Name History
:

The Southern Railway (reporting mark SOU) (also known as Southern Railway Company) was a US class 1 railroad that was based in the Southern United States. It was the product of nearly 150 predecessor lines that were combined, reorganized and recombined beginning in the 1830s, formally becoming the Southern Railway in 1894.
At the end of 1970 Southern operated 6,026 miles (9,698 km) of railroad, not including its Class I subsidiaries AGS (528 miles or 850 km) CofG (1729 miles) S&A (167 miles) CNOTP (415 miles) GS&F (454 miles) and twelve Class II subsidiaries. That year Southern itself reported 26111 million net ton-miles of revenue freight and 110 million passenger-miles; AGS reported 3854 and 11, CofG 3595 and 17, S&A 140 and 0, CNO&TP 4906 and 0.3, and GS&F 1431 and 0.3
The railroad joined forces with the Norfolk and Western Railway (N&W) in 1982 to form the Norfolk Southern Corporation. The Norfolk Southern Corporation was created in response to the creation of the CSX Corporation (its rail system was later transformed to CSX Transportation in 1986). The Southern Railway was renamed Norfolk Southern Railway in 1990 and continued under that name ever since. Seven years later in 1997 the railroad absorbed the Norfolk and Western Railway, ending the Norfolk and Western's existence as an independent railroad.
Brand/Importer Information
:

Life-Like Products LLC (now Life-Like Toy and Hobby division of Wm. K. Walthers) was a manufacturer of model railroad products and was based in Baltimore, Maryland.
It was founded in the 1950s by a company that pioneered extruded foam ice chests under the Lifoam trademark. Because ice chests are a summer seasonal item, the company needed a way to keep the factory operating year round. As model railroading was becoming popular in the post-war years, they saw this as an opportunity and so manufactured extruded foam tunnels for model trains. Over the years, Life-Like expanded into other scenery items, finally manufacturing rolling stock beginning in the late 1960s. At some point in the early 1970s, Life-Like purchased Varney Inc. and began to produce the former Varney line as its own.
The Canadian distributor for Life-Like products, Canadian Hobbycraft, saw a missing segment in market for Canadian model prototypes, and started producing a few Canadian models that were later, with a few modifications, offered in the US market with US roadnames.
In 2005, the company, now known as Lifoam Industries, LLC, decided to concentrate on their core products of extruded foam and sold their model railroad operations to Wm. K. Walthers.
In June 2018, Atlas and Walthers announced to have reached an
agreement
under which all Walthers N scale rolling stock tooling, including the former Life-Like tooling, will be purchased by Atlas.
Read more on
Wikipedia
and
The Train Collectors Association
.
Item created by:
gdm
on 2017-04-28 11:53:49. Last edited by
Alain LM
on 2020-12-10 03:08:23
If you see errors or missing data in this entry, please feel free to
log in
and edit it. Anyone with a Gmail account can log in instantly.