Model Information: This engine was first released by Arnold Rapido in the late 1960's. The shell is made of metal and these things are heavy. All wheels provide pickup and all wheels are geared as drivers. They are quite noisy due to the metal gearing. The design is too old to have flywheels but they are so hefty the sheer mass provides some of the momentum they will need to cross turnouts and dirty track.

They have no headlights and don't even think about DCC. They were reasonably well decorated though the early versions have most details molded in to the shell. As is normal for engines of this period, they sport shiny metal wheels and Rapido couplers on both front and back.
Prototype History
: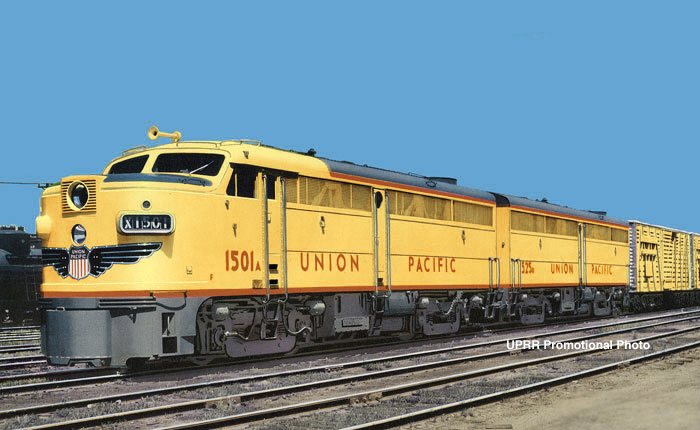 The ALCO FA was a family of B-B diesel locomotives designed to haul freight trains. The locomotives were built by a partnership of ALCO and General Electric in Schenectady, New York, between January 1946 and May 1959. They were of a cab unit design, and both cab-equipped lead (A unit) FA and cabless booster (B unit) FB models were built. A dual passenger-freight version, the FPA/FPB, was also offered. It was equipped with a steam generator for heating passenger cars.
Externally, the FA and FB models looked very similar to the ALCO PA models produced in the same period. Both the FA and PA models were styled by General Electric's Ray Patten. They shared many of the same characteristics both aesthetically and mechanically. It was the locomotive's mechanical qualities (the ALCO 244 V-12 prime mover) and newer locomotive models from both General Motors Electro-Motive Division (EMD) and General Electric (the partnership with ALCO was dissolved in 1953) that ultimately led to the retirement of the FA/FB locomotive model from revenue service. Several examples of FAs and FBs have been preserved in railroad museums, a few of them in operational status on such lines as the Grand Canyon Railway and the Napa Valley Wine Train. ALCO's designation of F marks these locomotives as being geared primarily for freight use, whereas the P designation of the PA sets indicates that they were geared for higher speeds and passenger use. However, beyond this their design was largely similar, and many railroads used FA and PA locomotives for both freight and passenger.
Externally, the FA-1/FB-1 could be distinguished from the FA-2/FB-2 (FPA-2/FPB-2) by the position of the radiator shutters – the FA-1/FB-1's shutters were at the far end of the carbody, whereas on the FA-2/FB-2 they were further forward, the design having been modified to allow the installation of a steam generator behind the radiator.
The FPA-4/FPB-4 were visually different due to the additional radiator space that was positioned below the shutters.
From Wikipedia
Read more on
American-Rails.com
.
Road Name History
: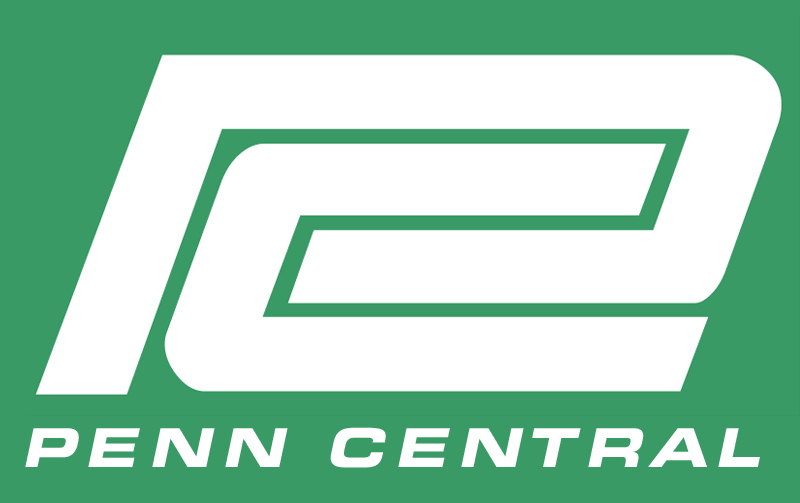 The Penn Central Transportation Company, commonly abbreviated to Penn Central, was an American Class I railroad headquartered in Philadelphia, Pennsylvania, that operated from 1968 until 1976. It was created by the 1968 merger of the Pennsylvania and New York Central railroads. The New York, New Haven & Hartford Railroad was added to the merger in 1969; by 1970, the company had filed for what was, at that time, the largest bankruptcy in U.S. history.
The Penn Central was created as a response to challenges faced by all three railroads in the late 1960s. The northeastern quarter of the United States, these railroads' service area, was the most densely populated region of the U.S. While railroads elsewhere in North America drew a high percentage of their revenues from the long-distance shipment of commodities such as coal, lumber, paper and iron ore, Northeastern railroads traditionally depended on a mix of services.
As it turned out, the merged Penn Central was little better off than its constituent roads were before. A merger implementation plan was drawn up, but not carried out. Attempts to integrate operations, personnel and equipment were not very successful, due to clashing corporate cultures, incompatible computer systems and union contracts. Track conditions deteriorated (some of these conditions were inherited from the three merged railroads) and trains had to be run at reduced speeds. This meant delayed shipments and personnel working a lot of overtime. As a result, operating costs soared. Derailments and wrecks became frequent, particularly in the midwest.
The American financial system was shocked when after only two years of operations, the Penn Central Transportation company was put into bankruptcy on June 21, 1970. It was the largest corporate bankruptcy in American history at that time. Although the Penn Central Transportation Company was put into bankruptcy, its parent Penn Central Company was able to survive.
The Penn Central continued to operate freight service under bankruptcy court protection. After private-sector reorganization efforts failed, Congress nationalized the Penn Central under the terms of the Railroad Revitalization and Regulatory Reform Act of 1976. The new law folded six northeastern railroads, the Penn Central and five smaller, failed lines, into the Consolidated Rail Corporation, commonly known as Conrail. The act took effect on April 1, 1976.
Read more on
Wikipedia
.
Brand/Importer Information
: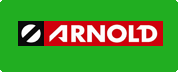 Founded in 1906 by Karl Arnold in Nuernberg, K. Arnold & Co. began its life producing tin toys and related items. They produced an extensive line of model ships, doll house items and other toys. In 1935, K. Arnold & Co. hired Max Ernst as their managing director. Ernst, not to be confused with the German realist artist of the same name, was a significant factor in the future of Arnold.
There are several distinct phases of Arnold's model train production. In the period of 1960 - 1962, Arnold marketed the Arnold Rapido 200 product line; this line was very crude yet it also was a sensation because of its much smaller size than TT.
The next phase was from 1963-1967, when the rapido product line begins to swing toward scale representations of the trains. It is during this period that the "Rapido Coupler" comes into production, beginning its widespread use by all model train manufacturers in N-Scale. It was in 1964 that the term "N-Scale" came into use. Between 1968 and 1970, rapido line of trains reached maturity, notably with its turntable and roundhouse. Arnold entered into a business relationship with the U.S. company Revell around 1968, beginning the marketing of Revell Rapido model trains. This relationship was marked by the beginning of production of more accurate North American prototype models by Arnold. This relationship continued for several years, ending in the late 1960s or early 1970s. Arnold continued their expanded production, with new models until the early 1990s.
On Max Ernst's 1976 retirement, Arnold employed perhaps 200 to 250 people, using three facilities in the Nurnberg area. The Company continued under family control until 1995, when Arnold went into bankruptcy and was sold to Rivarossi of Italy. Rivarossi, in turn, also went bankrupt, leading to the sale of all assets to Hornby of the United Kingdom. Production is carried out in China.
Item created by:
gdm
on 2016-03-20 15:01:20. Last edited by
gdm
on 2020-12-08 08:14:11
If you see errors or missing data in this entry, please feel free to
log in
and edit it. Anyone with a Gmail account can log in instantly.