Specific Item Information: Paragon4 Sound
Model Information
: BLI released its NW2 and SW7 concurrently in 2019, using the same chassis, as the two engines are largely similar.
The main spotting differences are:
- Windows: Rounded on NW2, Rectangle on SW7.
- Forward radiator grid: Small on NW2, Large on SW7.
Precision Drive Mechanism engineered for continuous heavy load towing and smooth slow speed operation
Premium Caliber Painting with Authentic Paint Schemes
Prototypical Light Operation with Golden White LED Headlight (and MARS Light Where Applicable)
Die Cast Body with Die Cast chassis for Maximum Tractive Effort
(2) Operating MicroTrains #1015 or Compatible Couplers
Separately Applied Hand Rails, Grab Irons, Rear Diaphragm, and Horn(s)
Will Operate on Code 55, 70, and 80 Rail
Recommended Minimum Radius: 9.75 inches
DCC Information
:
NEW Paragon3 Sound & Operation System FEATURING ROLLING THUNDER (TM) with Authentic Sounds and Prototypical Operation in both DC and DCC environments
Integral DCC Decoder with Back EMF for Industry Best Slow Speed Operation in DC and DCC
Operates in DC & DCC (use DCMaster for DC Sound)
Record & Play Operation - Records and plays back sounds and movements once or repeatedly for automatic operation
16-bit Sample Rate for exceptional high frequency sound clarity
Alternate Whistle / Horn where applicable for locomotive with air horn and steam whistle - both the main whistle and alternate can be easily played
Adjustable bell ringing interval for faster or slower bell
Numerous user-mappable functions with available keys
Passenger Station Ambient Sounds - Controlled with Function Key
Freight Yard related radio chatter - Controlled with Function Key
Lumber Yard Ambient Sounds - Controlled with Function Key
Farm related radio chatter - Controlled with Function Key
Crew Radio Communications - Controlled with Function Key
Maintenance Yard related radio chatter - Controlled with Function Key
Demo Mode for display and demonstrations
Simple Programming with Integral DCC Decoder
Individually adjustable sound volumes for most effects
Prototype History
: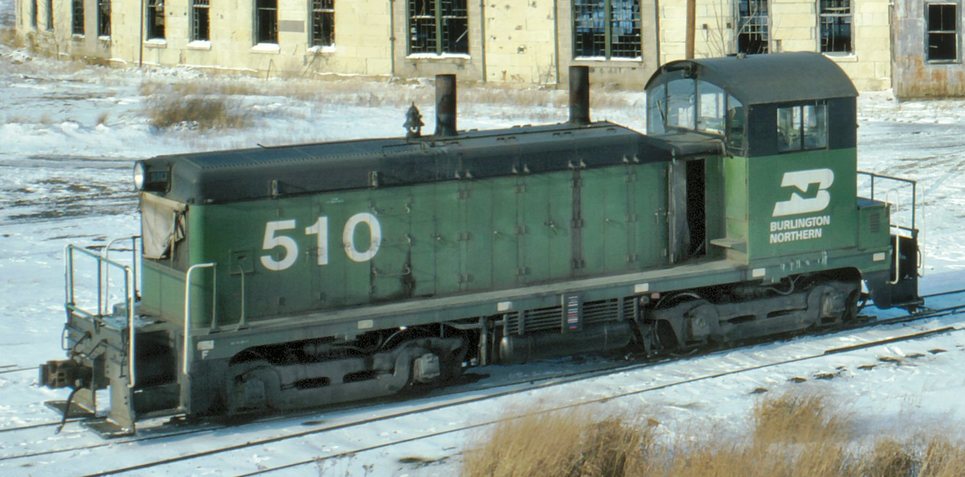 The EMD NW2 is a 1,000 hp (750 kW), B-B switcher locomotive manufactured by General Motors Electro-Motive Division of La Grange, Illinois. The NW2 was manufactured from February 1939 to December 1949, and 1145 were produced – 1121 for the U.S., and 24 were exported to Canada. The 1,000 hp (750 kW) was achieved by using a 12-cylinder, model 567, and later, a model 567A engine.
EMD also offered a cow-calf version of the NW2 known as the TR, TR2, and TR3; 3 TR cow-calf paired sets, 36 TR2 cow-calf paired sets, and 2 TR3 cow-calf-calf sets were produced. The TR sets were built prior to World War II and the TR2 and TR3 sets were built postwar.
EMD's NW2 switcher's lifetime was nearly cut short just three years after its introduction, with the establishment of the War Production Board in 1942, which dictated that EMD was to halt all production of switching locomotives, manufacturing only road diesels during the years of 1942 to 1945. However, such was the popularity of this end cab switching locomotive that after the restriction was lifted, the NW2 sprung back as many railroads placed orders for this little 1000hp powerhouse; today these locomotives can still be found enjoying continued service in rail yards. They were to wear paint for 88 different railroads ... from class 1 giants such as UP (with 95 units, the largest user) all the way down to short-line and industrial roads with but 1 on the roster.
From Wikipedia
Read more on
American-Rails.com
.
Road Name History
: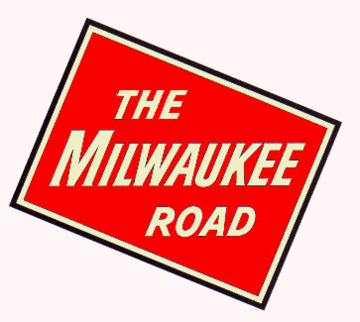 First of all, Milwaukee Road has only ever been a popular nickname. The real name from 1874 was Chicago Milwaukee & St. Paul. For the next 36 years, the CM&StP linked Chicago with Milwaukee, Green Bay, Madison, Wausau, the Twin Cities, Duluth, Kansas City and Omaha with a dense network of branches in Wisconsin, Iowa, southern Minnesota and eastern South Dakota. Essentially, the lines ended at the Missouri River.
With a dearth of friendly western connections, CM&StP decided to build their own line to the Pacific. The original target was the bustling megalopolis of Eureka, California. However, they built toward Seattle instead. In 1909 the line opened. Along the way, they served Miles City, Lewiston, Great Falls, Harlowton and Butte, Montana; Avery, Idaho; and Spokane, Seattle and Tacoma, Washington. In 1912, they began to electrify two long segments, Harlowton, Montana to Avery, Idaho and Othello, Washington to Tacoma.
In 1921, they leased the Chicago Terre Haute & Southeastern and a bit later the Chicago Milwaukee & Gary to reach the coal fields of southern Indiana. Both roads were in trouble and dragged the CM&StP into receivership. In 1928, they emerged with a small name change. It was now the Chicago Milwaukee St. Paul & Pacific. Right after that, the nickname "Milwaukee Road" began to catch on.
The three Class One's that already served the Pacific Northwest, Northern Pacific, Great Northern (along with their jointly owned minion Spokane Portland & Seattle) and Union Pacific were not pleased with their new neighbor and avoided building interchanges with them unless absolutely necessary. This left Milwaukee to haul whatever traffic they could originate or terminate on their own line or via a hand full of shortlines with which they interchanged. This is why when you see photos of Milwaukee Road trains west of the Dakotas, an exceptionally large majority of cars are lettered for Milwaukee Road.
Milwaukee's steam fleet is generally quite handsome beginning with the period after WWI. Many locomotives were built in their own shops. The steam era came to an end on the Milwaukee in 1957.
The electrified lines were ruled by boxcabs and Bi-Polars for decades. In the 1950's, Little Joe's diverted from the Soviet Union arrived on the Milwaukee (and the South Shore.) By the late 60's diesels began to regularly invade the electrified lines. Little Joes and diesels were MU'ed. The aging catenary could only handle so many electrics at a time so diesels filled the horsepower gap. By 1972, falling traffic, a declining fleet of serviceable electrics and the deteriorating catenary caused Milwaukee Road to de-energize the western lines lines with Avery to Harlowton lines following two years later.
Meanwhile on the east end, as a condition of the 1971 merger of Monon into L&N, Milwaukee Road received trackage rights from Chicago to Louisville. This gave Southern a friendly connection to Chicago it was losing with Monon.
In 1977, Milwaukee Road entered receivership again. This time, radical restructuring was needed. In 1980, everything west of Miles City, Montana was abandoned. Some lines were picked up by connections or spawned new shortlines but nearly 1,000 miles of track was pulled up. In 1982, Miles City to Ortonville, Minnesota was abandoned. Milwaukee was concentrating on their pre-1909 routes plus the new line to Louisville.
In an attempt to win back middle distance TOFC traffic, Milwaukee began running fast and short piggyback trains, usually behind a single SD40-2 and with a dozen or so 89' flats. Unit coal trains added to the bottom line. By the mid-80s, the streamlined Milwaukee Road was up for sale and Grand Trunk Western, Chicago & North Western and Soo Line got into a bidding war. GTW had diverted 40,000 cars onto Milwaukee Road between Chicago and Duluth to help them turn a profit in 1983. Ironically, the ICC (which controlled mergers at the time) pushed GTW out of the contest leaving just C&NW and Soo. Furious, GTW diverted their 40,000 carloads off the Milwaukee. C&NW outbid Soo, but the ICC chose Soo Line anyway. Milwaukee Road merged into Soo Line in 1985. Almost immediately, Soo shops began painting big black rectangles over MILWAUKEE ROAD on the diesels, giving birth to the "bandit" paint scheme.
Brand/Importer Information
: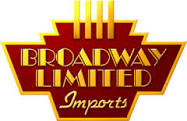 Broadway Limited Imports, LLC
defines itself as "
the world's foremost producer of top-quality HO and N scale model trains
".
Broadway Limited Imports is composed of a team of 15 fun loving individuals who are dedicated to creating the most realistic model railroading experience possible, with the best customer service possible.
The Broadway Limited Imports headquarters is located in Ormond Beach, Florida at 9 East Tower Circle. It's just under an hour's drive from Disney World.
About Broadway Limited Imports.
Item created by:
CNW400
on 2021-04-18 10:26:16. Last edited by
CNW400
on 2021-04-18 10:26:17
If you see errors or missing data in this entry, please feel free to
log in
and edit it. Anyone with a Gmail account can log in instantly.