Model Information: This Four Pack consists of: Combination Car (Combine), Coach, Sleeper and Business Car.
Prototype History
: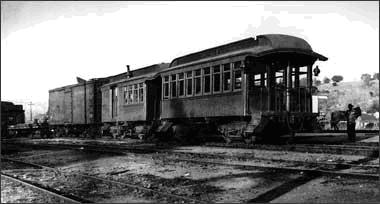 The Sierra Railway contracted with the Overton company to produce combine and coach sets used only on the Angels Camp branch where the short switchback tails limited the car length. 2-3 sets of the cars were built, in the early 1900s. Overton passenger cars are short, open platform, truss-rod cars with clerestory windows. It was natural to design the clerestory over the passenger compartment only, without continuing it over the end platforms, as there was no need for light and ventilation on the open platforms; however, it was soon found to be easier to build a full length clerestory without a complex joint at the ends. The clerestory actually weakened the structure of the car, as well as adding top-weight and cost. As far as we can tell, 'Overton' has become a sort-of generic term for early passenger cars with the above features.
Road Name History
: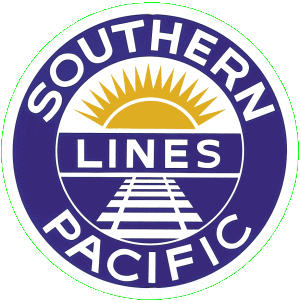 The Southern Pacific Transportation Company (reporting mark SP), earlier Southern Pacific Railroad and Southern Pacific Company, and usually called the Southern Pacific or (from the railroad's initials) Espee, was an American Class I railroad. It was absorbed in 1988 by the company that controlled the Denver and Rio Grande Western Railroad and eight years later became part of the Union Pacific Railroad.
The railroad was founded as a land holding company in 1865, later acquiring the Central Pacific Railroad by lease. By 1900 the Southern Pacific Company was a major railroad system incorporating many smaller companies, such as the Texas and New Orleans Railroad and Morgan's Louisiana and Texas Railroad. It extended from New Orleans through Texas to El Paso, across New Mexico and through Tucson, to Los Angeles, through most of California, including San Francisco and Sacramento. Central Pacific lines extended east across Nevada to Ogden, Utah, and reached north through Oregon to Portland. Other subsidiaries eventually included the St. Louis Southwestern Railway (Cotton Belt), the Northwestern Pacific Railroad at 328 miles (528 km), the 1,331 miles (2,142 km) Southern Pacific Railroad of Mexico, and a variety of 3 ft (914 mm) narrow gauge routes.
In 1929 SP/T&NO operated 13848 route-miles not including Cotton Belt, whose purchase of the Golden State Route circa 1980 nearly doubled its size to 3,085 miles (4,965 km), bringing total SP/SSW mileage to around 13,508 miles (21,739 km).
By the 1980s route mileage had dropped to 10,423 miles (16,774 km), mainly due to the pruning of branch lines. In 1988 the Southern Pacific was taken over by D&RGW parent Rio Grande Industries. The combined railroad kept the Southern Pacific name due to its brand recognition in the railroad industry and with customers of both constituent railroads. Along with the addition of the SPCSL Corporation route from Chicago to St. Louis, the total length of the D&RGW/SP/SSW system was 15,959 miles (25,684 km).
By 1996 years of financial problems had dropped SP's mileage to 13,715 miles (22,072 km), and it was taken over by the Union Pacific Railroad.
Read more on
Wikipedia
.
Brand/Importer Information
:

MDC Roundhouse was founded in California in 1938 and relocated in 1993 to Carson City, Nevada due to statewide restrictions on painting. MDC Roundhouse was a producer of both RTR (Ready-to-Run) and kit versions of N Scale rolling stock as well as RTR locomotives. They entered the N scale market in 1979 with a Thrall Hi-Side Gondola and a Hi-Cube Single Door Box Car. MDC Roundhouse was purchased by Horizon Hobbies in June of 2004, when its owner since 1938 C. H. Menteer retired, and merged into their Athearn line.
Unlike many of their contemporaries which contracted with European firms to produce their products, MDC made their own toolings. They made several popular body styles and produced them for road names that many other vendors (even Micro-Trains) wouldn't touch. This made them popular with modelers. Also, their un-assembled "kits" permitted a lower price point so they were popular with "runners" as well as "modelers".
Of particular interest was the attention given to modern 50 foot steel boxcars. They made some attempt to accurately mold the differences into distinct models to represent each of the major prototype manufacturers products. They have distinct toolings not only for the different products from FMC, BFF and PS, but also multiple models for each of these manufacturers including "standard" vs "Youngstown" doors and "waffle" vs. "rib" sides. In total they produced 13 different versions of the 50 foot steel boxcar.
Item created by:
scottakoltz
on 2020-11-12 14:57:50
If you see errors or missing data in this entry, please feel free to
log in
and edit it. Anyone with a Gmail account can log in instantly.