Prototype History
:

Under the Whyte notation for the classification of steam locomotives, 4-6-2 represents the wheel arrangement of four leading wheels on two axles, six powered and coupled driving wheels on three axles and two trailing wheels on one axle. The 4-6-2 locomotive became almost globally known as a Pacific type. The type is well-suited to high speed running. The world speed record for steam traction of 126 miles per hour (203 kilometres per hour) has been held by a British Pacific locomotive, the Mallard, since 3 July 1938.
The introduction of the 4-6-2 design in 1901 has been described as "a veritable milestone in locomotive progress". On many railways worldwide, Pacific steam locomotives provided the motive power for express passenger trains throughout much of the early to mid-20th century, before either being superseded by larger types in the late 1940s and 1950s, or replaced by electric or diesel-electric locomotives during the 1950s and 1960s. Nevertheless, new Pacific designs continued to be built until the mid-1950s.
The type is generally considered to be an enlargement of the 4-4-2 Atlantic type, although its prototype had a direct relationship to the 4-6-0 Ten-wheeler and 2-6-2 Prairie, effectively being a combination of the two types. The success of the type can be attributed to a combination of its four-wheel leading truck which provided better stability at speed than a 2-6-2 Prairie, the six driving wheels which allowed for a larger boiler and the application of more tractive effort than the earlier 4-4-2 Atlantic, and the two-wheel trailing truck, first used on the New Zealand 2-6-2 Prairie of 1885. This permitted the firebox to be located behind the high driving wheels and thereby allowed it to be both wide and deep, unlike the 4-6-0 Ten-wheeler which had either a narrow and deep firebox between the driving wheels or a wide and shallow one above.
From Wikipedia
Road Name History
:

The Southern Railway (reporting mark SOU) (also known as Southern Railway Company) was a US class 1 railroad that was based in the Southern United States. It was the product of nearly 150 predecessor lines that were combined, reorganized and recombined beginning in the 1830s, formally becoming the Southern Railway in 1894.
At the end of 1970 Southern operated 6,026 miles (9,698 km) of railroad, not including its Class I subsidiaries AGS (528 miles or 850 km) CofG (1729 miles) S&A (167 miles) CNOTP (415 miles) GS&F (454 miles) and twelve Class II subsidiaries. That year Southern itself reported 26111 million net ton-miles of revenue freight and 110 million passenger-miles; AGS reported 3854 and 11, CofG 3595 and 17, S&A 140 and 0, CNO&TP 4906 and 0.3, and GS&F 1431 and 0.3
The railroad joined forces with the Norfolk and Western Railway (N&W) in 1982 to form the Norfolk Southern Corporation. The Norfolk Southern Corporation was created in response to the creation of the CSX Corporation (its rail system was later transformed to CSX Transportation in 1986). The Southern Railway was renamed Norfolk Southern Railway in 1990 and continued under that name ever since. Seven years later in 1997 the railroad absorbed the Norfolk and Western Railway, ending the Norfolk and Western's existence as an independent railroad.
Brand/Importer Information
: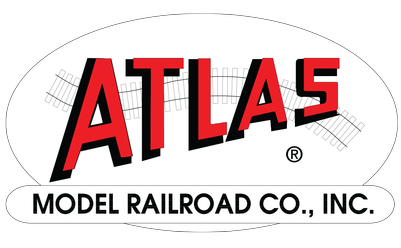 In 1924 Stephan Schaffan, Sr. founded the Atlas Tool Company in Newark, New Jersey. In 1933 his son, Stephan Schaffan, Jr., came to work for his father at the age of sixteen. Steve Jr. built model airplanes as a hobby and frequented a local hobby shop. Being an enterprising young man, he would often ask the owner if there was anything he could do to earn some extra spending money. Tired of listening to his requests, the hobby-store owner threw some model railroad track parts his way and said, "Here, see if you can improve on this".
In those days, railroad modelers had to assemble and build everything from scratch. Steve Jr. created a "switch kit" which sold so well, that the entire family worked on them in the basement at night, while doing business as usual in the machine shop during the day.
Subsequently, Steve Jr. engineered the stapling of rail to fiber track, along with inventing the first practical rail joiner and pre-assembled turnouts and flexible track. All of these products, and more, helped to popularize model railroading and assisted in the creation of a mass-market hobby. The budding entrepreneur quickly outgrew the limitations of a basement and small garage operation. Realizing they could actually make a living selling track and related products, Steve and his father had the first factory built in Hillside, New Jersey at 413 Florence Avenue in 1947. On September 30, 1949, the Atlas Tool Company was officially incorporated as a New Jersey company.
In 1985, Steve was honored posthumously for his inventions by the Model Railroad Industry Association and was inducted into the Model Railroad Industry Hall of Fame in Baltimore, Maryland. In addition, Steve was nominated and entered into the National Model Railroad Association Pioneers of Model Railroading in 1995.
In the early 1990s, the Atlas Tool Company changed its name to
Atlas Model Railroad Company, Inc.
Item created by:
Powderman
on 2020-03-04 17:34:17. Last edited by
Lethe
on 2020-05-07 00:00:00
If you see errors or missing data in this entry, please feel free to
log in
and edit it. Anyone with a Gmail account can log in instantly.