Specific Item Information: Re-released as Lima #30349 without the horizontal white stripe
Model Information: Introduced in 1968 as the Italian UIz Railway Post Office version, this body style was available up until the early 1980's.
With a length of 138mm, this car is much shorter than the UIC-X prototype it claims to represent; it should be 165 mm at N scale (1/160) to be prototypically correct.

Prototype History
: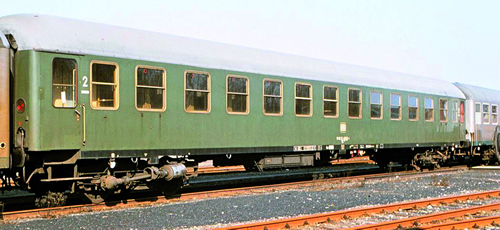 The UIC (
Union International des Chemins de fer
) type X is a type of passenger car defined in 1961 by UIC bulletin 567, together with UIC type Y. They have been standardized based on the design introduced after WWII by the
Deutsche Bundesbahn
(DB) for its express cars, that was known as
üm-Wagen
or
m-Wagen
. The length of the UIC-X cars was the longest of all passenger cars built until then; this length has been kept identical for the UIC-Z type introduced in the 1970's.
Several thousands of these cars have been built for the major western European railways: Germany (DB), Italy (FS), Spain (RENFE), Switzerland (SBB-CFF-FFS), Austria (ÖBB)
Deutsche Bundesbahn (DB) : a total of 6,145 UIC-X cars in 3 series (53, 61, 63) of various types - Am (1st class), ABm (1st/2nd class), Bm (2nd class), Bcm (sleeper), BDms (Baggage), ARm (1st class diner) et BRbumh (2nd class diner/bar)
Ferrovie dello Stato (FS): a total of 4,746 UIC-X cars in 7 series (64, 66-68, 68, 70, 75, 79-82) of various types - A (1st class), AB (1st/2nd class), B (2nd class), Bc (sleeper), AcBc (sleeper). And also ...

163 Railway Post office cars: UIz Type 1964 (20), UIz Type 1968 (30), UMIz Type 1970 (33), UMIz Type 1976 (80)
317 Baggage cars: Dz UIC-X 1968 (60), Dz UIC-X 1970 (77), Dz–D UIC-X 1975 & 1982 (93), nD UIC-X 1987 (80), D UIC-X 1982 GC (7)

Spanish Railways (RENFE) - Serie 8000: a total of 883 UIC-X cars built between 1961 and 1973, of various types: 121 AA or A10r-8000 (1st class), 6 AAB or A5B5-8000 (1st/2nd class), 15 BB or B10r-8000 (2nd class), 445 BB or B12r-8500 (2nd class), 117 BBL or Bc10r-8100 (sleeper), 8 RRR or R8-8000 (diner), 90 DD or D8-8000 (Baggage), 62 DDT (Baggage), 25 DDET (Baggage/RPO)
Federal Swiss Railways (SBB-CFF-FFS) : 40 Am (1st class), 20 ABm (1st/2nd class), 320 Bm (2nd class), 50 Bcm (sleeper), 10 WRm (diner), 20 Dms (Baggage)
Austrian Railways (ÖBB): 90 Bcmz (sleeper, derived from the Swiss type)
With a standard length of 26.40 m (86' 7-3/8"), they are qualified for a maximum speed ranging from 140 to 200 km/h.
From Wikipedia
(in French)
See also these detailed articles (in Italian) for more information about both the prototypes and the N scale models:
UIC-X
.
Road Name History
:

Ferrovie dello Stato Italiane S.p.A.
(reporting marks: FS), previously
Ferrovie dello Stato
, is a state-owned holding company that manages infrastructure and services on the Italian rail network (English: Italian State Railways).
Ferrovie dello Stato was founded in 1905, and marked an important milestone in the process of the unification of Italy.
In 2000, to comply with European regulations, the company's two main divisions, service and infrastructure, were separated and two different independent companies were created:
Trenitalia
, responsible for transport service, and
Rete Ferroviaria Italiana
(RFI), responsible for the management of the rail infrastructure. Both companies were still subsidiaries of Ferrovie dello Stato Holding SpA.
In 2017,
Ferrovie dello Stato Italiane
acquired 100% of
TrainOSE
, the Greek national railways.
Read more on the company's
historical timeline
.
Brand/Importer Information: Lima N scale European models were numbered with 3 digits until 1978. They were renumbered after 1978 by adding "320" before the previous number. e.g. "306" became "320306".
Manufacturer Information
:

Lima S.p.A (Lima Models) was a brand of railway models made in Vicenza, Italy, for almost 50 years, from the early 1950s until the company ceased trading in 2004. Lima was a popular, affordable brand of 00 gauge and N gauge model railway material in the UK, more detailed H0 and N gauge models in France, Germany, Italy, Switzerland, and the United States as well as South Africa, Scandinavia and Australia. Lima also produced a small range of 0 gauge models. Lima partnered with various distributors and manufacturers, selling under brands such as A.H.M., Model Power, Minitrain and PMI (Precision Models of Italy). Market pressures from superior Far Eastern produce in the mid-1990s led to Lima merging with Rivarossi, Arnold, and Jouef. Ultimately, these consolidations failed and operations ceased in 2004.
Hornby Railways offered €8 million to acquire Lima's assets (including tooling, inventory, and the various brand names) in March of the same year, the Italian bankruptcy court of Brescia (town near Milan, last headquarters of Lima) approving the offer later that year. In December 2004, Hornby Railways formally announced the acquisition along with the Rivarossi (H0 North American and Italian prototypes), Arnold (N scale European prototypes), Jouef (H0 scale French prototypes), and Pocher (die-cast metal automobile kits) ranges. As of mid-2006, a range of these products has been made available under the Hornby International brand, refitted with NEM couplings and sprung buffers and sockets for DCC (Digital Command Control) decoders.
From Wikipedia
Item created by:
Alain LM
on 2020-02-08 05:00:31. Last edited by
Lethe
on 2020-05-07 00:00:00
If you see errors or missing data in this entry, please feel free to
log in
and edit it. Anyone with a Gmail account can log in instantly.