Description: 1941 Configuration. Includes: Plastic sprue, Photoetched fret, Resin (cast), Decalsheet (waterslide), Metal


Class
: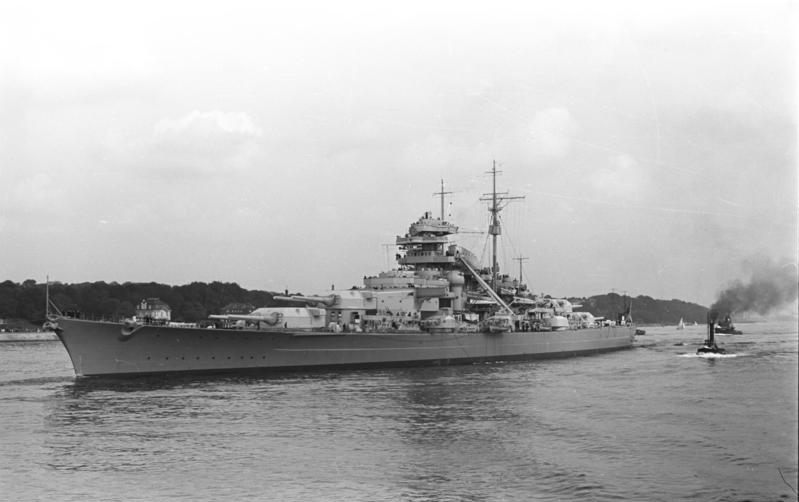 The Bismarck class was a pair of battleships built for Nazi Germany's Kriegsmarine shortly before the outbreak of World War II. The ships were the largest warships built for the Kriegsmarine. Bismarck was laid down in July 1936 and completed in September 1940, while her sister Tirpitz's keel was laid in October 1936 and work finished in February 1941. The two ships were broadly similar to the World War I-era Bayern class, in that they mounted a similar main battery and were protected by a similar armour arrangement.
Both ships had short service careers. Bismarck conducted only one operation, Operation Rheinübung, a sortie into the North Atlantic to raid supply convoys sent from North America to Great Britain. During the operation, she destroyed the British battlecruiser HMS Hood and damaged the new battleship Prince of Wales in the Battle of the Denmark Strait. Bismarck was defeated and sunk in a final engagement after a three-day chase by the Royal Navy. Disagreements over the cause of the sinking persist with chiefly British sources claiming responsibility for the sinking of the ship. Evidence reviewed by Robert Ballard and James Cameron indicates that her loss was most likely due to scuttling as originally claimed by her surviving crew-members.
Tirpitz's career was less dramatic; she was sent to Norwegian waters in 1942, where she acted as a fleet in being, threatening the convoys from Britain to the Soviet Union. She was repeatedly attacked by the Royal Navy and Royal Air Force. Ultimately, Lancaster bombers hit the ship with three Tallboy bombs, which caused extensive internal damage and capsized the battleship. Tirpitz was broken up for scrap between 1948 and 1957. A large portion of the bow remains where it sank in 1944.
History
: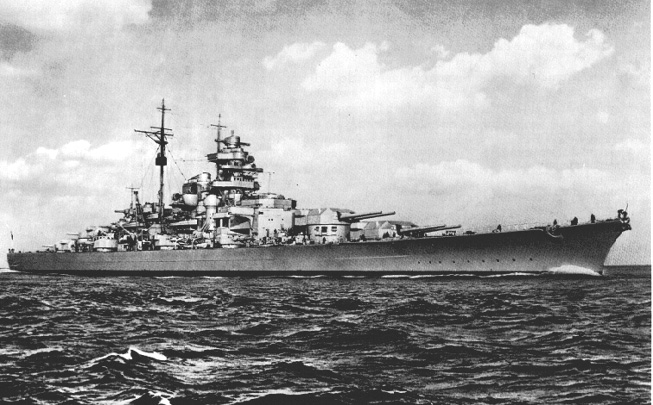 Bismarck was the first of two Bismarck-class battleships built for Nazi Germany's Kriegsmarine. Named after Chancellor Otto von Bismarck, the ship was laid down at the Blohm & Voss shipyard in Hamburg in July 1936 and launched in February 1939. Work was completed in August 1940, when she was commissioned into the German fleet. Bismarck and her sister ship Tirpitz were the largest battleships ever built by Germany, and two of the largest built by any European power.
In the course of the warship's eight-month career under its sole commanding officer, Captain Ernst Lindemann, Bismarck conducted only one offensive operation, lasting 8 days in May 1941, codenamed Rheinübung. The ship, along with the heavy cruiser Prinz Eugen, was to break into the Atlantic Ocean and raid Allied shipping from North America to Great Britain. The two ships were detected several times off Scandinavia, and British naval units were deployed to block their route. At the Battle of the Denmark Strait, the battlecruiser HMS Hood initially engaged Prinz Eugen, probably by mistake, while HMS Prince of Wales engaged Bismarck. In the ensuing battle Hood was destroyed by the combined fire of Bismarck and Prinz Eugen, who then damaged Prince of Wales and forced her retreat. Bismarck suffered sufficient damage from three hits to force an end to the raiding mission.
The destruction of Hood spurred a relentless pursuit by the Royal Navy involving dozens of warships. Two days later, heading for occupied France to effect repairs, Bismarck was attacked by 16 obsolescent Fairey Swordfish biplane torpedo bombers from the aircraft carrier HMS Ark Royal; one scored a hit that rendered the battleship's steering gear inoperable. In her final battle the following morning, the already-crippled Bismarck was severely damaged during a sustained engagement with two British battleships and two heavy cruisers, was scuttled by her crew, and sank with heavy loss of life. Most experts agree that the battle damage would have caused her to sink eventually. The wreck was located in June 1989 by Robert Ballard, and has since been further surveyed by several other expeditions.
Info
:

Flyhawk was established in 2007 and always provides a pleasant model building experience with meticulous customer service for modellers. Our product line is rich and comprehensive and we have long had a good reputation for high quality model kit accessories. In recent years we have expanded into the field of plastic model kits. Flyhawk has a strong design and production capacity and several new items are launched every month. Each must go through rigorous research and repeated testing in the design phase. We perform strict QC inspections during production. Our considerate customer service staff guarantees that our products arrive safely and efficiently. Flyhawk has successfully launched nearly five hundred products and have won numerous awards.Our commitment to excellence and the sense of achievement found by modellers using our exquisite model sets offer a win-win opportunity for business partners.
Item created by:
gdm
on 2019-08-01 09:19:11. Last edited by
gdm
on 2019-08-01 09:19:27
If you see errors or missing data in this entry, please feel free to
log in
and edit it. Anyone with a Gmail account can log in instantly.