Model Information: Precision Masters first released this body style in kit form. Later on, they released the same body as a RTR (Ready-to-Run) model. In 2005, Red Caboose acquired this tooling from PM. Red Caboose released this model in RTR form. The 4740 model can be distinguished from the 4750 model by counting the ribs. The 4740 has 16 ribs and the 4750 has 18 ribs. The ribs on the 4750 are a little chubbier as well.

Fox Valley later acquired all N Scale toolings from Red Caboose and proceeded to re-release an updated version of the 4750 PS-2 Covered Hopper in 2017. The new versions carry MTL body-mounted couplers and low-profile blackened-metal wheels.
Prototype History
: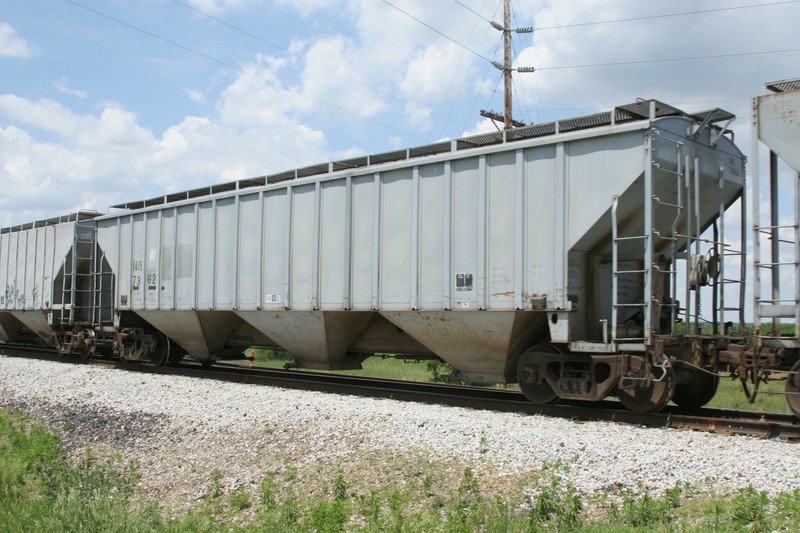 Manufactured by Pullman Standard from 1972 through the 1990's at least, these 4750 Cu. Ft. Hoppers were considered the 'Standard of the Industry' at the time. It is one of the most common freight cars in the rail scene since the late '70's. Features unique to this car include the 18 vertical posts on the car side (19 panel side) and compound curve roof (called by some a clerestory roof).
The 4,740 and 4,750 designs are often mistaken for each other, although the 4,750 has two more panels.
Road Name History
: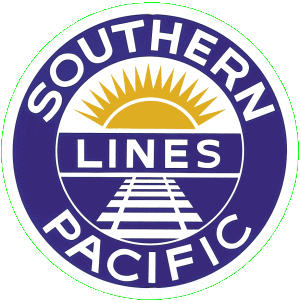 The Southern Pacific Transportation Company (reporting mark SP), earlier Southern Pacific Railroad and Southern Pacific Company, and usually called the Southern Pacific or (from the railroad's initials) Espee, was an American Class I railroad. It was absorbed in 1988 by the company that controlled the Denver and Rio Grande Western Railroad and eight years later became part of the Union Pacific Railroad.
The railroad was founded as a land holding company in 1865, later acquiring the Central Pacific Railroad by lease. By 1900 the Southern Pacific Company was a major railroad system incorporating many smaller companies, such as the Texas and New Orleans Railroad and Morgan's Louisiana and Texas Railroad. It extended from New Orleans through Texas to El Paso, across New Mexico and through Tucson, to Los Angeles, through most of California, including San Francisco and Sacramento. Central Pacific lines extended east across Nevada to Ogden, Utah, and reached north through Oregon to Portland. Other subsidiaries eventually included the St. Louis Southwestern Railway (Cotton Belt), the Northwestern Pacific Railroad at 328 miles (528 km), the 1,331 miles (2,142 km) Southern Pacific Railroad of Mexico, and a variety of 3 ft (914 mm) narrow gauge routes.
In 1929 SP/T&NO operated 13848 route-miles not including Cotton Belt, whose purchase of the Golden State Route circa 1980 nearly doubled its size to 3,085 miles (4,965 km), bringing total SP/SSW mileage to around 13,508 miles (21,739 km).
By the 1980s route mileage had dropped to 10,423 miles (16,774 km), mainly due to the pruning of branch lines. In 1988 the Southern Pacific was taken over by D&RGW parent Rio Grande Industries. The combined railroad kept the Southern Pacific name due to its brand recognition in the railroad industry and with customers of both constituent railroads. Along with the addition of the SPCSL Corporation route from Chicago to St. Louis, the total length of the D&RGW/SP/SSW system was 15,959 miles (25,684 km).
By 1996 years of financial problems had dropped SP's mileage to 13,715 miles (22,072 km), and it was taken over by the Union Pacific Railroad.
Read more on
Wikipedia
.
Brand/Importer Information
:

Precision Masters was founded in 1984 by Bob Byers as a part-time operation. Initially the company was focused on producing a new coupler type that was compatible with Kadee/MTL couplers but had more accurate dimensions. After two years, in 1986, PM released their first entry into Rolling stock with the 5-Bay Ortner Open Hopper. Eventually, their product line grew to comprise 11 different body styles.
Bob's goal with the PM product line was to produce an alternative to the current (1980s) manufacturers releases. At that time, Micro-Trains/Kadee was known for excellent quality models with accurate scale details and high quality printing. All the others produced somewhat clunky models with inaccurately scaled roofwalks, brake wheels, stirrups, ladders and other details. The goal at PM was to produce a close-to-Kadee quality model at a lower price point. One of the ways PM accomplished this was releasing their models in 'easy-build" kit form.
Bob sold substantially all of PM's assets to Red Caboose in March of 1998. Fortunately, Red Caboose continued to release these models until they also sold their assets to Fox Valley Models. Again fortunately, we continue to see releases of these excellent quality models via Fox Valley with InterMountain trains helping with distribution.
Item created by:
Mopjunkie
on 2019-06-12 20:46:35. Last edited by
Mopjunkie
on 2019-06-13 20:57:12
If you see errors or missing data in this entry, please feel free to
log in
and edit it. Anyone with a Gmail account can log in instantly.