Model Information
: First released in 2007.
All-New Tooling based on Plan #4140
Prototype Specific Details: - Skirted or Non Skirted, Corrugated or Smoothside
All Detail Parts Added with flush fitting windows
Full interiors and working diaphrams
Blackened Metal Wheelsets on correct GSC 41-N style Trucks
Come with decals permitting multiple car number and names
Drop-In Lighting Kit will also be available, item #933-1099
Prototype History
: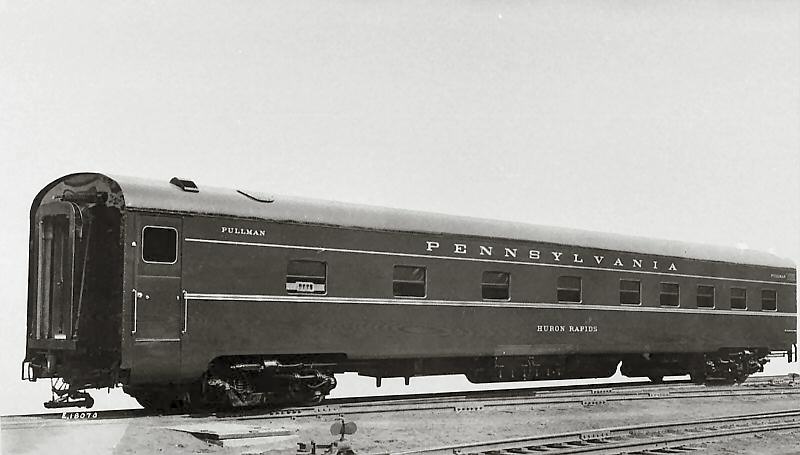 After World War II the 10-roomette 6-double bedroom (colloquially the "10-6 sleeper") design proved popular in the United States. A roomette is a type of sleeping car compartment in a railroad passenger train. The term was first used in North America, and was carried over into Australia and New Zealand. Roomette rooms are relatively small, and were generally intended for use by a single person. Double Bedrooms are private rooms for two passengers, with upper and lower berths, washbasins, and private toilets, placed on one side of the car, with the corridor running down the other side (thus allowing the accommodation to be slightly over two thirds the width of the car). Frequently, these accommodations have movable partitions allowing adjacent accommodations to be combined into a suite.
The Pennsylvania Railroad had 61 Pullman Standard 10-6's in all. The Norfolk and Western "County" series and the RF&P "King" sleepers were built by PS in 1949 for the New York to Richmond and Norfolk trains.
Road Name History
: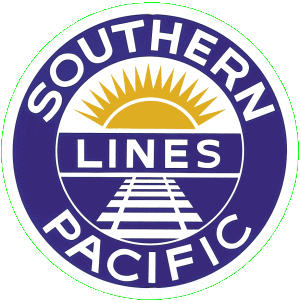 The Southern Pacific Transportation Company (reporting mark SP), earlier Southern Pacific Railroad and Southern Pacific Company, and usually called the Southern Pacific or (from the railroad's initials) Espee, was an American Class I railroad. It was absorbed in 1988 by the company that controlled the Denver and Rio Grande Western Railroad and eight years later became part of the Union Pacific Railroad.
The railroad was founded as a land holding company in 1865, later acquiring the Central Pacific Railroad by lease. By 1900 the Southern Pacific Company was a major railroad system incorporating many smaller companies, such as the Texas and New Orleans Railroad and Morgan's Louisiana and Texas Railroad. It extended from New Orleans through Texas to El Paso, across New Mexico and through Tucson, to Los Angeles, through most of California, including San Francisco and Sacramento. Central Pacific lines extended east across Nevada to Ogden, Utah, and reached north through Oregon to Portland. Other subsidiaries eventually included the St. Louis Southwestern Railway (Cotton Belt), the Northwestern Pacific Railroad at 328 miles (528 km), the 1,331 miles (2,142 km) Southern Pacific Railroad of Mexico, and a variety of 3 ft (914 mm) narrow gauge routes.
In 1929 SP/T&NO operated 13848 route-miles not including Cotton Belt, whose purchase of the Golden State Route circa 1980 nearly doubled its size to 3,085 miles (4,965 km), bringing total SP/SSW mileage to around 13,508 miles (21,739 km).
By the 1980s route mileage had dropped to 10,423 miles (16,774 km), mainly due to the pruning of branch lines. In 1988 the Southern Pacific was taken over by D&RGW parent Rio Grande Industries. The combined railroad kept the Southern Pacific name due to its brand recognition in the railroad industry and with customers of both constituent railroads. Along with the addition of the SPCSL Corporation route from Chicago to St. Louis, the total length of the D&RGW/SP/SSW system was 15,959 miles (25,684 km).
By 1996 years of financial problems had dropped SP's mileage to 13,715 miles (22,072 km), and it was taken over by the Union Pacific Railroad.
Read more on
Wikipedia
.
Paint Scheme
:
Introduced in 1972, Phase I was the first paint scheme to be implemented system-wide on Amtrak's trains. Except for a small number of locomotives that had been painted into experimental and promotional paint schemes, it was the first new paint for most equipment under Amtrak. The scheme was part of Amtrak's larger move to a visual identity featuring the national colors of red, white, and blue.
Locomotives were painted a light gray ("Platinum Mist") with a black roof, the Amtrak "Pointless Arrow" chevron logo on the side, and a red nose (which led to a "Bloody Nose" nickname). Passenger cars were silver (or left bare stainless steel), with a red and bright blue stripe (bracketed by thin white stripes) at window level and the chevron logo at one or both ends. A number of variants were made for non-revenue locomotives, GG1 locomotives, Turbotrain and Turboliner trainsets, and self-propelled RDC and Metroliner railcars.
Brand/Importer Information
:

Wm. K. Walthers, Inc., was founded in Milwaukee in 1932 -- but really, it started years earlier, when seven-year-old Bill Walthers got his first taste of the hobby with a small, wind-up toy train for Christmas. He continued with the hobby and eventually had an attic layout comprised primarily of his own scratch-built creations. After he wrote a series of articles on building train control and signaling systems, he got so many letters from other modelers that he began manufacturing them. The first ad (in the May issue of The Model Maker) offered a 24-page, 15c catalog that listed rail, couplers, and electrical supplies. Sales were over $500.00 for the first year, and the fledgling company was off to a strong start.
Within five years, Walthers had grown so much that larger quarters were needed. Space was found on Erie Street, where everything -- from milled wood parts to metal castings to decals -- was made in-house. 1937 also saw a new line in HO Scale, featured in its own catalog. Bill brought operating layouts to the 1939 World's Fair, which gave the hobby a big boost. Soon, though, the growing possibility of war overshadowed these successes, and supplies were becoming increasingly difficult to obtain.
During the war, model manufacturers were ordered to stop production in order to conserve critical metal supplies. Walthers produced what it could from nonessential materials. A series of ads in 1943 saw Bill literally scraping the bottom of a barrel! The postwar boom meant rapid growth for the hobby; however, small homes and new families left no room for O scale layouts, and many modelers moved to HO Scale.
The next twenty years brought great change. In 1958, Bill retired and his son Bruce took over. Just as full-size railroads were being hard-hit by new technology, so too were model railroads. Leisure time was spent in front of the TV set, not the train set. In 1960, Walthers became a full-line distributor of other manufacturers' products while continuing expansion of the Walthers lines. By the start of the 1970's, business was booming again, and Bruce's son Phil joined the company.
Expansion and diversification continue under Phil's tenure. The establishment of the Walthers Importing Division added several international lines. The manufacturing plant was modernized. Code 83 track was introduced in 1985, giving layouts more realistic proportions. In 1990, the Cornerstone Series buildings were unveiled. Combining a freight car with a related industry, the Cornerstone Series makes it possible for modelers to duplicate authentic operations, enhancing layout realism. The Train Line Deluxe Sets and locomotives debuted in 1994. These sets feature the detailing of serious models and an affordable price -- allowing newcomers to get started, and then build-on to their first set, rather than replacing it.
In 2005, Walthers purchased Life-Like from Lifoam Industries. With this purchase Walthers acquired the Proto Lines that have become the backbone of their locomotive and rolling stock segments.
Today, Walthers continues to expand, improve and develop a wide range of products. Their latest selection can be found throughout
Walthers.com
and their printed catalogs, along with items from over 300 other manufacturers.
In December 2017,
Lowell Smith announced
the 'purchase of tooling' of the Walthers line of N Scale passenger cars (sleeper, coach and baggage cars), and in June 2018,
Atlas announced
that it will purchase all N scale locomotive and rolling stock tooling owned by Walthers, including the Walthers N tooling as well as former Life-Like tooling. This divestment puts an end to Walthers involvement as a manufacturer of N scale rolling-stock, though it will continue its range of N scale structures.
Item created by:
Alain LM
on 2019-01-26 04:48:57. Last edited by
Alain LM
on 2019-01-26 04:50:21
If you see errors or missing data in this entry, please feel free to
log in
and edit it. Anyone with a Gmail account can log in instantly.