Prototype History
: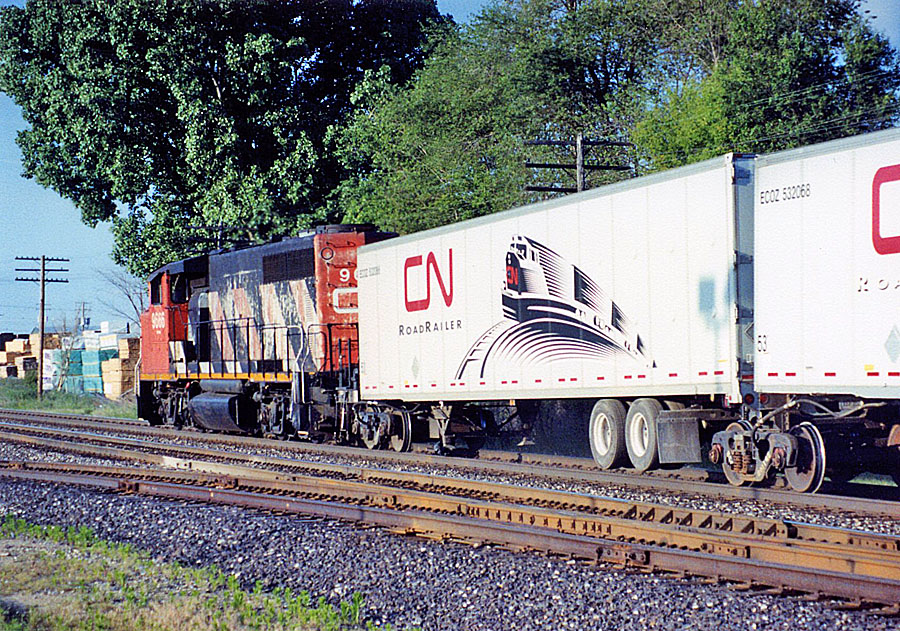 In railroad terminology a Roadrailer or RoadRailer is a highway trailer, or semi-trailer, that is specially equipped for use in railroad intermodal service. The advantage of using roadrailers is their ability to be used directly behind other freight (or even passenger) equipment without the use of trailer flatcars.
Roadrailers first appeared on American railroads in the 1950s. The trailers were built with integrated railroad wheelsets that could be lowered into position when the trailer was pulled behind a train. More modern roadrailers do not include integrated railroad wheels, but ride on regular trucks that do double-duty, serving as articulation points between multiple trailers in a train. Each regular truck is equipped with ONE fifth wheel at one end and a connector plate at the other end. The connector plate slides into a female receptacle on the rear of the trailer in front and is secured with a steel pin. At the head of a Road Railer train there is an adaptor truck equipped with one fifth wheel and one regular AAR Type "E" or Type "F" automatic coupler. Each semi-trailer has one king pin at each end. Because the truck (bogie) is significantly lighter than a rail flatcar or well-car, roadrailer freight trains are much lighter and therefore are more energy efficient than traditional intermodal trains.
Triple Crown still uses them and their photo is used in this article. The "TCSZ" on the trailer is the AAR reporting mark for Triple Crown Service. The trailer number beginning with 464 indicates that the trailer was built approximately 1999-2002, and weighs only 1,000 lb (454 kg) more than a regular highway-only trailer.
From Wikipedia
Road Name History
: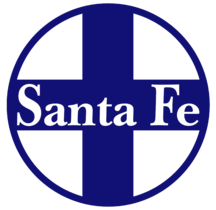 The Atchison, Topeka and Santa Fe Railway (reporting mark ATSF), often abbreviated as Santa Fe or AT&SF, was one of the larger railroads in the United States. Chartered in February 1859, the railroad reached the Kansas-Colorado border in 1873 and Pueblo, Colorado, in 1876. To create a demand for its services, the railroad set up real estate offices and sold farm land from the land grants that it was awarded by Congress. Despite the name, its main line never served Santa Fe, New Mexico, as the terrain was too difficult; the town ultimately was reached by a branch line from Lamy.
The Santa Fe was a pioneer in intermodal freight transport, an enterprise that (at one time or another) included a tugboat fleet and an airline (the short-lived Santa Fe Skyway). Its bus line extended passenger transportation to areas not accessible by rail, and ferryboats on the San Francisco Bay allowed travelers to complete their westward journeys to the Pacific Ocean. The ATSF was the subject of a popular song, Harry Warren & Johnny Mercer's "On the Atchison, Topeka and the Santa Fe", written for the film, The Harvey Girls (1946).
The railroad officially ceased operations on December 31, 1996, when it merged with the Burlington Northern Railroad to form the Burlington Northern & Santa Fe Railway.
Read more on
Wikipedia
.
Brand/Importer Information
:

DeLuxe Innovations is a "wholesale manufacturer" of model trains. We manufacture scale replica train models and sell them to hobby shops and distributors worldwide. 2013 marked the 20 year anniversary of DeLuxe Innovations brand trains. There are over 25 body styles in our product line and all of the cars in our single and multi-car packs have different road numbers. DeLuxe Innovations, Inc. is owned by Dave Ferrari, founder of Squeak N Products. We are located in Midland Park, New Jersey. When Dave purchased the business it was located in Burbank, California which would have been a bit of a long commute so the move to the East Coast was planned. Our first East Coast location was in Whippany, NJ along the Whippany River.
The business was started in 1993 by George Johnsen and Roberta Liebreich in Burbank, California. They had a philosophy that just wouldn't allow using a coal car as a "stand in" for a woodchip car, or printing any and all boxcar paint schemes on a PS-1. Starting with the release of the first ever etched metal parts for a ready to run car (1994's Twinstack's metal walkways) through the full dimension underframe and etched metal roofwalk (1996's 1944 AAR Boxcar) to the challenging RoadRailer system (2000), our products have been accurate to target the modeler or enthusiast.
You can also follow DeLuxe on
Twitter
Item created by:
Powderman
on 2018-10-27 09:37:18. Last edited by
Alain LM
on 2020-06-06 12:07:10
If you see errors or missing data in this entry, please feel free to
log in
and edit it. Anyone with a Gmail account can log in instantly.