Model Information
: Con-Cor introduced these Kato-made locomotives in the late 1960s. Kato revised the mechanism in 1972 and in 1994 Con-Cor had a new mechanism made for Chinese production. In 2003, the engine was re-tooled again to be DCC-Ready.
2003 release: features of the powered PA-1 Unit.
DUAL flywheel drive
Comes with factory mounted Genuine Micro-Trains couplers
Runs on "DC" right out the box.
Factory installed DCC friendly PC 8 pin NMRA board.
High Torque / Quiet 5 Pole skewed armature motor
Reversing headlight
Heavy die-cast chassis for superior pulling power
Highly detailed body casting
Detailed paint and printing
Multi cab numbers available for Powered and non-Powered units
Old bodies interchangeable with new units, so it will be easy to upgrade your older Con-Cor N PA-1 units to this new drive if you choose
DCC Information: All versions prior to 2003 are not DCC capable, but 2003 and later are DCC-Ready.
Prototype History
: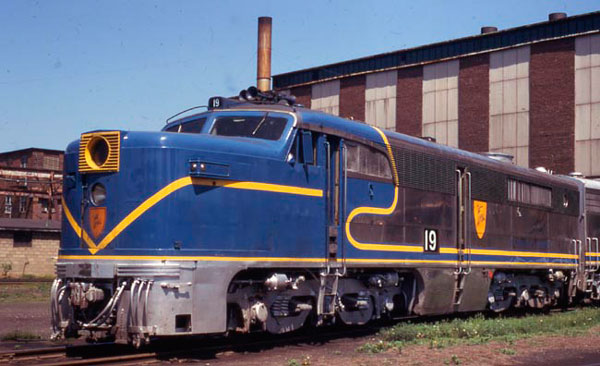 ALCO PA (DL-304/DL-305) refers to a family of A1A-A1A diesel locomotives built to haul high-speed passenger trains that were built in Schenectady, New York, in the United States by a partnership of the American Locomotive Company (ALCO) and General Electric (GE) between June, 1946 and December, 1953. They were of a cab unit design, and both cab-equipped lead A unit PA and cabless booster B unit PB models were built. ALCO's beautiful PA-1 is one of America's most famous locomotives. It was ALCO's entry into the passenger train diesel craze, competing directly with the E-Units from EMD. The first PA1 celebrated Alco's 75,000th loco to roll out of the erecting shop.
The PAs, as well as their cousins, the ALCO FAs, were born as a result of Alco's development of a new diesel engine design, the Model 244. In early 1944, development started on the new design. In 1946, this new locomotive made its debut on the Texas and New Orleans Railroad. Southern Pacific PA's #6055 and 6056 were later put into service on the SP's coastal division, pulling trains such as the Morning Daylight.
Having more horsepower than their leading competitor, Alco felt that they had a fleet-ready competitive product. PA1's were sleek, stylish, powerful, and were very well suited for America's passenger and fast freight trains. Additionally, their 65' 8" bodies became excellent billboard advertising for the railroads that they served with pride.
The PA-1/PB-1 were rated 2,000 hp (1,490 kW) and the PA-2/PB-2 2,250 hp (1,680 kW). A total of 297 PA/PB have been built between 1946 and 1953.
ALCO locomotives were also used in service with the famous "California Zephyr" passenger train, adopting a number of paint schemes, the most famous of which was perhaps the "Prospector" paint scheme. This paint scheme was a striking two-tone silver and gold arrangement, highlighted by a series of four black stripes going down the side of the body.
Read more on
Wikipedia
and on
American-Rails.com
Road Name History
: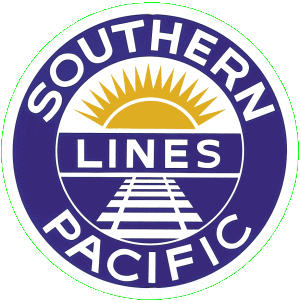 The Southern Pacific Transportation Company (reporting mark SP), earlier Southern Pacific Railroad and Southern Pacific Company, and usually called the Southern Pacific or (from the railroad's initials) Espee, was an American Class I railroad. It was absorbed in 1988 by the company that controlled the Denver and Rio Grande Western Railroad and eight years later became part of the Union Pacific Railroad.
The railroad was founded as a land holding company in 1865, later acquiring the Central Pacific Railroad by lease. By 1900 the Southern Pacific Company was a major railroad system incorporating many smaller companies, such as the Texas and New Orleans Railroad and Morgan's Louisiana and Texas Railroad. It extended from New Orleans through Texas to El Paso, across New Mexico and through Tucson, to Los Angeles, through most of California, including San Francisco and Sacramento. Central Pacific lines extended east across Nevada to Ogden, Utah, and reached north through Oregon to Portland. Other subsidiaries eventually included the St. Louis Southwestern Railway (Cotton Belt), the Northwestern Pacific Railroad at 328 miles (528 km), the 1,331 miles (2,142 km) Southern Pacific Railroad of Mexico, and a variety of 3 ft (914 mm) narrow gauge routes.
In 1929 SP/T&NO operated 13848 route-miles not including Cotton Belt, whose purchase of the Golden State Route circa 1980 nearly doubled its size to 3,085 miles (4,965 km), bringing total SP/SSW mileage to around 13,508 miles (21,739 km).
By the 1980s route mileage had dropped to 10,423 miles (16,774 km), mainly due to the pruning of branch lines. In 1988 the Southern Pacific was taken over by D&RGW parent Rio Grande Industries. The combined railroad kept the Southern Pacific name due to its brand recognition in the railroad industry and with customers of both constituent railroads. Along with the addition of the SPCSL Corporation route from Chicago to St. Louis, the total length of the D&RGW/SP/SSW system was 15,959 miles (25,684 km).
By 1996 years of financial problems had dropped SP's mileage to 13,715 miles (22,072 km), and it was taken over by the Union Pacific Railroad.
Read more on
Wikipedia
.
Paint Scheme
:
In 1937 the lightweight, streamlined Daylight went into service between Los Angeles and San Francisco. The cars were red and orange with a black roof. This became known as the Daylight color scheme and lasted officially until 1958 but in fact until about 1965-66. In the same time frame the joint SP-UP-C&NW streamliner City of San Francisco began running on the SP Overland Route painted in the UP yellow and leaf brown. A few Daylight-style chair cars painted dark green also went into service on the Overland and Golden State Routes.
Brand/Importer Information
:

Con-Cor
has been in business since 1962. Many things have changed over time as originally they were a complete manufacturing operation in the USA and at one time had upwards of 45 employees. They not only designed the models,but they also built their own molds, did injection molding, painting, printing and packaging on their models.
Currently, most of their manufacturing has been moved overseas and now they import 90% of their products as totally finished goods, or in finished components. They only do some incidental manufacturing today within the USA.
Important Note: The Con-Cor product numbering can be very confusing. Please see here in the article how to properly enter Con-Cor stock numbers in the TroveStar database.
Item created by:
Jenna
on 2018-03-30 14:14:38. Last edited by
gdm
on 2020-07-24 07:29:18
If you see errors or missing data in this entry, please feel free to
log in
and edit it. Anyone with a Gmail account can log in instantly.