Specific Item Information: Engine assigned to the Tours St Pierre-des-Corps depot.
Logo "nouille" (noodle)
Model Information
: Model introduced in 2008. Commissioned and imported in France by
SAI
.
Modeled from the 2nd sub-series of BB 66000.
Two traction tires. All axles powered. Directional headlight.
The blackened wheels might require a good clean-up in order to ensure proper pick-up.
Assembly instructions from Piko:
BB 66000
DCC Information
: Accepts NEM 651 / NMRA 6-pin decoders.
Models suffixed with "D" are delivered with a factory-installed
Uhlenbrock
73410 IntelliDrive Comfort Mini decoder
.
Despite the 6-pin plug, installing the decoder can be challenging as it requires dismantling the whole locomotive shell which is in several parts. Start by
very
carefully removing the frame sides, then the handrails will literally fall. Then remove the cab, remove the shell holder by unscrewing the two screws, then remove the shell. The cab and shell firmly hold, so be careful not break anything when pulling them. When re-assembling be
very
carefully with the light boards that are extremely fragile, as well as the thin wires that connect them to the main board.
Depending on the length of the decoder, it might be needed to cut one of the internal plastic parts to make space.
Prototype History
: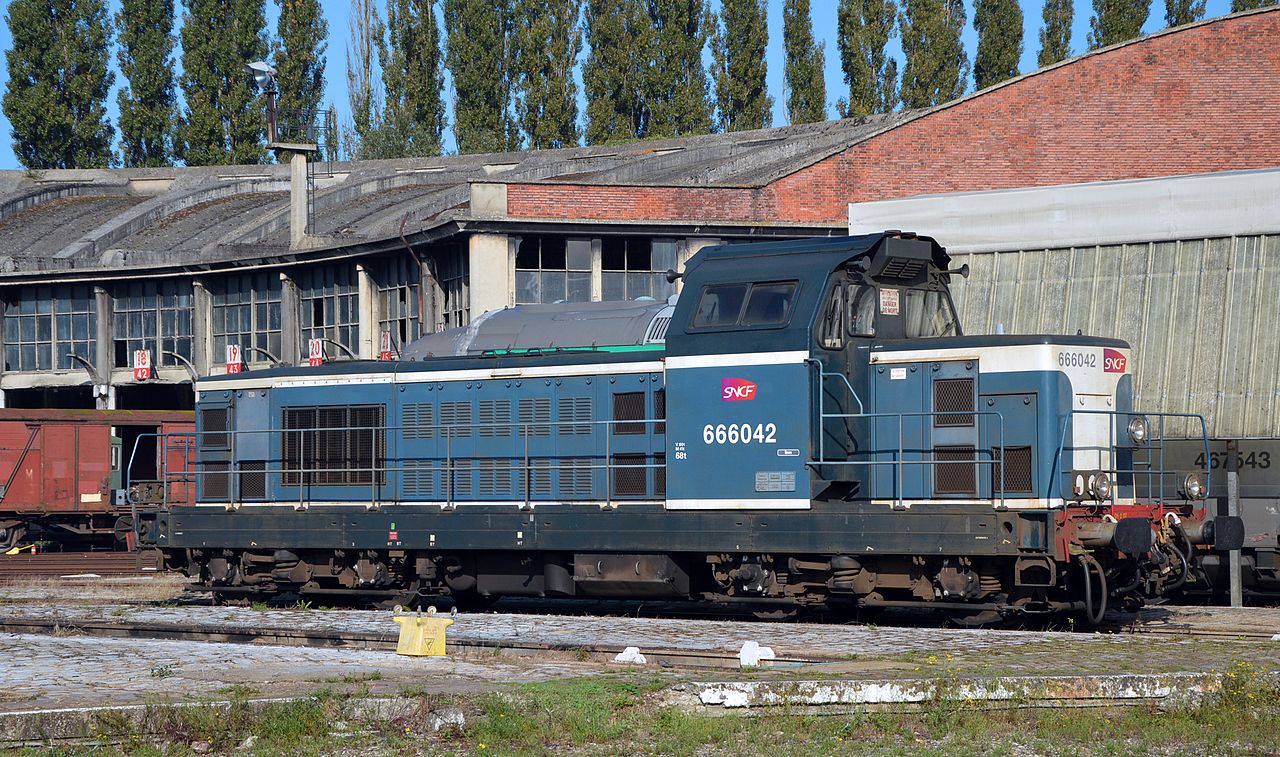 The BB 66000 is a series of 4-axle B'-B' diesel-electric locomotives commissioned by the French state railway SNCF between September 1959 and October 1968 for BB 66000, and between June 1968 and October 1971 for BB 66400. A total of 330 BB 66000 + 106 BB 66400 units have been produced. According to practice of that time, SNCF was the main designer and the locomotives were manufactured by a variety of sub-contractors, with final assembly at
Alsthom
(now Alstom) in Tarbes and Belfort, France, and
Compagnie des Ateliers et Forges de la Loire
(CAFL) in Saint-Chamond, Loire, France. These are multi-purpose locomotives, that can be used for passenger service (in multi-unit) as well as freight. They were qualified to run on secondary lines, therefore with a maximum axle load of 18t.
Initially referenced as 040 DG, they have all be renumbered as BB 66000 on January 1st, 1962.
Several are still in service today after several modernizations.
Engine: MGO 16 cylinders
Power output: 1,400 hp (1,030 kW) at 1,500 rpm
No heat generator for passenger trains, requiring a separate steam generator car.
There are actually several sub-series with different characteristics:
BB 66001 to 66040
Initially ordered in October 1957, delivered between September 1959 and February 1961.
Fuel tank: 3,600 l
BB 66041 to 66188
Initially ordered from November 1959 in 4 lots, delivered between April 1961 and January 1964.
Fuel tank: 3,000 l
BB 66189 to 66318
Initially ordered in September 1963 in 3 lots, delivered between March 1965 and October 1968.
New cab layout and several other changes.
Fuel tank: 3,000 l
BB 66400
(66401 to 66506)
Initially ordered from December 1966 in 3 lots, delivered between June 1968 and October 1971. A total of 106 units have been produced.
Visually very similar to the 3rd sub-series of the BB 66000.
This series was fitted with a complete new electric transmission, and with electric heating for passenger trains.
BB 66604 to 66613
(initially numbered 66304-66313)
Ordered in October 1960, delivered between April and July 1962.
Turbocharged Diesel engine Pielstick V 12-PA4-185 (1,500 hp at 1,050 rpm).
BB 66098, 66102 and 66106 have been renumbered BB 66614 to 66616 after having been re-equipped with engine V 12-PA4-185 in 1965.
BB 66609 and 66613 have been renumbered BB 66903 and 66904, then BB 66691 and 66692 in 1966 and 1967.
All retired from SNCF between 1992 and 1997, several have been acquired by railway construction companies.
BB 66901-66902
Ordered in November 1959, delivered in January and February 1961.
Noticeable with their two air tanks on the walkway alongside the short hood.
"Slow" diesel engine Sulzer 8 LVA 24 (1,400 hp at 1,050 rpm).
Both retired in 1978 and 1979.
Transformations:
BB 66700
(66701 to 66734)
34 locomotives of the 2nd sub-series have been transformed to BB 66700 between January 1985 and June 2004.
They are used for shunting, after adaptation of their gear ratio and trucks.
BB 69200
(69191 to 69318 - not all numbers)
91 locomotives of the 3rd sub-series have been transformed to BB 69200 between 2005 and 2010.
Modernization, including air-conditioning and re-motorization with turbocharged engine MTU 12V 4000 R41 (1,040 kW at 1,500 rpm).
Several are still in operation for freight and maintenance of way (
Infra
) service.
BB 69400
(69402 to 69506 - not all numbers)
75 locomotives BB 66400 have been transformed to BB 69400 between 2004 and 2009.
Modernization, including air-conditioning and re-motorization with turbocharged engine MTU 12V 4000 R41 (1,040 kW at 1,500 rpm).
Several are still in operation for freight and maintenance of way (
Infra
) service.
The above description has been created specifically for TroveStar N scale database by Alain LM, as summary in English of the following French publication:
Source: Le Train. Encyclopédie du matériel moteur SNCF. Tome 7: Locomotives, locomoteurs et locotracteurs Diesel (2e partie). ISSN 1296-5537. Olivier Constant. Septembre 2010.
Road Name History
: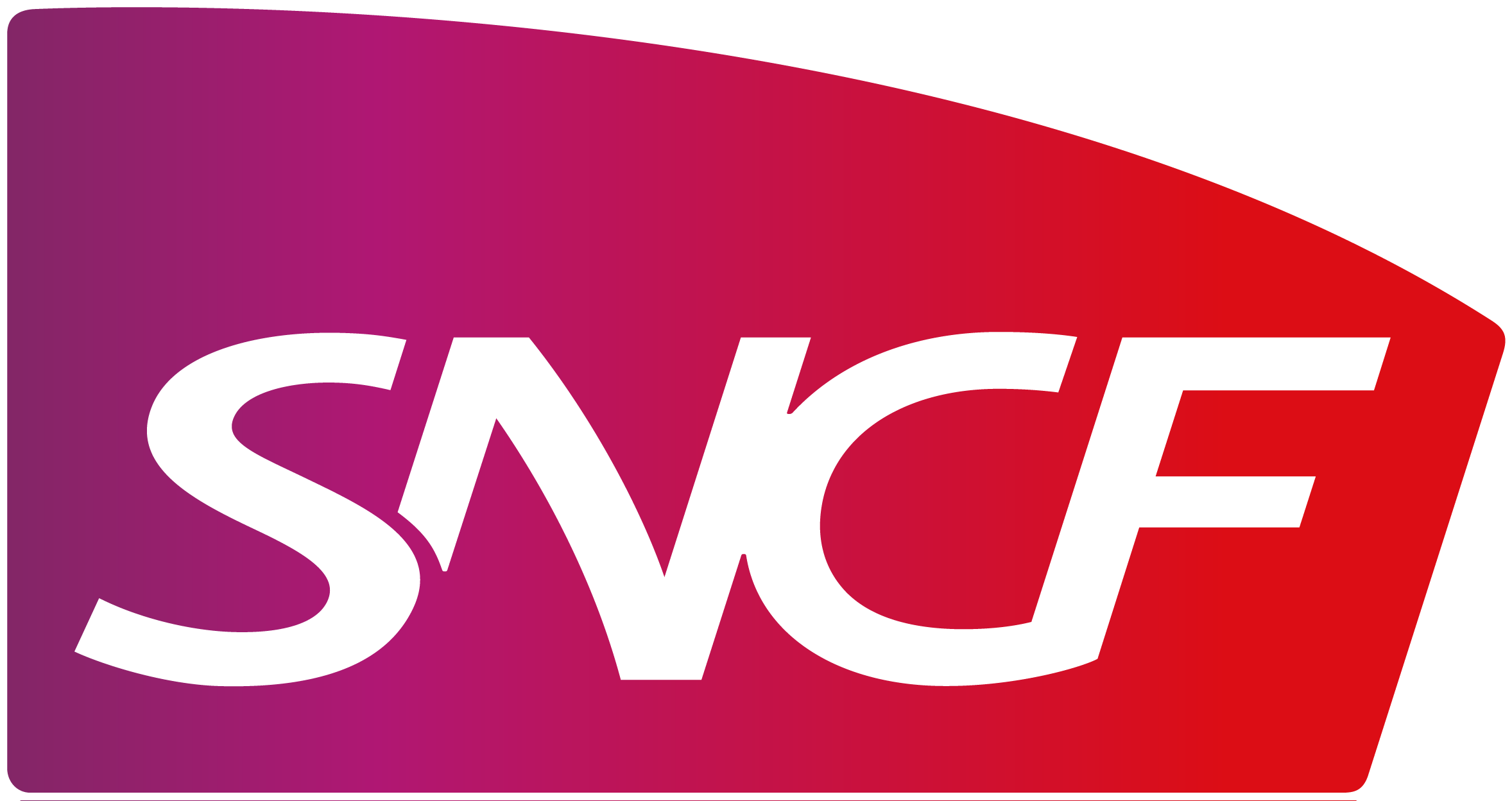 SNCF (Société Nationale des Chemins de fer Français; "National society of French railways" or "French National Railway Company") is France's national state-owned railway company and manages the rail traffic in France and the Principality of Monaco. SNCF operates the country's national rail services, including the TGV, France's high-speed rail network. Its functions include operation of railway services for passengers and freight, and maintenance and signalling of rail infrastructure.
SNCF employs more than 180,000 people in 120 countries around the globe. The railway network consists of about 32,000 km (20,000 mi) of route, of which 1,800 km (1,100 mi) are high-speed lines and 14,500 km (9,000 mi) electrified. About 14,000 trains are operated daily. The company has its headquarters in Saint Denis (93200), near Paris, 2 place aux Etoiles.
In 2010 SNCF was ranked 22nd in France and 214th globally on the Fortune Global 500 list.
It is the main business of the SNCF group, which in 2014 employed 245,763 people and had 27.2 billion € of sales in 120 countries.
From Wikipedia
Brand/Importer Information
:

PIKO Spielwaren GmbH is a company based in Sonneberg, Germany. With over 550 employees at production sites in Sonneberg (Germany) and Chashan (China) PIKO is one of the leading German and European manufacturers of model trains and accessories in the gauges G, H0, TT, N.
The traditional company was founded in 1949 in Chemnitz (Germany) and is managed by its owner Dr. René F. Wilfer since 1992. PIKO model railway products are sold primarily through the well-stocked model railroad stores. But also in the mail and online commerce and in toy sections of department stores you can purchase PIKO articles. In the field H0 and garden railway is PIKO full-line manufacturer and provides the interested model railroaders all he needed in the corresponding track size for his hobby, it covers locomotives and cars, to building models, tracks and complete starter-kits and its own digital system.
For friends of the gauges TT and N PIKO produces a lot of interesting locomotive and wagon models. PIKO model railroad products cover a wide variety of needs for model railroaders and are regularly tested and awarded by the domestic and international model railway press. For industrial and commercial customers PIKO has become a reliable supplier of customized printed model trains, which are often used as a high-quality promotional products or premium gifts. PIKO presents itself at various national and international exhibitions, such as the Nuremberg Toy Fair, as well as consumer fairs in Germany to the model railway enthusiastic audience. Every 2 years we celebrate in Sonneberg the "Open Day", which is visited by about 10,000 PIKO fans and has established itself into an unforgettable event and a fixed date for PIKO model railroad fans.
Item created by:
Alain LM
on 2017-02-19 11:17:11
If you see errors or missing data in this entry, please feel free to
log in
and edit it. Anyone with a Gmail account can log in instantly.