Specific Item Information: Improperly tagged as SD70I on the box label, whereas it was properly announced as SD75I by Athearn. As per the roadnumber, this is definitely a SD75I.
Model Information: Athearn introduced the SD70M and SD75M in 2005. They followed up in 2006 with the SD70I and SD75I. All four versions share the same mechanism and apart from minor difference all four have similar shells as well. The model was developed for Athearn in Korea by Ajin.

Unlike Ajin's earlier F59PHI, these models are modern, well-behaved model engines. They have split-frame dual-flywheel chassis with a 3-pole motor. The detail and engine performance are on par with modern Atlas and Kato products. They also feature some pretty cool cab detail which sets them apart from the competing products from Atlas and Kato.
DCC Information
: The DCC friendliness, at least for the early versions of this model, really blows. Despite the split-frame design, I would qualify the upgrade process as "a bear". Definitely a caveat emptor type of thing. Some of the later versions are truly DCC-Ready, but there is no clear cut-off date or model number. You just have to take the shell off and look inside. Sorry. Later "drop-in capable" models will accept a Digitrax lightboard:
the DN163K1C
Prototype History
:

The EMD SD75M is a series of diesel-electric locomotives produced by General Motors Electro-Motive Division between 1994 and 1996. The series was a response to General Electric's Dash 9-44CW. By increasing up the output of the 16-710-G3 engine from 4,000 to 4,300 horsepower (3,000 to 3,200 kW), the SD75 was a reality. The "M" in the model designation is the style of the cab, in this case the North American style cab. The SD75I has an "Isolated Cab", or a "WhisperCab" in EMD speak, which reduces noise and vibration in the cab. Both models use the HTCR radial truck and are mounted on the 72-foot-4-inch (22.05 m) frame. This model only sold 76 units and was not as popular as the SD70. The biggest buyer of this model was the Atchison, Topeka and Santa Fe Railway, now Burlington Northern Santa Fe, with 51 units; an additional 25 were delivered in early 1996, during the merger process. The Santa Fe's SD75Ms were the railroad's last new locomotives, with the very last new unit, number 250, built in August 1995.
Mainly built for a special request from Santa Fe/BNSF, the SD75Ms are slightly more powerful than SD70Ms, having horsepower ratings between 4,300 hp (3,200 kW) & 4500 hp. They are almost identical to SD70Ms, but can be distinguished by the added bulge below the inertial air-intake on the right side of the unit.
From Wikipedia
Read more on
American-Rails.com
Road Name History
:

The Canadian National Railway Company (reporting mark CN) is a Canadian Class I railway headquartered in Montreal, Quebec that serves Canada and the Midwestern and Southern United States. CN's slogan is "North America's Railroad". CN is a public company with 24,000 employees. It had a market capitalization of 32 billion CAD in 2011. CN was government-owned, having been a Canadian Crown corporation from its founding to its privatization in 1995. Bill Gates was, in 2011, the largest single shareholder of CN stock.
CN is the largest railway in Canada, in terms of both revenue and the physical size of its rail network, and is currently Canada's only transcontinental railway company, spanning Canada from the Atlantic coast in Nova Scotia to the Pacific coast in British Columbia. Its range once reached across the island of Newfoundland until 1988, when the Newfoundland Railway was abandoned.
Following CN's purchase of Illinois Central (IC) and a number of smaller US railways, it also has extensive trackage in the central United States along the Mississippi River valley from the Great Lakes to the Gulf of Mexico. Today, CN owns about 20,400 route miles (32,831 km) of track in 8 provinces (the only two not served by CN are Newfoundland & Labrador and Prince Edward Island), as well as a 70-mile (113 km) stretch of track (see Mackenzie Northern Railway) into the Northwest Territories to Hay River on the southern shore of Great Slave Lake; it is the northernmost rail line anywhere within the North American Rail Network, as far north as Anchorage, Alaska (although the Alaska Railroad goes further north than this, it is isolated from the rest of the rail network).
The railway was referred to as the Canadian National Railways (CNR) between 1918 and 1960, and as Canadian National/Canadien National (CN) from 1960 to the present.
Read more on
Wikipedia
.
Brand/Importer Information
: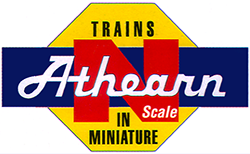 Athearn
's history began in 1938, when its founder-to-be, Irvin Athearn, started an elaborate O scale layout in his mother's house. After placing an ad selling the layout, and receiving much response to it, Irv decided that selling model railroads would be a good living. He sold train products out of his mother's house through most of the 1940s. After becoming a full-time retailer in 1946, Irv opened a separate facility in Hawthorne, California in 1948, and that same year he branched into HO scale models for the first time.
Athearn acquired the Globe Models product line and improved upon it, introducing a comprehensive array of locomotive, passenger and freight car models. Improvements included all-wheel drive and electrical contact. One innovation was the "Hi-Fi" drive mechanism, employing small rubber bands to transfer motion from the motor spindle to the axles. Another was the double-ended ring magnet motor, which permitted easy connection to all-wheel-drive assemblies. Athearn was also able to incorporate flywheels into double-ended drives.
The company produced a model of the Boston & Maine P4 class Pacific steam locomotive which incorporated a cast zinc alloy base and thermoplastic resin superstructure. It had a worm drive and all power pickup was through the bipolar trucks that carried the tender. This item was discontinued after the Wilson motor was no longer available, and was not redesigned for a more technologically advanced motor.
Athearn's car fleet included shorter-than-scale interpretations of passenger cars of Southern Pacific and Atchison, Topeka & Santa Fe Railroad prototypes. The company also offered a variety of scale-length freight cars with sprung and equalized trucks. The cars could be obtained in simple kit form, or ready-to-run in windowed display boxes. The comprehensive scope of the product line contributed to the popularity of HO as a model railroad scale, due to the ready availability of items and their low cost.
Irv Athearn died in 1991. New owners took control in 1994, but continued to follow Athearn's commitment to high-quality products at reasonable prices. Athearn was bought in 2004 by Horizon Hobby. Athearn was then moved from its facility in Compton to a new facility in Carson, California. In mid-2009, all remaining US production was moved to China and warehousing moved to parent Horizon Hobby. Sales and product development was relocated to a smaller facility in Long Beach, California.
Read more on
Wikipedia
and
Athearn website
.
Item created by:
Lethe
on 2016-08-28 17:36:50. Last edited by
Alain LM
on 2021-01-30 12:34:32
If you see errors or missing data in this entry, please feel free to
log in
and edit it. Anyone with a Gmail account can log in instantly.