History
: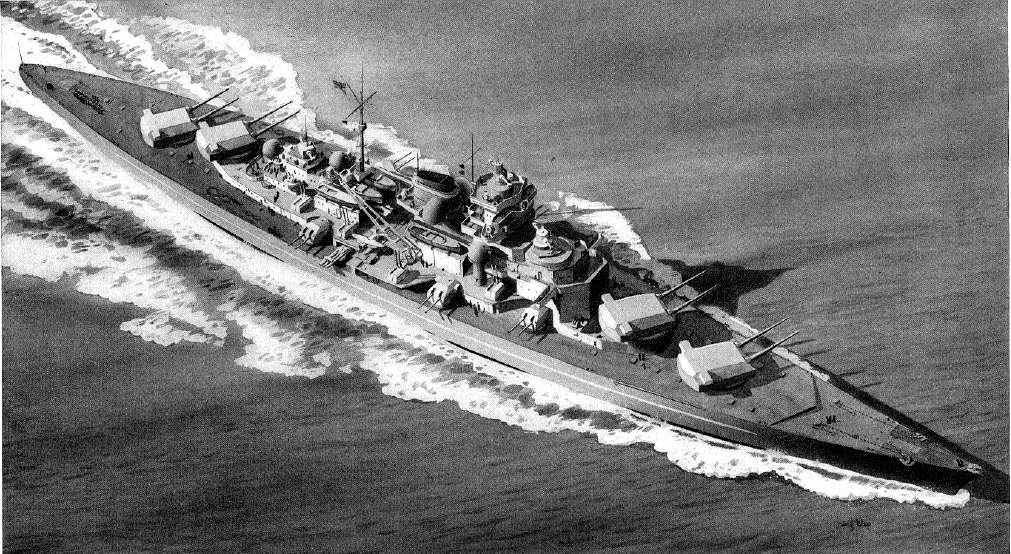 Tirpitz was the second of two Bismarck-class battleships built for Nazi Germany's Kriegsmarine (navy) during World War II. Named after Grand Admiral Alfred von Tirpitz, the architect of the Kaiserliche Marine (Imperial Navy), the ship was laid down at the Kriegsmarinewerft Wilhelmshaven in November 1936 and her hull was launched two and a half years later. Work was completed in February 1941, when she was commissioned into the German fleet. Like her sister ship Bismarck, Tirpitz was armed with a main battery of eight 38-centimetre (15 in) guns in four twin turrets. After a series of wartime modifications she was 2000 tonnes heavier than Bismarck, making her the heaviest battleship ever built by a European navy.
After completing sea trials in early 1941, Tirpitz briefly served as the centrepiece of the Baltic Fleet, which was intended to prevent a possible break-out attempt by the Soviet Baltic Fleet. In early 1942, the ship sailed to Norway to act as a deterrent against an Allied invasion. While stationed in Norway, Tirpitz was also intended to be used to intercept Allied convoys to the Soviet Union, and two such missions were attempted in 1942. This was the only feasible role for her, since the St Nazaire Raid had made operations against the Atlantic convoy lanes too risky. Tirpitz acted as a fleet in being, forcing the British Royal Navy to retain significant naval forces in the area to contain the battleship.
In September 1943, Tirpitz, along with the battleship Scharnhorst, bombarded Allied positions on Spitzbergen, the only time the ship used her main battery in an offensive role. Shortly thereafter, the ship was damaged in an attack by British mini-submarines and subsequently subjected to a series of large-scale air raids. On 12 November 1944, British Lancaster bombers equipped with 12,000-pound (5,400 kg) "Tallboy" bombs scored two direct hits and a near miss which caused the ship to capsize rapidly. A deck fire spread to the ammunition magazine for one of the main battery turrets, which caused a large explosion. Figures for the number of men killed in the attack range from 950 to 1,204. Between 1948 and 1957 the wreck was broken up by a joint Norwegian and German salvage operation.
Class History
: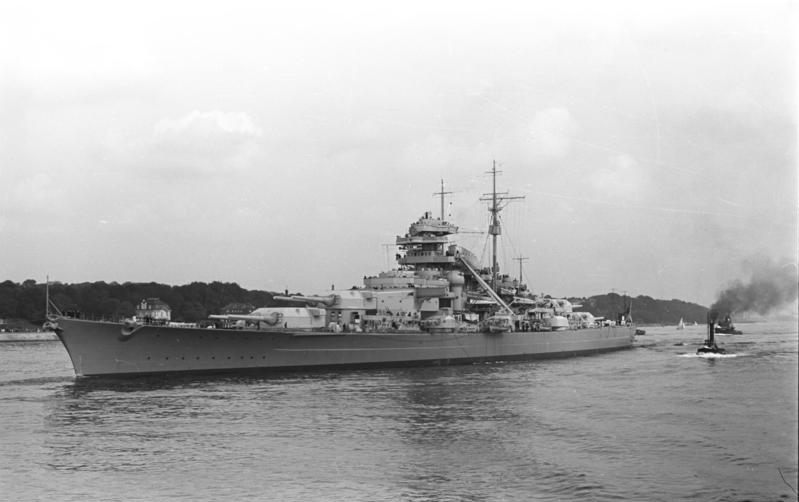 The Bismarck class was a pair of battleships built for Nazi Germany's Kriegsmarine shortly before the outbreak of World War II. The ships were the largest warships built for the Kriegsmarine. Bismarck was laid down in July 1936 and completed in September 1940, while her sister Tirpitz's keel was laid in October 1936 and work finished in February 1941. The two ships were broadly similar to the World War I-era Bayern class, in that they mounted a similar main battery and were protected by a similar armour arrangement.
Both ships had short service careers. Bismarck conducted only one operation, Operation Rheinübung, a sortie into the North Atlantic to raid supply convoys sent from North America to Great Britain. During the operation, she destroyed the British battlecruiser HMS Hood and damaged the new battleship Prince of Wales in the Battle of the Denmark Strait. Bismarck was defeated and sunk in a final engagement after a three-day chase by the Royal Navy. Disagreements over the cause of the sinking persist with chiefly British sources claiming responsibility for the sinking of the ship. Evidence reviewed by Robert Ballard and James Cameron indicates that her loss was most likely due to scuttling as originally claimed by her surviving crew-members.
Tirpitz's career was less dramatic; she was sent to Norwegian waters in 1942, where she acted as a fleet in being, threatening the convoys from Britain to the Soviet Union. She was repeatedly attacked by the Royal Navy and Royal Air Force. Ultimately, Lancaster bombers hit the ship with three Tallboy bombs, which caused extensive internal damage and capsized the battleship. Tirpitz was broken up for scrap between 1948 and 1957. A large portion of the bow remains where it sank in 1944.
History
:

Germany is a Western European country with a landscape of forests, rivers, mountain ranges and North Sea beaches. It has over 2 millennia of history. Berlin, its capital, is home to art and nightlife scenes, the Brandenburg Gate and many sites relating to WWII. Munich is known for its Oktoberfest and beer halls, including the 16th-century Hofbräuhaus. Frankfurt, with its skyscrapers, houses the European Central Bank.
Item created by:
Lethe
on 2015-05-31 17:46:30. Last edited by
gdm
on 2019-05-13 07:55:25
If you see errors or missing data in this entry, please feel free to
log in
and edit it. Anyone with a Gmail account can log in instantly.