Prototype Information
: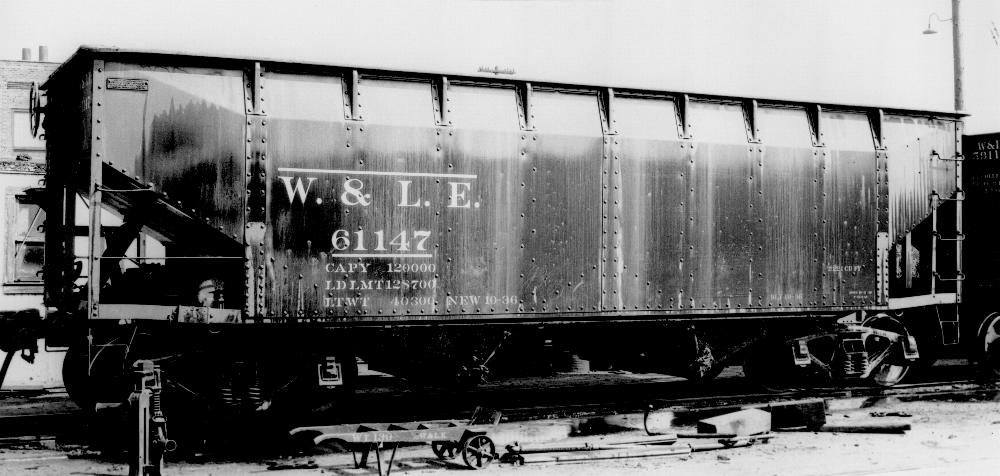 The late 1920s saw the introduction of the AAR standard "offset-side" 50- and 70-ton hoppers. The design went through several variations in the late 1920s and early 1930s before settling on two versions of the 50-ton car and one 3-bay, 70-ton car in 1935. Most roads went for the AAR standard designs, but the N&W, VGN, and Pennsy were notable holdouts. World War II brought the famous "war emergency" hoppers (only the N&W and MP bought the 70-ton version) and several composite versions of existing designs. After the war, AC&F found some brief success with a welded outside-stake hopper design, but the weld joints broke under the stress of loading and unloading rather than flexing like riveted joints. The offset-side design also had problems: the inside stakes were more prone to corrosion, and they suffered worse from loading and unloading stress than outside-staked hoppers. The design waned in the 1950s and was all but abandoned for new cars by 1960. Some roads (notably the C&O, the B&O, and the L&N) made the best of a bad situation by rebuilding their offset-side cars with all new outside-staked sides in the late 1950s and early 1960s.
Road/Company Information
: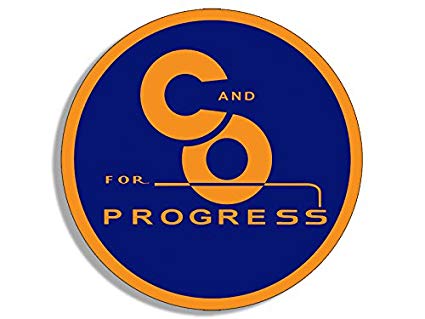 The Chesapeake and Ohio Railway (reporting marks C&O, CO) was a Class I railroad formed in 1869 in Virginia from several smaller Virginia railroads begun in the 19th century. Led by industrialist Collis P. Huntington, it reached from Virginia's capital city of Richmond to the Ohio River by 1873, where the railroad town (and later city) of Huntington, West Virginia was named for him.
Tapping the coal reserves of West Virginia, the C&O's Peninsula Extension to new coal piers on the harbor of Hampton Roads resulted in the creation of the new City of Newport News. Coal revenues also led the forging of a rail link to the Midwest, eventually reaching Columbus, Cincinnati and Toledo in Ohio and Chicago, Illinois.
By the early 1960s the C&O was headquartered in Cleveland, Ohio, USA. In 1972, under the leadership of Cyrus Eaton, it became part of the Chessie System, along with the Baltimore and Ohio and Western Maryland Railway. The Chessie System was later combined with the Seaboard Coast Line and Louisville and Nashville, both the primary components of the Family Lines System, to become a key portion of CSX Transportation (CSXT) in the 1980s. A substantial portion of Conrail was added in 1999.
C&O's passenger services ended in 1971 with the formation of Amtrak. Today Amtrak's tri-weekly Cardinal passenger train follows the historic and scenic route of the C&O through the New River Gorge in one of the more rugged sections of the Mountain State. The rails of the former C&O also continue to transport intermodal and freight traffic, as well as West Virginia bituminous coal east to Hampton Roads and west to the Great Lakes as part of CSXT, a Fortune 500 company which was one of seven Class I railroads operating in North America at the beginning of the 21st century.
At the end of 1970 C&O operated 5067 miles of road on 10219 miles of track, not including WM or B&O and its subsidiaries.
Read more on
Wikipedia
.
Brand/Importer Information
: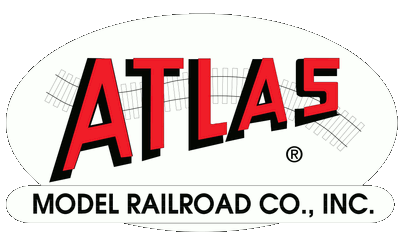 In 1924 Stephan Schaffan, Sr. founded the Atlas Tool Company in Newark, New Jersey. In 1933 his son, Stephan Schaffan, Jr., came to work for his father at the age of sixteen. Steve Jr. built model airplanes as a hobby and frequented a local hobby shop. Being an enterprising young man, he would often ask the owner if there was anything he could do to earn some extra spending money. Tired of listening to his requests, the hobby-store owner threw some model railroad track parts his way and said, "Here, see if you can improve on this".
Atlas has made a ton of wonderful products throughout the years and we often get questions one whether we have run a certain road name on a particular model. It should be noted that Atlas locomotives and rolling stock are greatly appreciated for their superior operating and running characteristics. Atlas products are also well known for their outstanding collectability not only due to their superior prototypical workmanship, details and decoration, but because there are relatively so few of them made. Each and every production run has been carefully built to market demand, meaning almost every piece in any given run is sold out by Atlas on arrival or shortly thereafter, thus creating a built in collectors market.
Item created by:
devsummers428
on 2019-09-02 16:32:30
If you see errors or missing data in this entry, please feel free to
log in
and edit it. Anyone with a Gmail account can log in instantly.