History
: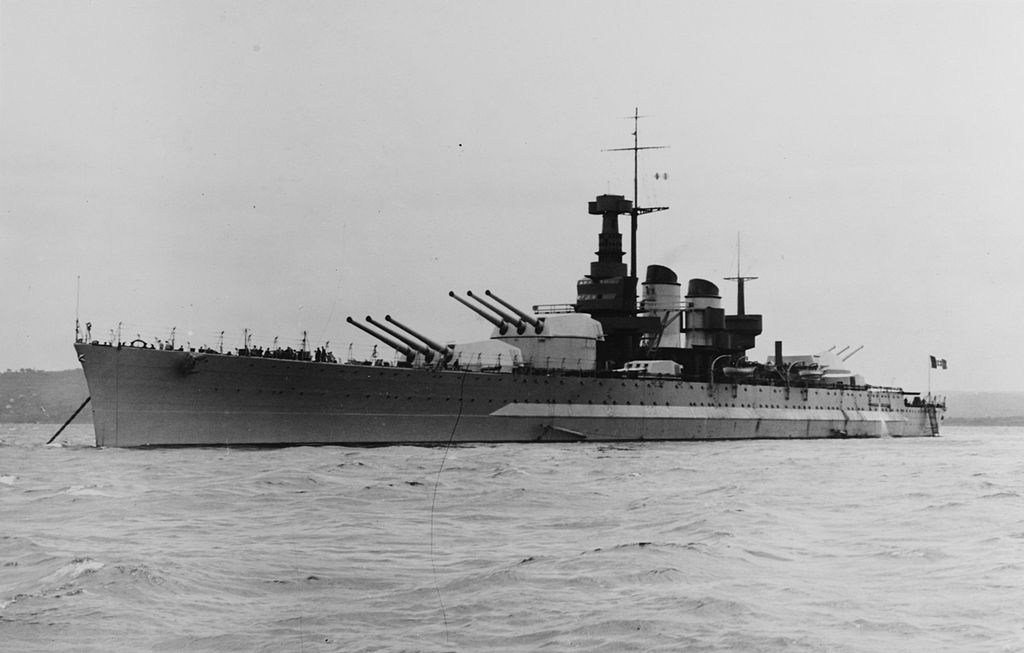 Vittorio Veneto was the second member of the Littorio-class battleship that served in the Italian Regia Marina (Royal Navy) during World War II. The ship's keel was laid down in October 1934, launched in July 1937, and readied for service with the Italian fleet by August 1940. She was named after the Italian victory at Vittorio Veneto during World War I, and she had three sister ships: Littorio, Roma, and Impero, though only Littorio and Roma were completed during the war. She was armed with a main battery of nine 381-millimeter (15.0 in) guns in three triple turrets, and could steam at a speed of 30 knots (56 km/h; 35 mph).
Vittorio Veneto saw extensive service during the war. Early in the war, she participated in the Battle of Cape Spartivento in November 1940 and the Battle of Cape Matapan in March 1941. While damaged by torpedoes several times, including in the engagement off Cape Matapan and by the British submarine HMS Urge in December 1941, the ship escaped undamaged during the British raid on Taranto in November 1940. She spent 1941 and early 1942 attempting to attack British convoys to Malta, but crippling fuel shortages in the Italian fleet curtailed activity thereafter. Vittorio Veneto was among the Italian ships that were surrendered to the Allies in September 1943 after Italy withdrew from the war, and she spent the following three years under British control in Egypt. After the war, she was allocated as a war prize to Britain and subsequently broken up for scrap.
Class History
: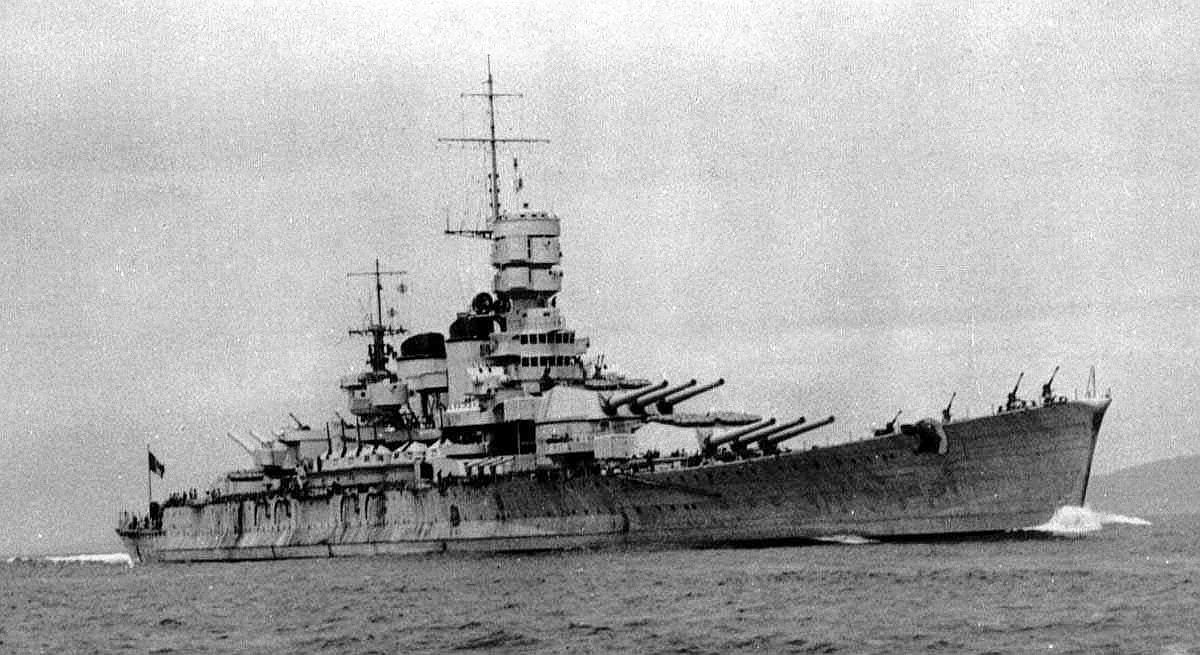 The Littorio class, also known as the Vittorio Veneto class, was a class of battleship of the Regia Marina, the Italian navy. The class was composed of four ships—Littorio, Vittorio Veneto, Roma, and Impero—but only the first three ships of the class were completed. Built between 1934 and 1942, they were the most modern battleships used by Italy during World War II. They were developed in response to the French Dunkerque-class battleships, and were armed with 381-millimeter (15.0 in) guns and had a top speed of 30 knots (56 km/h; 35 mph). The class's design was considered by the Spanish Navy, but the outbreak of World War II interrupted construction plans.
The first two ships, Littorio and Vittorio Veneto, were operational by the early months of Italy's participation in World War II. They formed the backbone of the Italian fleet, and conducted several sorties into the Mediterranean to intercept British convoys, though without any notable success. The two ships were repeatedly torpedoed throughout their careers: Littorio was hit by a torpedo during the attack on Taranto in November 1940 and again in June 1942; Vittorio Veneto was torpedoed during the Battle of Cape Matapan in March 1941 and while escorting a convoy to North Africa in September 1941. Roma joined the fleet in June 1942, although all three ships remained inactive in La Spezia until June 1943, when all three were damaged in a series of Allied air attacks on the harbor.
In September 1943, Italy capitulated and signed an Armistice with the Allies. Littorio was then renamed Italia. The three active battleships were transferred to Malta before they were to be interned in Alexandria. While en route to Malta, German bombers attacked the fleet with Fritz X radio-guided bombs, damaging Italia and sinking Roma. Nevertheless, Italia and Vittorio Veneto reached Malta and were interned. The incomplete Impero was seized by the Germans after Italy withdrew from the war and used as a target, until she was sunk by American bombers in 1945. Italia and Vittorio Veneto were awarded to the United States and Britain, respectively, as war prizes. Italia, Vittorio Veneto, and Impero were broken up for scrap between 1952 and 1954.
History
:

Italy, a European country with a long Mediterranean coastline, has left a powerful mark on Western culture and cuisine. Its capital, Rome, is home to the Vatican as well as landmark art and ancient ruins. Other major cities include Florence, with Renaissance masterpieces such as Michelangelo's "David" and Brunelleschi's Duomo; Venice, the city of canals; and Milan, Italy's fashion capital.
Item created by:
Lethe
on 2015-05-31 17:46:30. Last edited by
gdm
on 2019-08-31 08:12:35
If you see errors or missing data in this entry, please feel free to
log in
and edit it. Anyone with a Gmail account can log in instantly.