Model Information: This model was introduced in 2008. This Kato engine features all standard features of a post-2000 design. These include a split-frame chassis, low-profile chemically blackened wheels, dual flywheels, magnetically operating couplers and the ability to drop in a DCC decoder. It also uses the "shock-absorber" suspension system for the top section of the chassis.

The modern design, enhanced by the "shock-absorber" leads to superb performance and quiet running. It will pull 40+ cars on a flat grade. The prototype is amazing looking and this model does it justice. It is flat-out cool looking. Sadly, the pantagraphs do not conduct and are not spring-loaded, but they are metal (unlike the ACS-64 model) and they are hinged so they can be moved up or down. Despite the gi-normous trucks, they do run nicely over tight 9 3/4" curves.
Prototype History
: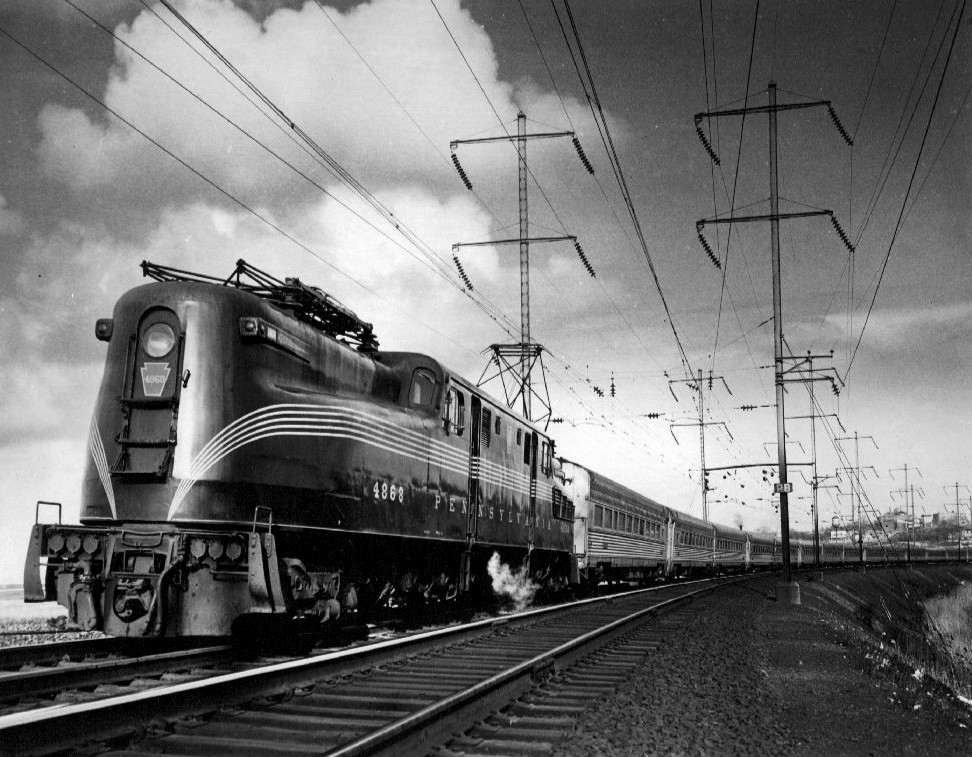 The PRR GG1 was a class of electric locomotives built for the Pennsylvania Railroad (PRR) for use in the northeastern United States. Between 1934 and 1943, General Electric and the PRR's Altoona Works built 139 GG1s. The GG1 entered service with the PRR in 1935, and later operated on successor railroads Penn Central, Conrail and Amtrak. The last GG1 was retired by New Jersey Transit in 1983. Most have been scrapped, but several remain in museums.
The mechanical design of the GG1 was based largely on the New Haven EP3, which had been borrowed earlier from the New Haven Railroad by the PRR to compare it to its current standard electric locomotive, the P5a. In 1933, the PRR decided to replace its P5a locomotives and told General Electric and Westinghouse to design prototype locomotives with the following specifications: a lighter axle load and more power than the P5a, a top speed of at least 100 miles per hour (160 km/h), a streamlined body design and a single (central) control cab.
Both companies delivered their prototypes to PRR in August 1934. General Electric submitted the GG1 and Westinghouse submitted the R1. The R1 was essentially "little more than an elongated and more powerful version of the P5a" with an AAR wheel arrangement of 2-D-2. Both locomotives were tested for ten weeks in regular service between New York and Philadelphia and on a test track in Claymont, Delaware. Because the R1's rigid wheelbase prevented it from negotiating sharp curves and some railroad switches, PRR chose the GG1 and ordered 57 additional locomotives on November 10, 1934. Of the 57, 14 were to be built by General Electric in Erie and 18 at the Altoona Works. The remaining 20 locomotives were to be assembled in Altoona with electrical components from Westinghouse in East Pittsburgh and chassis from the Baldwin Locomotive Works in Eddystone. An additional 81 locomotives were then built at Altoona between 1937 and 1943.
On January 28, 1935, to mark the completion of the electric line from Washington, D.C to New York City, PRR ran a special train pulled by PRR 4800 before it opened the line for revenue service on February 10. It made a round trip from D.C. to Philadelphia and, on its return trip, set a speed record by arriving back in D.C. 1 hour and 50 minutes after its departure from Philadelphia.
In the mid-1950s, with declining demand for passenger train service, GG1s 4801?4857 were re-geared for a maximum speed of 90 miles per hour (140 km/h) and placed in freight service. They initially retained their train heating steam generator, and were recalled to passenger service for holiday season mail trains, and 'Passenger Extras' such as those run for the annual Army?Navy football game in Philadelphia.
Timetable speed limit for the GG1 was 75-80 mph until October 1967 when some were allowed 100 mph for a year or two;[citation needed] when Metroliner cars were being overhauled in the late 1970s, GG1s were again allowed 100 mph when pulling Amfleet cars on trains scheduled to run 224.6 miles from New York to Washington in 3 hours 20?25 minutes.
The first designer for the GG1 project was industrial designer Donald Roscoe Dohner, who produced initial scale styling models, although the completed prototype looked somewhat different.[13][14] At some point, PRR hired famed industrial designer Raymond Loewy to "enhance the GG1's aesthetics."
From Wikipedia
Road Name History
: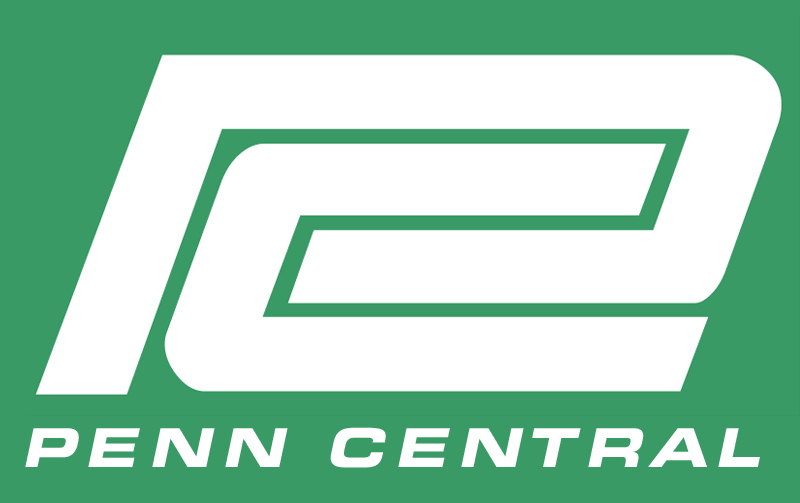 The Penn Central Transportation Company, commonly abbreviated to Penn Central, was an American Class I railroad headquartered in Philadelphia, Pennsylvania, that operated from 1968 until 1976. It was created by the 1968 merger of the Pennsylvania and New York Central railroads. The New York, New Haven & Hartford Railroad was added to the merger in 1969; by 1970, the company had filed for what was, at that time, the largest bankruptcy in U.S. history.
The Penn Central was created as a response to challenges faced by all three railroads in the late 1960s. The northeastern quarter of the United States, these railroads' service area, was the most densely populated region of the U.S. While railroads elsewhere in North America drew a high percentage of their revenues from the long-distance shipment of commodities such as coal, lumber, paper and iron ore, Northeastern railroads traditionally depended on a mix of services.
As it turned out, the merged Penn Central was little better off than its constituent roads were before. A merger implementation plan was drawn up, but not carried out. Attempts to integrate operations, personnel and equipment were not very successful, due to clashing corporate cultures, incompatible computer systems and union contracts. Track conditions deteriorated (some of these conditions were inherited from the three merged railroads) and trains had to be run at reduced speeds. This meant delayed shipments and personnel working a lot of overtime. As a result, operating costs soared. Derailments and wrecks became frequent, particularly in the midwest.
The American financial system was shocked when after only two years of operations, the Penn Central Transportation company was put into bankruptcy on June 21, 1970. It was the largest corporate bankruptcy in American history at that time. Although the Penn Central Transportation Company was put into bankruptcy, its parent Penn Central Company was able to survive.
The Penn Central continued to operate freight service under bankruptcy court protection. After private-sector reorganization efforts failed, Congress nationalized the Penn Central under the terms of the Railroad Revitalization and Regulatory Reform Act of 1976. The new law folded six northeastern railroads, the Penn Central and five smaller, failed lines, into the Consolidated Rail Corporation, commonly known as Conrail. The act took effect on April 1, 1976.
Read more on
Wikipedia
.
Brand/Importer Information
:

KATO U.S.A. was established in 1986, with the first U.S. locomotive model (the GP38-2, in N-Scale) released in 1987. Since that time, KATO has come to be known as one of the leading manufacturers of precision railroad products for the modeling community. KATO's parent company, Sekisui Kinzoku Co., Ltd., is headquartered in Tokyo, Japan.
In addition to producing ready-to-run HO and N scale models that are universally hailed for their high level of detail, craftsmanship and operation, KATO also manufactures UNITRACK. UNITRACK is the finest rail & roadbed modular track system available to modelers today. With the track and roadbed integrated into a single piece, UNITRACK features a nickel-silver rail and a realistic-looking roadbed. Patented UNIJOINERS allow sections to be snapped together quickly and securely, time after time if necessary.
The Kato U.S.A. office and warehouse facility is located in Schaumburg, Illinois, approximately 30 miles northwest of Chicago. All research & development of new North American products is performed here, in addition to the sales and distribution of merchandise to a vast network of wholesale representatives and retail dealers. Models requiring service sent in by hobbyists are usually attended to at this location as well. The manufacturing of all KATO products is performed in Japan.
Supporters of KATO should note that there is currently no showroom or operating exhibit of models at the Schaumburg facility. Furthermore, model parts are the only merchandise sold directly to consumers. (Please view the Parts Catalog of this website for more specific information.)
Item created by:
gdm
on 2015-11-11 09:30:48. Last edited by
CMK
on 2020-05-09 05:13:14
If you see errors or missing data in this entry, please feel free to
log in
and edit it. Anyone with a Gmail account can log in instantly.