History: Gascogne was never laid down, as she had to wait until Jean Bart was launched, by which time the war had begun. Orders for material had been placed in June 1939, but further work was stopped on 28 September before restarting on 12 April 1940. Approximately six percent of hull materials had been manufactured by 1 June with a view toward laying the ship down at some point in the following months, with a projected launching in 1942 and completion by June 1944, but the events of June 1940 of course precluded any work being started.
Class
: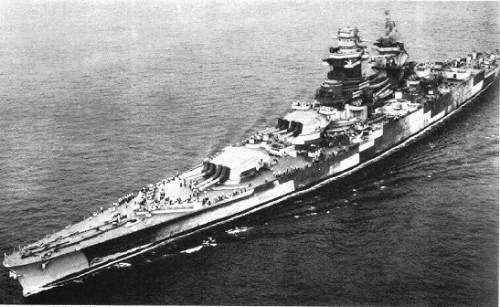 The Richelieu-class battleships were the last and largest battleships of the French Navy. They left service in the 1960s. They remain the largest French-built warships. They were designed in the 1930s to counter the threat of the Italian Vittorio Veneto-class battleships. Richelieu-class ships were essentially scaled-up versions of the preceding Dunkerque class. They featured a main battery of eight 380 mm (15.0 in) guns in two quadruple turrets in forward superfiring positions.
Four Richelieu-class ships, of three different subclasses, were designed over the course of three construction programs, in 1935, 1936, and 1938. Only three were laid down. Only the first two, Richelieu and Jean Bart, were completed. They saw service during World War II, first under Vichy control in Dakar (1940) and Casablanca (1942), then under Allied control. Richelieu participated in British Home Fleet and Eastern Fleet operations and supported French forces' return to Indochina in late 1945. Jean Bart was not completed until the 1950s and took part in the operations off Port Said (Egypt) during the Suez Crisis in 1956. Richelieu was scrapped in 1968 and Jean Bart in 1970.
History
:

France is one of Europe's largest countries. It is bordered by six countries other nations: Germany, Belgium and Luxembourg to the northeast, Switzerland and Italy to the southeast and Spain to the southwest. The United Kingdom borders France via the English Channel. The country is considered to be the gateway to Europe as there are several large international airports (two of these can be found in Paris), ferry terminals and the French rail service.
In 486, Frankish tribes unified under Merovingian kingship. In 843, Western Francia was established from the division of the Carolingian Empire. In 1789, the French monarchy was overthrown, and in 1792, the First French Republic was founded. In 1958, the Fifth French Republic was established.
Item created by:
gdm
on 2019-11-20 12:11:07
If you see errors or missing data in this entry, please feel free to
log in
and edit it. Anyone with a Gmail account can log in instantly.