History: USS Arkansas (BB-33) was a dreadnought battleship, the second member of the Wyoming class, built by the United States Navy. She was the third ship of the US Navy named in honor of the 25th state, and was built by the New York Shipbuilding Corporation. She was laid down in January 1910, launched in January 1911, and commissioned into the Navy in September 1912. Arkansas was armed with a main battery of twelve 12-inch (305 mm) guns and capable of a top speed of 20.5 knots (38.0 km/h; 23.6 mph).

Arkansas served in both World Wars. During World War I, she was part of Battleship Division Nine, which was attached to the British Grand Fleet, but she saw no action during the war. During the interwar years, Arkansas performed a variety of duties, including training cruises for midshipmen and goodwill visits overseas.

Following the outbreak of World War II, Arkansas conducted Neutrality Patrols in the Atlantic prior to America's entry into the war. Thereafter, she escorted convoys to Europe through 1944; in June, she supported the invasion of Normandy, and in August she provided gunfire support to the invasion of southern France. In 1945, she transferred to the Pacific, and bombarded Japanese positions during the invasions of Iwo Jima and Okinawa. After the end of the war, she ferried troops back to the United States as part of Operation Magic Carpet. Arkansas was expended as a target in Operation Crossroads, a pair of nuclear weapon tests at Bikini Atoll in July 1946.
Class
: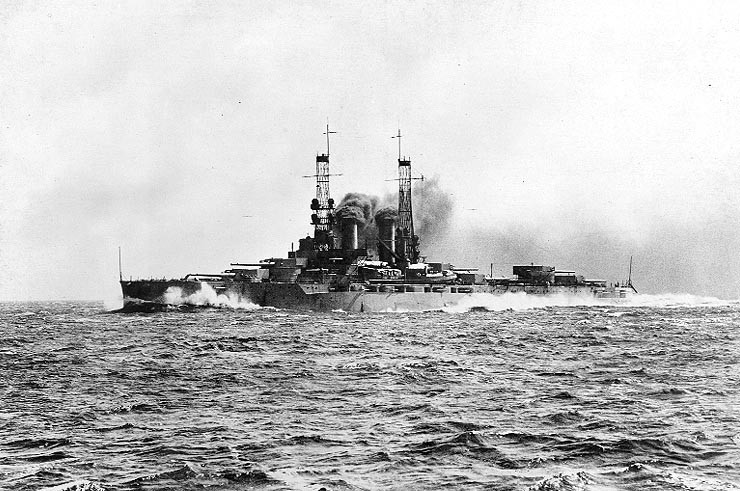 The Wyoming class was a pair of dreadnought battleships built for the United States Navy. The Wyoming and Arkansas were authorized in early 1909, and were built between 1910 and 1912. These were the fourth dreadnought design of the US Navy, but only an incremental improvement over the preceding Florida class, and the last US battleships to use 12" guns. The primary changes were the addition of a sixth twin-gun turret, and improved armor protection, including the first use of a torpedo bulkhead on American battleships. The Navy considered using more powerful 14-inch (356 mm) guns, but this would have caused delays and required larger ships.
The two ships frequently served together, first in the Atlantic Fleet in the 1910s. Both vessels were deployed to British waters after the United States entered World War I in April 1917 to reinforce the Royal Navy's Grand Fleet. They served in the Pacific Fleet in 1919–21, before both returned to the Atlantic Fleet. Much of their time in the Atlantic Fleet was spent conducting peacetime training exercises, along with taking midshipmen from the US Naval Academy on training cruises. Wyoming and Arkansas were heavily modernized in the mid-1920s, receiving more efficient oil-fired boilers to replace their old coal-fired models, thicker deck armor to protect against plunging fire, anti-torpedo bulges to increase their resistance to underwater damage, and anti-aircraft guns to defend against aerial attacks.
The London Naval Treaty of 1930 mandated that Wyoming be demilitarized; she accordingly was converted into a training ship, with half of her main battery turrets, belt armor, and anti-torpedo bulges removed. However, Arkansas was permitted to continue in service with the fleet. After the United States entered World War II, Arkansas was used to escort convoys to North Africa. By 1944, she served as a coastal bombardment vessel; in this role, she supported Allied landings at Normandy (Operation Overlord) and southern France (Operation Dragoon) before being transferred to the Pacific, where she provided fire support to Marines fighting on Iwo Jima and at Okinawa in 1945. Wyoming meanwhile continued as a training ship, being modified further in 1944 to include the various types of anti-aircraft guns that trainees would operate in the fleet. Both ships were decommissioned shortly after the war, with Arkansas being expended as a target ship during the 1946 nuclear tests at Operation Crossroads, and Wyoming being sold for scrap in 1947.
History
: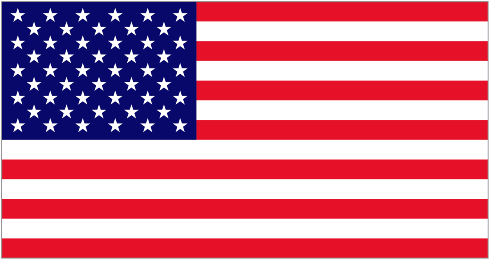 The U.S. is a country of 50 states covering a vast swath of North America, with Alaska in the northwest and Hawaii extending the nation's presence into the Pacific Ocean. Major Atlantic Coast cities are New York, a global finance and culture center, and capital Washington, DC. Midwestern metropolis Chicago is known for influential architecture and on the west coast, Los Angeles' Hollywood is famed for filmmaking.
Item Links:
We found: 2 different collections associated with
USS Arkansas (BB-33) - Battleship - Dreadnought
Item created by:
gdm
on 2019-07-31 15:41:38. Last edited by
gdm
on 2019-07-31 15:41:58
If you see errors or missing data in this entry, please feel free to
log in
and edit it. Anyone with a Gmail account can log in instantly.