Specific Item Information: Fully assembled and ready for your layout. New truck tooling including axle-mounted generator. Fully detailed underbody. Prototypical details like antenna, marker lights, smoke jack and vent. Separately applied wire grab irons. End walkway tread. Clear window glazing. McHenry scale knuckle spring couplers installed.
Model Information: Model: Introduction: October 2009. ERA: 1960s to present (depending on road name). Three bodies available: C-50-7, C-50-8 and C-50-9

Features: Body mounted McHenry knuckle spring couplers,Weighted for optimum performance, Partial interior, Separately applied wire grab irons, New truck tooling including axle mounted generator, End walkway tread, Etched window screens included, Finely detailed end railing and brake wheel, Fully detailed underbody, Window glazing, Plastic/etched roof detail (antenna, marker light, smoke jack and vent) when appropriate per prototype.
Prototype History
: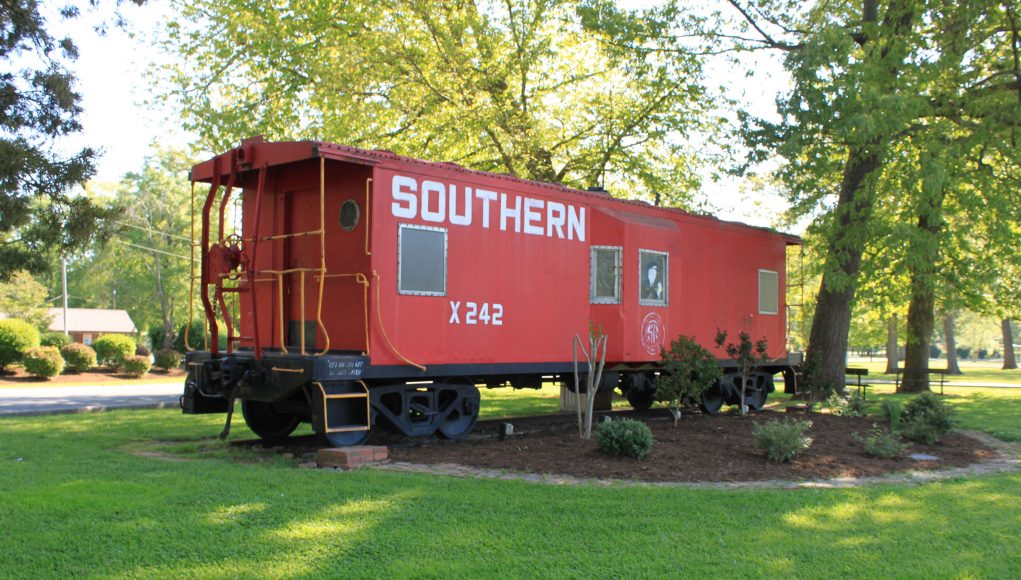 In a bay window caboose, the crew monitoring the train sits in the middle of the car in a section of wall that projects from the side of the caboose. The windows set into these extended walls resemble architectural bay windows, so the caboose type is called a bay window caboose. This type afforded a better view of the side of the train and eliminated the falling hazard of the cupola. The bay window gained favor with many railroads because it eliminated the need for additional clearances in tunnels and overpasses. On the west coast, the Milwaukee Road and the Northern Pacifc Railway used these cars, converting over 900 roof top cabooses to bay window cabooses in the late 1930's. Milwaukee Road rib-side window cabooses are preserved at New Libson, Wisconsin, the Illinois Railway Museum, the Mt. Rainer Scenic Railroad, and Cedarburg, Wisconsin.
When the shift was made from wooden to steel caboose construction, a new type of caboose also arrived. The new caboose design replaced the traditional roof-mounted "cupola" with "bay-windows" attached to the sides of the caboose. As freight cars grew taller, the effectiveness of cupolas as practical observation points was diminished. This was especially true on lines that suffered from low clearances and were incapable of making cupolas high enough to see over the top of the tallest freight cars. Cabooses were prone to rough handling, and many a trainman was knocked out of his perch in the cupola and injured when he fell. The new caboose design was safer as well as more effective.
Road Name History
: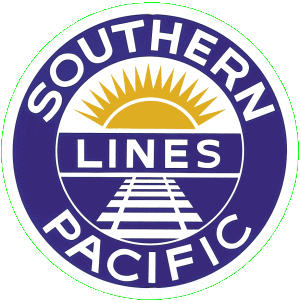 The Southern Pacific Transportation Company (reporting mark SP), earlier Southern Pacific Railroad and Southern Pacific Company, and usually called the Southern Pacific or (from the railroad's initials) Espee, was an American Class I railroad. It was absorbed in 1988 by the company that controlled the Denver and Rio Grande Western Railroad and eight years later became part of the Union Pacific Railroad.
The railroad was founded as a land holding company in 1865, later acquiring the Central Pacific Railroad by lease. By 1900 the Southern Pacific Company was a major railroad system incorporating many smaller companies, such as the Texas and New Orleans Railroad and Morgan's Louisiana and Texas Railroad. It extended from New Orleans through Texas to El Paso, across New Mexico and through Tucson, to Los Angeles, through most of California, including San Francisco and Sacramento. Central Pacific lines extended east across Nevada to Ogden, Utah, and reached north through Oregon to Portland. Other subsidiaries eventually included the St. Louis Southwestern Railway (Cotton Belt), the Northwestern Pacific Railroad at 328 miles (528 km), the 1,331 miles (2,142 km) Southern Pacific Railroad of Mexico, and a variety of 3 ft (914 mm) narrow gauge routes.
In 1929 SP/T&NO operated 13848 route-miles not including Cotton Belt, whose purchase of the Golden State Route circa 1980 nearly doubled its size to 3,085 miles (4,965 km), bringing total SP/SSW mileage to around 13,508 miles (21,739 km).
By the 1980s route mileage had dropped to 10,423 miles (16,774 km), mainly due to the pruning of branch lines. In 1988 the Southern Pacific was taken over by D&RGW parent Rio Grande Industries. The combined railroad kept the Southern Pacific name due to its brand recognition in the railroad industry and with customers of both constituent railroads. Along with the addition of the SPCSL Corporation route from Chicago to St. Louis, the total length of the D&RGW/SP/SSW system was 15,959 miles (25,684 km).
By 1996 years of financial problems had dropped SP's mileage to 13,715 miles (22,072 km), and it was taken over by the Union Pacific Railroad.
Read more on
Wikipedia
.
Brand/Importer Information
: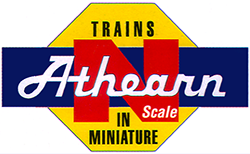 Athearn
's history began in 1938, when its founder-to-be, Irvin Athearn, started an elaborate O scale layout in his mother's house. After placing an ad selling the layout, and receiving much response to it, Irv decided that selling model railroads would be a good living. He sold train products out of his mother's house through most of the 1940s. After becoming a full-time retailer in 1946, Irv opened a separate facility in Hawthorne, California in 1948, and that same year he branched into HO scale models for the first time.
Athearn acquired the Globe Models product line and improved upon it, introducing a comprehensive array of locomotive, passenger and freight car models. Improvements included all-wheel drive and electrical contact. One innovation was the "Hi-Fi" drive mechanism, employing small rubber bands to transfer motion from the motor spindle to the axles. Another was the double-ended ring magnet motor, which permitted easy connection to all-wheel-drive assemblies. Athearn was also able to incorporate flywheels into double-ended drives.
The company produced a model of the Boston & Maine P4 class Pacific steam locomotive which incorporated a cast zinc alloy base and thermoplastic resin superstructure. It had a worm drive and all power pickup was through the bipolar trucks that carried the tender. This item was discontinued after the Wilson motor was no longer available, and was not redesigned for a more technologically advanced motor.
Athearn's car fleet included shorter-than-scale interpretations of passenger cars of Southern Pacific and Atchison, Topeka & Santa Fe Railroad prototypes. The company also offered a variety of scale-length freight cars with sprung and equalized trucks. The cars could be obtained in simple kit form, or ready-to-run in windowed display boxes. The comprehensive scope of the product line contributed to the popularity of HO as a model railroad scale, due to the ready availability of items and their low cost.
Irv Athearn died in 1991. New owners took control in 1994, but continued to follow Athearn's commitment to high-quality products at reasonable prices. Athearn was bought in 2004 by Horizon Hobby. Athearn was then moved from its facility in Compton to a new facility in Carson, California. In mid-2009, all remaining US production was moved to China and warehousing moved to parent Horizon Hobby. Sales and product development was relocated to a smaller facility in Long Beach, California.
Read more on
Wikipedia
and
Athearn website
.
Item created by:
Jenna
on 2019-05-21 18:38:54
If you see errors or missing data in this entry, please feel free to
log in
and edit it. Anyone with a Gmail account can log in instantly.