Model Information: Life-Like started production of this model in 1991. It was part of their push to provide a low-cost alternative to Atlas and Kato models. The models were produced in China from the get-go, likely by Kader. The chassis is all plastic and quite light. Their are weights situated on top of each of the trucks which provide most of the model's weight. The motor is an skew-wound, 5-pole mechanism. All eight wheels are geared and provide pickup (no traction tires). The electricity is transferred from the trucks to the motor by means of wiring. All the gears are plastic. The driveshafts are made from plastic and have springs in the middle. The couplers are truck-mounted Rapidos with open pilots. A single non-directional headlight sits beneath the forward truck weight. The wheels are low-profile chemically blackened metal.
DCC Information: The models are not DCC anything,
Prototype History
: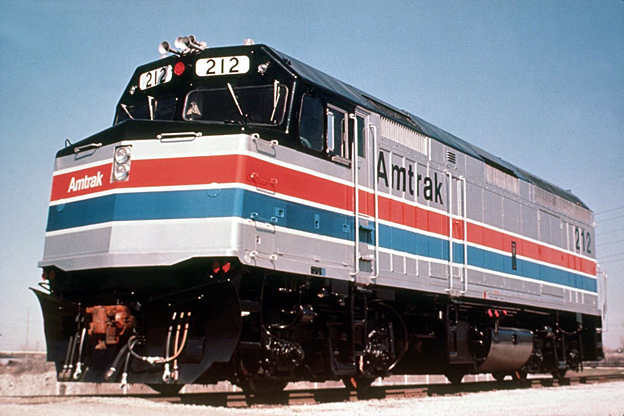 The EMD F40PH is a four-axle 3,000 - 3,002 hp (2.2-2.2 MW) B-B diesel-electric locomotive built by General Motors Electro-Motive Division in several variants from 1975 to 1992. Intended for use on Amtrak's short-haul passenger routes, it became the backbone of Amtrak's diesel fleet after the failure of the EMD SDP40F. The F40PH also found widespread use on commuter railroads in the United States and with Via Rail Canada. Additional F40PH variants were remanufactured from older locomotives by Morrison-Knudsen and MotivePower Industries between 1988 - 1998.
Amtrak retired its fleet of F40PHs in the mid-1990s in favor of the GE Genesis, but the locomotive remains the mainstay of Via Rail's long-distance trains and is a common sight on commuter railroads throughout the United States.
From Wikipedia
Road Name History
: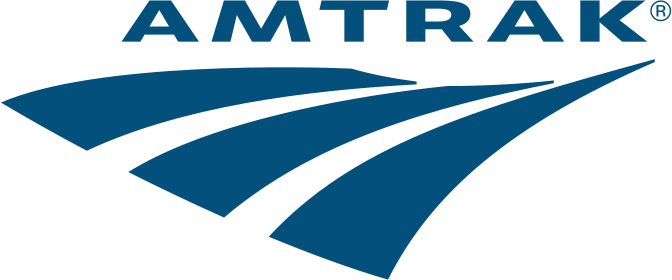 The National Railroad Passenger Corporation, doing business as Amtrak, is a passenger railroad service that provides medium- and long-distance intercity service in the contiguous United States. Founded in 1971 through the government-sponsored consolidation of most of the remaining U.S. passenger rail companies, it is partially government-funded yet operated and managed as a for-profit corporation.
Amtrak operates more than 300 trains each day on 21,300 miles (34,000 km) of track with select segments having civil operating speeds of 150 mph (240 km/h) and connecting more than 500 destinations in 46 states in addition to three Canadian provinces. In fiscal year 2015, Amtrak served 30.8 million passengers and had $2.185 billion in revenue, while employing more than 20,000 people. Nearly two-thirds of passengers come from the 10 largest metropolitan areas; 83% of passengers travel on routes shorter than 400 miles. Its headquarters is at Union Station in Washington, D.C.
The name "Amtrak" is a portmanteau of the words "America" and "trak", the latter itself a sensational spelling of "track".
Read more on
Wikipedia
.
Paint Scheme
:
Phase III, introduced in 1976, is still used on some equipment. On both passenger cars and locomotives, the outer white pinstripes were removed while the inner stripe was widened, resulting in red, white, and blue stripes of equal width. Turboliners and the LRC test train were painted in white, with the stripes at the bottom of the train. This scheme was introduced "for safety, graphic aid and saving money", as the white band was highly reflective and provided a place for car information, and the standard widths made better use of raw material.
Several types of locomotives that were acquired later were given variations on Phase III. AEM-7 locomotives had the blue stripe expanded to cover the entire lower part of the body. On Dash 8-32BWH locomotives, a deeper blue and red was used; the stripes had additional pinstripes and angled upward across the middle of the body. The similarity to the Pepsi logo led to the units being nicknamed "Pepsi Cans". Genesis locomotives had a lighter roof and narrower white stripe; the stripes angled downward on the sloped nose, and faded towards the rear. That variant was created by industrial designer Cesar Vergara, who also designed the angular bodies of the locomotives.
In October 2013, Amtrak introduced a new variant of Phase III with the production of the new Viewliner II cars, the first of which entered service in 2015. The Viewliner cars have some changes from previous Phase III passenger cars, including a red reflective stripe at the bottom and a newer ("Travelmark") logo. In January 2016, Amtrak revealed a P32AC-DM that was repainted into Phase III, similar to that of the heritage units Nos. 145 and 822, but featuring modern logos and "Empire Service" emblems on the sides. All P32AC-DMs will eventually be repainted into this scheme, with costs shared between Amtrak and the state of New York.
Brand/Importer Information
:

Life-Like Products LLC (now Life-Like Toy and Hobby division of Wm. K. Walthers) was a manufacturer of model railroad products and was based in Baltimore, Maryland.
It was founded in the 1950s by a company that pioneered extruded foam ice chests under the Lifoam trademark. Because ice chests are a summer seasonal item, the company needed a way to keep the factory operating year round. As model railroading was becoming popular in the post-war years, they saw this as an opportunity and so manufactured extruded foam tunnels for model trains. Over the years, Life-Like expanded into other scenery items, finally manufacturing rolling stock beginning in the late 1960s. At some point in the early 1970s, Life-Like purchased Varney Inc. and began to produce the former Varney line as its own.
The Canadian distributor for Life-Like products, Canadian Hobbycraft, saw a missing segment in market for Canadian model prototypes, and started producing a few Canadian models that were later, with a few modifications, offered in the US market with US roadnames.
In 2005, the company, now known as Lifoam Industries, LLC, decided to concentrate on their core products of extruded foam and sold their model railroad operations to Wm. K. Walthers.
In June 2018, Atlas and Walthers announced to have reached an
agreement
under which all Walthers N scale rolling stock tooling, including the former Life-Like tooling, will be purchased by Atlas.
Read more on
Wikipedia
and
The Train Collectors Association
.
Item created by:
gdm
on 2018-08-13 09:52:49. Last edited by
gdm
on 2020-07-24 07:29:29
If you see errors or missing data in this entry, please feel free to
log in
and edit it. Anyone with a Gmail account can log in instantly.