Specific Item Information: N RTR Auto-Max Articulated Auto Rack, KCS #1
Model Information: This Athearn model features: Three road numbers; Full articulation with flexible diaphragm; Safety striping; Simulated corrugate roof; Separately applied brake details; Fully-assembled and ready-to-run out of the box; Accurately painted and printed; Highly detailed, injection molded body; Separately applied brake wheel; Machined metal wheels; Screw mounted trucks; McHenry operating knuckle couplers; Weighted for trouble free operation; Clear plastic jewel box for convenient storage; Operates on Code 55 and 80 rail; Minimum radius: 11"
Road Name History
: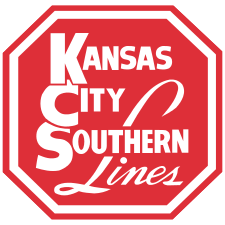 KCS began (with a different name) in 1890 under the direction of Arthur Stilwell for the purpose of building a railroad from Kansas City directly south along the Missouri – Kansas, Arkansas – Oklahoma, and Louisiana – Texas borders to the Gulf of Mexico. At the point where the railroad met the Gulf, Stillwell built a port complex and named it after himself, Port Arthur, Texas. Two years later, the company defaulted on a loan, Stilwell was kicked out and they changed the name of the railroad to Kansas City Southern. Stilwell went on to build the Kansas City Mexico & Orient.
The KCS steam fleet was, well, peculiar. They were the only railroad to use 0-6-6-0's, not as heavy switchers, not as pushers, but as mainline road engines. 2-8-8-0's were also used for heavy road service with Santa Fe types and Consolidations filling out the freight roster. 11 Pacifics handled the passenger trains. They were odd first in that they had 2 sand domes (rare on passenger power.) Second, they had a high mounted headlight but without a number plate in the middle of the smokebox door, giving the front a strange "faceless" appearance. A few of these Pacifics assigned to the Kansas City – Port Arthur "Flying Crow" were equipped with air horns that sounded like a cawing crow… Really! KCS also had 2 Shays used to muscle cars up and down the 10% grades of many Kansas City industrial spurs. (If you've been to Kansas City, you will understand why.) The pinnacle of the fleet was the J class 2-10-4's, purchased to replace the 0-6-6-0's in 1937. These were the last Texas types built by Lima and had sleek, jacketed boilers and enclosed cabs.
In 1939, the KCS acquired the Louisiana & Arkansas which ran from Dallas east to Shreveport and then New Orleans. Actually, it was the owners of the L&A that bought the KCS but for charter reasons, the deal was arranged so that KCS took control of L&A. L&A remained semi-autonomous in an SP-Cotton Belt sort of way. This brought the KCS system to over 1,660 miles (between Grand Trunk Western and Delaware & Hudson in relative size.) The L&A image began to fade away in the 1960s but it wasn't fully merged into KCS until 1992.
Dieselization came primarily from EMD with E's pulling the Flying Crow and Southern Belle, and F's in freight service. These were delivered in the classic red, black and yellow with red being dominant on the freight units and yellow on the passenger units. A-B-B-A sets of Erie Builts were also used in freight service but were notorious for breaking knuckles on the hog-back hills of the Ozarks.
Switchers and first generation hood units were delivered in black with white trim (much like Illinois Central) with the name spelled out on the long hood. Hood units and switchers came from EMD, Alco, Baldwin and FM.
In the 1960s, the paint scheme was simplified to a solid red. This became known as Deramus Red after the line's CEO William Deramus II. Deramus's son (William III) was head of Chicago Great Western and later M-K-T, both of which used similar reds. While William II was a reasonably adept CEO, his son William III was less successful, at least as far as the railroad was concerned. Under William III, track deteriorated and customers fled, which in turn permitted him to cut more service and staff. Fewer, longer trains were dispatched. Meanwhile William III was pouring available cash into diversifying into less regulated industries. By the 1970s, KCS faced a triple threat. Track condition was at an all time low, the first generation diesels were wearing out and tonnage was increasing. A new CEO began to turn the railroad around. The red paint scheme was dumped for white with red lettering. Grain moving down from Kansas City was joined by petro-chemicals moving up from the coast. Powder River Coal joined the mix during this period.
KCS's diversified holdings, including the Janus Fund, made KCS ripe for takeover. In 1985, leftist fundraiser George Soros attempted a hostile takeover but was foiled first by a real estate developer and then by a Deramus successor who had since moved to Hallmark Cards and then bought a large block of KCS stock.
Now a rousing success, KCS spun off Janus and other holdings and kept the railroad because that is where the REAL money was! In 2006, the Southern Belle red, yellow, and black paint scheme was re-introduced. A version of it was even applied to some new KCS freight cars (KCS freight cars had been notorious dull for decades with few having anything more than reporting marks to trumpet their owner.)
Brand/Importer Information
: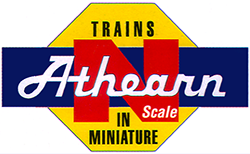 Athearn
's history began in 1938, when its founder-to-be, Irvin Athearn, started an elaborate O scale layout in his mother's house. After placing an ad selling the layout, and receiving much response to it, Irv decided that selling model railroads would be a good living. He sold train products out of his mother's house through most of the 1940s. After becoming a full-time retailer in 1946, Irv opened a separate facility in Hawthorne, California in 1948, and that same year he branched into HO scale models for the first time.
Athearn acquired the Globe Models product line and improved upon it, introducing a comprehensive array of locomotive, passenger and freight car models. Improvements included all-wheel drive and electrical contact. One innovation was the "Hi-Fi" drive mechanism, employing small rubber bands to transfer motion from the motor spindle to the axles. Another was the double-ended ring magnet motor, which permitted easy connection to all-wheel-drive assemblies. Athearn was also able to incorporate flywheels into double-ended drives.
The company produced a model of the Boston & Maine P4 class Pacific steam locomotive which incorporated a cast zinc alloy base and thermoplastic resin superstructure. It had a worm drive and all power pickup was through the bipolar trucks that carried the tender. This item was discontinued after the Wilson motor was no longer available, and was not redesigned for a more technologically advanced motor.
Athearn's car fleet included shorter-than-scale interpretations of passenger cars of Southern Pacific and Atchison, Topeka & Santa Fe Railroad prototypes. The company also offered a variety of scale-length freight cars with sprung and equalized trucks. The cars could be obtained in simple kit form, or ready-to-run in windowed display boxes. The comprehensive scope of the product line contributed to the popularity of HO as a model railroad scale, due to the ready availability of items and their low cost.
Irv Athearn died in 1991. New owners took control in 1994, but continued to follow Athearn's commitment to high-quality products at reasonable prices. Athearn was bought in 2004 by Horizon Hobby. Athearn was then moved from its facility in Compton to a new facility in Carson, California. In mid-2009, all remaining US production was moved to China and warehousing moved to parent Horizon Hobby. Sales and product development was relocated to a smaller facility in Long Beach, California.
Read more on
Wikipedia
and
Athearn website
.
Item created by:
Chance
on 2016-09-15 08:44:55. Last edited by
gdm
on 2018-01-09 10:48:26
If you see errors or missing data in this entry, please feel free to
log in
and edit it. Anyone with a Gmail account can log in instantly.