Specific Item Information: 41-BNO-11 Trucks, Standard Ends - no number.
Model Information
: Rapido first announced this model in August of 2015 and it was delivered in 2017. A 2-year gap may seem like a long wait, but given Rapido's focus on making sure the models were meeting their exacting specifications before shipping requires this kind of delay. Rapido owns its own factory in China, and now that it is staffed up and they have worked out all the kinks in their design->deliver peipeline, we should be able to expect lower wait times in the future.
This model is an excellent example of 3rd generation rolling stock as produced from 2010 forward. It features the three main attributes that separate 3rd generation models from earlier toolings. 1) It uses high-quality body-mounted magnetically-operated couplers. 2) It features chemically-blackened, low-profile metal wheels. 3) It has a range of separately applied detail parts such as grab-irons, underbody elements and brake details. Apart from one stirrup that was sloppily glued on, these details are of exceptional quality. These cars do not have a lot of print detail but what there is, is well executed.
The following is a list of features as supplied by Rapido:
Super-detailed underbody
Body-mounted Micro-Trains(C) couplers
All air, steam and electrical lines represented
Insulated 36 inch metal wheelsets (no pizza cutters!)
Diaphragms and safety bars
Painted grab irons applied at the factory.
Four numbers plus unnumbered available in each scheme
Will operate smoothly on curves down to 9-3/4 inch radius
Standard End or End Doors as appropriate
Super-detailled Commonwealth Cast Pedestal tri-axle, 41-N-11 Inside
Swinghanger or 41-BNO-11 Outside Swinghanger trucks as appropriate for each roadname and car type.
Prototype Description: Almost every train needs a baggage car, from the hot-shot streamliner to the two-car branchline local. This National Steel Car smooth side baggage-express car has been in use throughout North America for over 60 years. These cars, along with similar cars from other builders, carried baggage and express traffic on primary, secondary and mixed trains. Many carried sealed mail for the post office. These cars were used until recently on Amtrak, VIA Rail, Ontario Northland, Algoma Central and are still used on several tourist lines.
Road Name History
: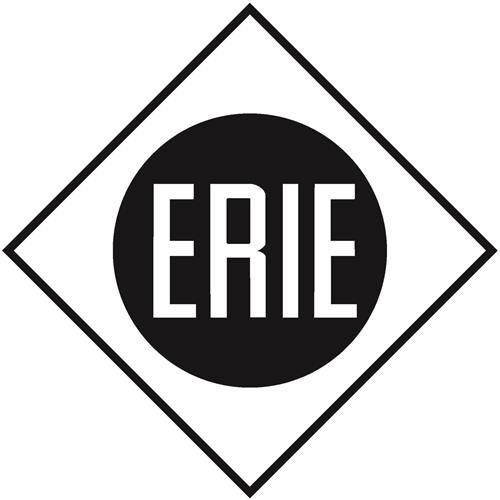 The Erie (the second railroad by that name) was formed in 1895 from the reorganization of the New York Lake Erie & Western which had cobbled together a Jersey City (across the Hudson from New York City) to Chicago route from the original Erie, the Chicago & Atlantic, Atlantic & Great Western and a few smaller lines. The route had been built to 6' gauge and had been standard gauged in 1880.
The New York – Chicago main was all double track with big rail. However, the mainline managed to miss every major city along the way. Binghamton, New York and Akron, Ohio were the biggest cities on the mainline between New York and Chicago. Buffalo, Rochester, Youngstown, Cleveland, Dayton, and Cincinnati were all at the end of branches from the mainline. Some said that "you could forget how much unpopulated land there was in the Northeast until you rode the Erie."
Erie and its predecessors were early victims of "robber barons" that saddled the company with debt that it would carry for over 100 years. The companies went bankrupt 3 times in the 19th Century and once during the Depression (in 1938, after most other lines ironically.) Erie promoted exclusively from within and management was rife with nepotism. It was called "Weary Erie", and "The Scarlet Woman of Wall Street."
Erie's steam fleet was varied although not terribly modern. The Erie passed through Pennsylvania's anthracite region so camelback locomotives were part of the mix. In fact Erie had the largest camelbacks ever built – 0-8-8-0's delivered in 1908. Erie was also one of only two roads to employ Triplexes, in this case with the 2-8-8-8-2 wheel arrangement. Their most modern steam consisted of heavy Berkshires delivered in 1929 when the company was under the influence of the Van Sweringen brothers who also controlled Nickel Plate, C&O, Pere Marquette and Hocking Valley. As a result, they dieselized fairly early primarily with EMD, and Alco road and passenger units and switchers from nearly every builder. Like future dance partner DL&W, Erie road switchers were setup for long-hood-forward operation.
Other than heavy commuter operations in New Jersey, passenger operations paled in comparison to other eastern trunk lines. Erie concentrated on freight. From about 1947 until 1955, the Erie was fairly healthy, although still paying way too much for debt service. They even paid dividends for much of this period. Quartets of F units dragged freights over 185 cars long across New York's scenic Southern Tier. Erie's big clearances (due to the original 6' track gauge) made Erie the go-to road for highly lucrative over-size loads. The Erie was much loved by communities along the line.
The mid-to-late 50s presented one disaster after another. Twin hurricanes damaged track (although not as bad as neighbor DL&W who really took it in the teeth), then strikes in the cement and steel industries cut traffic dramatically. Labor trouble in the tire center of Akron (where Erie was a major carrier) led to much of the tire industry leaving the area. Erie's net income fell in half the next year and then they began to lose money. Combining parallel routes and Jersey Shore terminals with the Lackawanna helped but not enough. In 1960, The Erie merged with the Delaware Lackawanna & Western. Here are Erie's stats in their final year: 2,215 route miles (about the same length as competitors Nickel Plate and Wabash); 484 diesels; 535 passenger cars; 20,028 freight cars.
Brand/Importer Information
:

Rapido Trains Inc. is a high-end manufacturer of model trains and accessories in HO, OO and N (North American 1:160 and British 1:148) scales. The firm's mission is to recreate the entire rail travel experience, from fully-detailed interiors and under-frames on models to fully-wired telephone poles for model railroads.
The name RAPIDO was introduced by Canadian National in 1965 to headline the railway's high-speed intercity passenger services. Until the mid-1980s, RAPIDO stood for fast schedules, frequent trains, and superb service.
Today, Rapido Trains continues the RAPIDO concept with state-of-the-art models and attention to fine detail. This company is
not
related to the venerable (and now defunct) German manufacturer Arnold Rapido, nor the present-day Arnold (which is owned by the United Kingdom's Hornby), Canadian based Rapido Trains was founded in 2003.
Item created by:
Alain LM
on 2016-08-04 00:43:37. Last edited by
Alain LM
on 2016-08-04 03:43:37
If you see errors or missing data in this entry, please feel free to
log in
and edit it. Anyone with a Gmail account can log in instantly.