History
: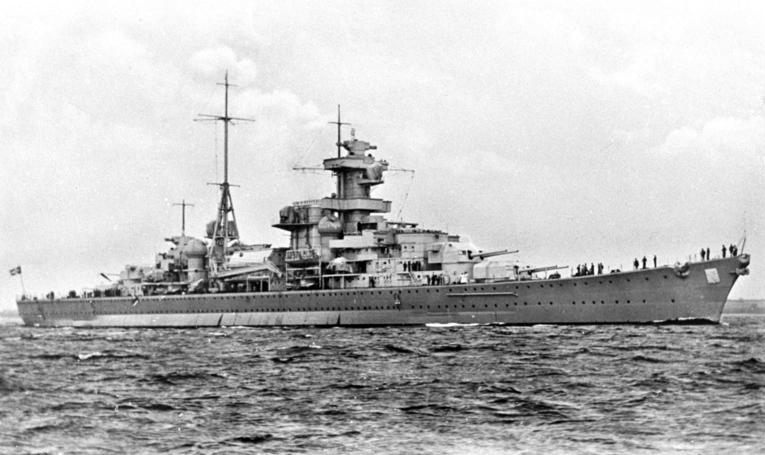 Blücher was the second of five Admiral Hipper-class heavy cruisers of Nazi Germany's Kriegsmarine (War Navy), built after the rise of the Nazi Party and the repudiation of the Treaty of Versailles. Named for Gebhard Leberecht von Blücher, the Prussian victor of the Battle of Waterloo, the ship was laid down in August 1936 and launched in June 1937. She was completed in September 1939, shortly after the outbreak of World War II. After completing a series of sea trials and training exercises, the ship was pronounced ready for service with the fleet on 5 April 1940. She was armed with a main battery of eight 20.3 cm (8.0 in) guns and, although nominally under the 10,000-long-ton (10,000 t) limit set by the Anglo-German Naval Agreement, actually displaced over 16,000 long tons (16,000 t).
Class History
: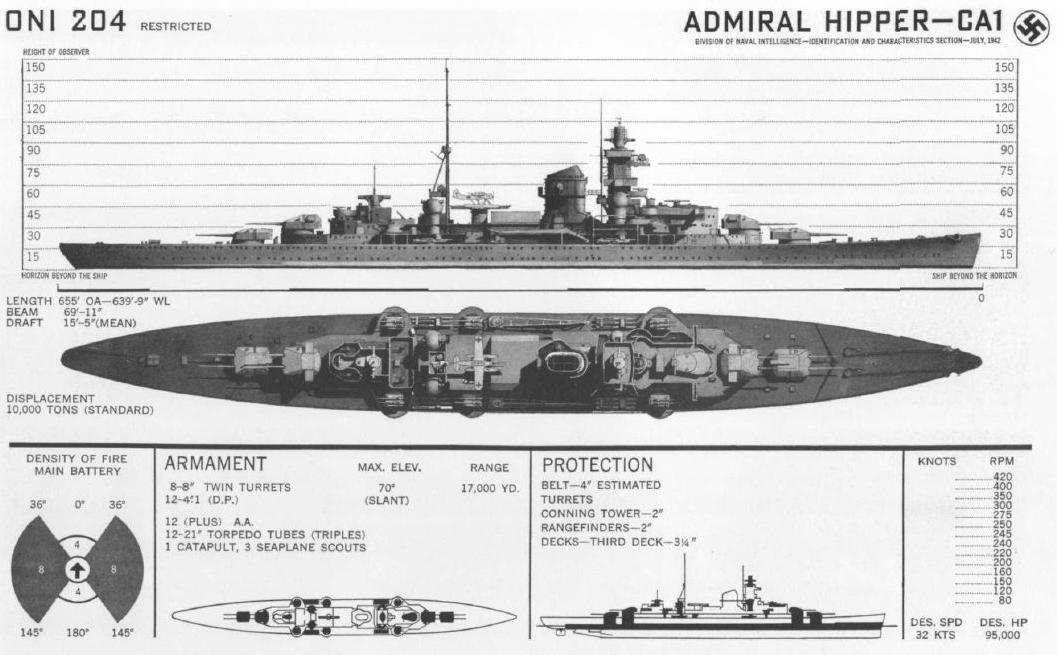 The Admiral Hipper-class was a group of five heavy cruisers built by Nazi Germany's Kriegsmarine in the mid-1930s. The class comprised Admiral Hipper, the lead ship, Blücher, Prinz Eugen, Seydlitz, and Lützow. Only the first three ships of the class were completed to see action during World War II. Work on Seydlitz stopped when she was approximately 95 percent complete; it was decided to convert her into an aircraft carrier, but this was not completed either. Lützow was sold incomplete to the Soviet Union in 1940.
Admiral Hipper and Blücher took part in Operation Weserübung, the invasion of Norway in April 1940. Blücher was sunk by Norwegian coastal defenses outside Oslo while Admiral Hipper led the attack on Trondheim. She then conducted sorties into the Atlantic to attack Allied merchant shipping. In 1942, she was deployed to northern Norway to attack shipping to the Soviet Union, culminating in the Battle of the Barents Sea in December 1942, where she was damaged by British cruisers. Prinz Eugen saw her first action during Operation Rheinübung with the battleship Bismarck. She eventually returned to Germany during the Channel Dash in 1942, after which she too went to Norway. After being torpedoed by a British submarine, she returned to Germany for repairs. Admiral Hipper while decommissioned after returning to Germany in early 1943, was partially repaired and recommissioned in the fall of 1944 for a refugee transport mission in 1945. Only Prinz Eugen continued to serve in full commission and stayed in the Baltic until the end of the war.
Admiral Hipper was scuttled in Kiel in May 1945, leaving Prinz Eugen as the only member of the class to survive the war. She was ceded to the US Navy, which ultimately expended the ship in the Operation Crossroads nuclear tests in 1946. Seydlitz was towed to Königsberg and scuttled before the advancing Soviet Army could seize the ship. She was ultimately raised and broken up for scrap. Lützow, renamed Petropavlovsk, remained unfinished when the Germans invaded the Soviet Union. The ship provided artillery support against advancing German forces until she was sunk in September 1941. She was raised a year later and repaired enough to participate in the campaign to relieve the Siege of Leningrad in 1944. She served on in secondary roles until the 1950s, when she was broken up
History
:

Germany is a Western European country with a landscape of forests, rivers, mountain ranges and North Sea beaches. It has over 2 millennia of history. Berlin, its capital, is home to art and nightlife scenes, the Brandenburg Gate and many sites relating to WWII. Munich is known for its Oktoberfest and beer halls, including the 16th-century Hofbräuhaus. Frankfurt, with its skyscrapers, houses the European Central Bank.
Item created by:
Lethe
on 2015-05-31 17:46:30. Last edited by
gdm
on 2020-06-03 16:16:09
If you see errors or missing data in this entry, please feel free to
log in
and edit it. Anyone with a Gmail account can log in instantly.