History
: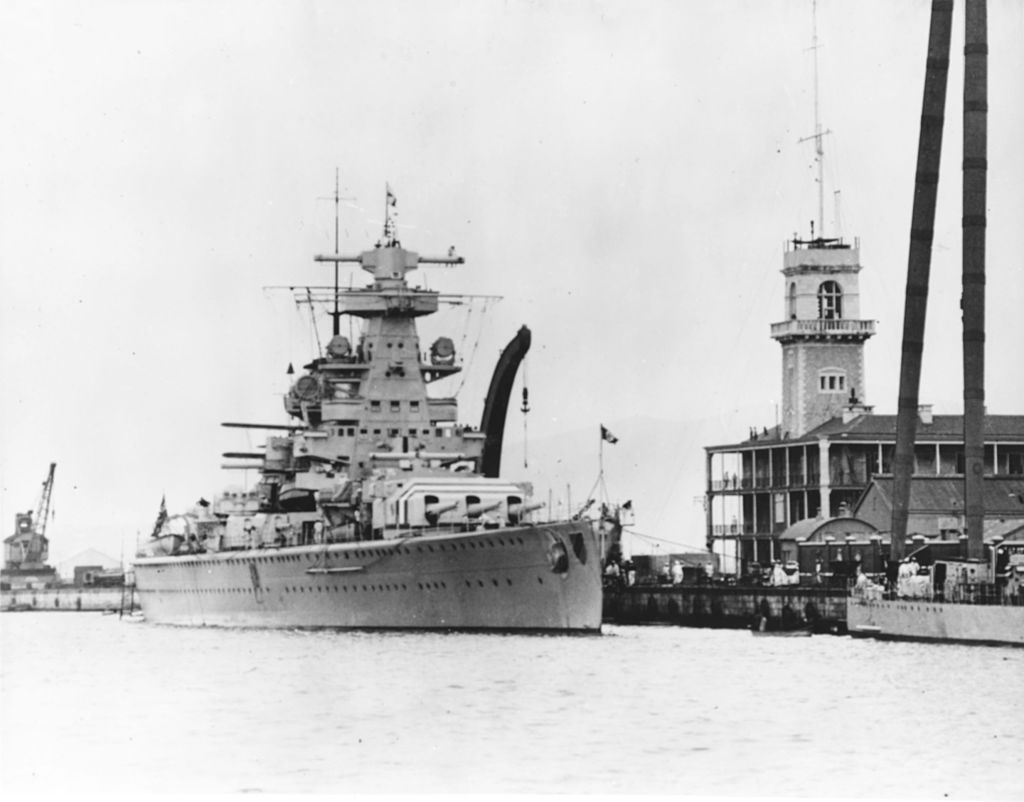 Admiral Scheer was a Deutschland-class heavy cruiser (often termed a pocket battleship) which served with the Kriegsmarine of Nazi Germany during World War II. The vessel was named after Admiral Reinhard Scheer, German commander in the Battle of Jutland. She was laid down at the Reichsmarinewerft shipyard in Wilhelmshaven in June 1931 and completed by November 1934. Originally classified as an armored ship (Panzerschiff) by the Reichsmarine, in February 1940 the Germans reclassified the remaining two ships of this class as heavy cruisers.
The ship was nominally under the 10,000 long tons (10,000 t) limitation on warship size imposed by the Treaty of Versailles, though with a full load displacement of 15,180 long tons (15,420 t), she significantly exceeded it. Armed with six 28 cm (11 in) guns in two triple gun turrets, Admiral Scheer and her sisters were designed to outgun any cruiser fast enough to catch them. Their top speed of 28 knots (52 km/h; 32 mph) left only a handful of ships in the Anglo-French navies able to catch them and powerful enough to sink them.
Admiral Scheer saw heavy service with the German Navy, including a deployment to Spain during the Spanish Civil War, where she bombarded the port of Almería. Her first operation during World War II was a commerce raiding operation into the southern Atlantic Ocean; she also made a brief foray into the Indian Ocean. During the operation, she sank 113,223 gross register tons (GRT) of shipping, making her the most successful capital ship surface raider of the war. Following her return to Germany, she was deployed to northern Norway to interdict shipping to the Soviet Union. She was part of the abortive attack on Convoy PQ 17 and conducted Operation Wunderland, a sortie into the Kara Sea. After returning to Germany at the end of 1942, the ship served as a training ship until the end of 1944, when she was used to support ground operations against the Soviet Army. She was sunk by British bombers on 9 April 1945 and partially scrapped; the remainder of the wreck lies buried beneath a quay.
Class History
: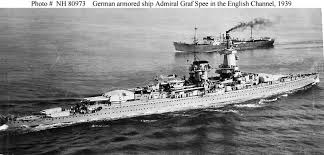 The Deutschland class was a series of three Panzerschiffe ("armored ships"), a form of heavily armed cruiser, built by the Reichsmarine officially in accordance with restrictions imposed by the Treaty of Versailles. The class, which comprised the ships Deutschland, Admiral Scheer, and Admiral Graf Spee, were all stated to displace 10,000 long tons (10,000 t) in accordance with the Treaty, though they actually displaced 10,600 to 12,340 long tons (10,770 to 12,540 t) at standard displacement. Despite violating the weight limitation, the design for the ships incorporated several radical innovations to save weight. They were the first major warships to use welding and all-diesel propulsion. Due to their heavy armament of six 28 cm (11 in) guns, the British began referring to the vessels as "pocket battleships". The Deutschland class ships were initially classified as Panzerschiffe or "armored ships", but the Kriegsmarine reclassified them as heavy cruisers in February 1940.
The three ships were built between 1929 and 1936 by the Deutsche Werke and Reichsmarinewerft in Kiel and Wilhelmshaven, respectively. They saw heavy service with the German Navy. All three vessels served on non-intervention patrols during the Spanish Civil War. While on patrol, Deutschland was attacked by Republican bombers, and in response, Admiral Scheer bombarded the port of Almería. In 1937, Admiral Graf Spee represented Germany at the Coronation Review for Britain's King George VI. For the rest of their peacetime careers, the ships conducted a series of fleet maneuvers in the Atlantic and visited numerous foreign ports in goodwill tours.
Before the outbreak of World War II, Deutschland and Admiral Graf Spee were deployed to the Atlantic to put them in position to attack Allied merchant traffic once war was declared. Admiral Scheer remained in port for periodic maintenance. Deutschland was not particularly successful on her raiding sortie, during which she sank or captured three ships. She then returned to Germany where she was renamed Lützow. Admiral Graf Spee sank nine vessels in the South Atlantic before she was confronted by three British cruisers at the Battle of the River Plate. Although she damaged the British ships severely, she was herself damaged and her engines were in poor condition. Coupled with false reports of British reinforcements, the state of the ship convinced Hans Langsdorff, her commander, to scuttle the ship outside Montevideo.
Lützow and Admiral Scheer were deployed to Norway in 1942 to join the attacks on Allied convoys to the Soviet Union. Admiral Scheer conducted Operation Wunderland in August 1942, a sortie into the Kara Sea to attack Soviet merchant shipping, though it ended without significant success. Lützow participated in the Battle of the Barents Sea in December 1942, a failed attempt to destroy a convoy. Both ships were damaged in the course of their deployment to Norway, and eventually returned to Germany for repairs. They ended their careers bombarding advancing Soviet forces on the Eastern Front; both ships were destroyed by British bombers in the final weeks of the war. Lützow was raised and sunk as a target by the Soviet Navy while Admiral Scheer was partially broken up in situ, with the remainder of the hulk buried beneath rubble
History
:

Germany is a Western European country with a landscape of forests, rivers, mountain ranges and North Sea beaches. It has over 2 millennia of history. Berlin, its capital, is home to art and nightlife scenes, the Brandenburg Gate and many sites relating to WWII. Munich is known for its Oktoberfest and beer halls, including the 16th-century Hofbräuhaus. Frankfurt, with its skyscrapers, houses the European Central Bank.
Item created by:
Lethe
on 2015-05-31 17:46:30. Last edited by
gdm
on 2019-12-31 17:42:20
If you see errors or missing data in this entry, please feel free to
log in
and edit it. Anyone with a Gmail account can log in instantly.