Prototype History
: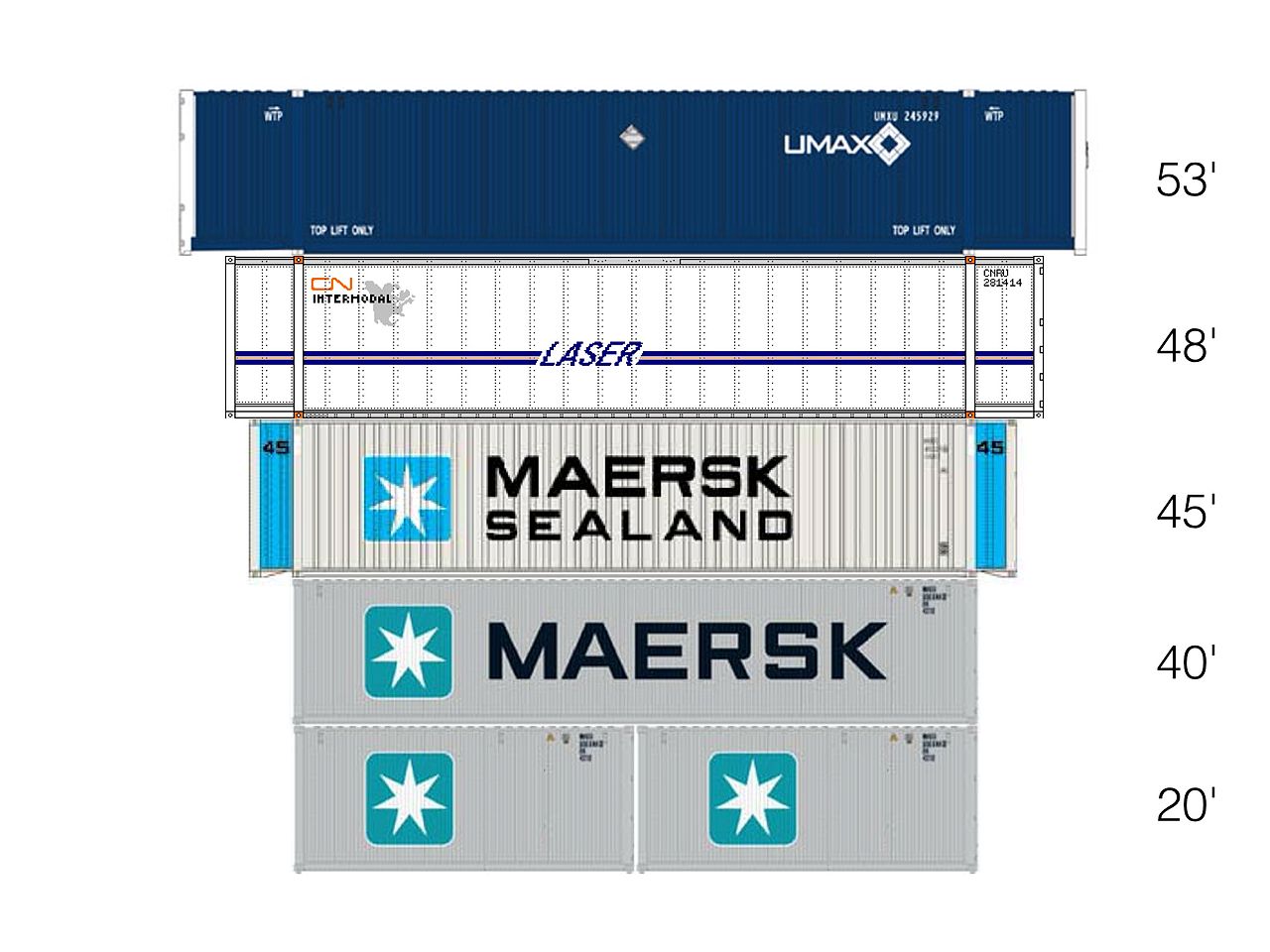 An intermodal container is a large standardized shipping container, designed and built for intermodal freight transport, meaning these containers can be used across different modes of transport – from ship to rail to truck – without unloading and reloading their cargo. Intermodal containers are primarily used to store and transport materials and products efficiently and securely in the global containerized intermodal freight transport system, but smaller numbers are in regional use as well. These containers are known under a number of names, such as simply container, cargo or freight container, ISO container, shipping, sea or ocean container, container van or (Conex) box, sea or c can.
The 45' containers are the largest permitted on most international routes.
From Wikipedia
Road Name History
: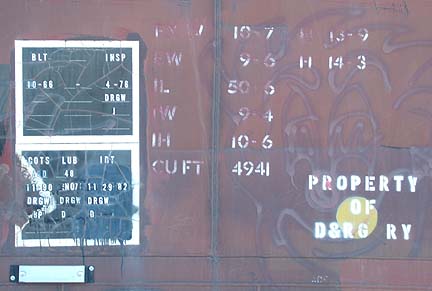 "Dimensional Data" here means painted models with printed body specifications and no road/reporting letters/marks or road Name/livery. The data typically consists of internal and external dimensions, capacities, weight information and specific characteristics of freight cars, trailers and containers.
The Association of American Railroads (AAR) sets standards for the uniform marking of freight cars with regard to car ownership, weight, load capacity, dimensions, and maintenance. In addition, car owners choose to display data relating to various devices and equipment so the cars may be properly used and repaired.
CAPY (nominal capacity) is the intended load-carrying capacity of the car, to the nearest 1000 pounds. This is determined by the structural strength of the car's underframe and the size of the journal bearings of the car's trucks.
LD LMT (load limit) is the maximum weight of lading that can be carried by the car, to the nearest 100 pounds. This is determined by subtracting the weight of the car when empty from the total allowable gross weight given the size of the car's journal bearings. The load limit for a car is usually a bit greater than its capacity; the two figures can be equal, but capacity can never exceed load limit.
LT WT (light, or empty, weight) is the weight of the car when empty. Accompanying the light weight marking is a date indicating when the railroad or owner last verified the car's weight. The letters for this mark are not always reporting marks; sometimes a location code is used. NEW and a date indicates that the weight shown is the car's as-built weight, and that it hasn't been field-checked since.
Brand/Importer Information
:

DeLuxe Innovations is a "wholesale manufacturer" of model trains. We manufacture scale replica train models and sell them to hobby shops and distributors worldwide. 2013 marked the 20 year anniversary of DeLuxe Innovations brand trains. There are over 25 body styles in our product line and all of the cars in our single and multi-car packs have different road numbers. DeLuxe Innovations, Inc. is owned by Dave Ferrari, founder of Squeak N Products. We are located in Midland Park, New Jersey. When Dave purchased the business it was located in Burbank, California which would have been a bit of a long commute so the move to the East Coast was planned. Our first East Coast location was in Whippany, NJ along the Whippany River.
The business was started in 1993 by George Johnsen and Roberta Liebreich in Burbank, California. They had a philosophy that just wouldn't allow using a coal car as a "stand in" for a woodchip car, or printing any and all boxcar paint schemes on a PS-1. Starting with the release of the first ever etched metal parts for a ready to run car (1994's Twinstack's metal walkways) through the full dimension underframe and etched metal roofwalk (1996's 1944 AAR Boxcar) to the challenging RoadRailer system (2000), our products have been accurate to target the modeler or enthusiast.
You can also follow DeLuxe on
Twitter
Item created by:
scottakoltz
on 2020-08-01 09:38:05
If you see errors or missing data in this entry, please feel free to
log in
and edit it. Anyone with a Gmail account can log in instantly.