Model Information: Precision Master first released this body style in kit form. Later on, they released the same body as a RTR (Ready-to-Run) model. In 2005, Red Caboose acquired this tooling from PM. Red Caboose released this model in RTR form. In 2015, Fox Valley acquired all the N Scale toolings from Red Caboose and is re-releasing these models in RTR (Ready-to-Run) versions with metal wheels and body-mount couplers, which improves this model from a 2nd generation to a 3rd genration piece of rolling stock.
Prototype History
: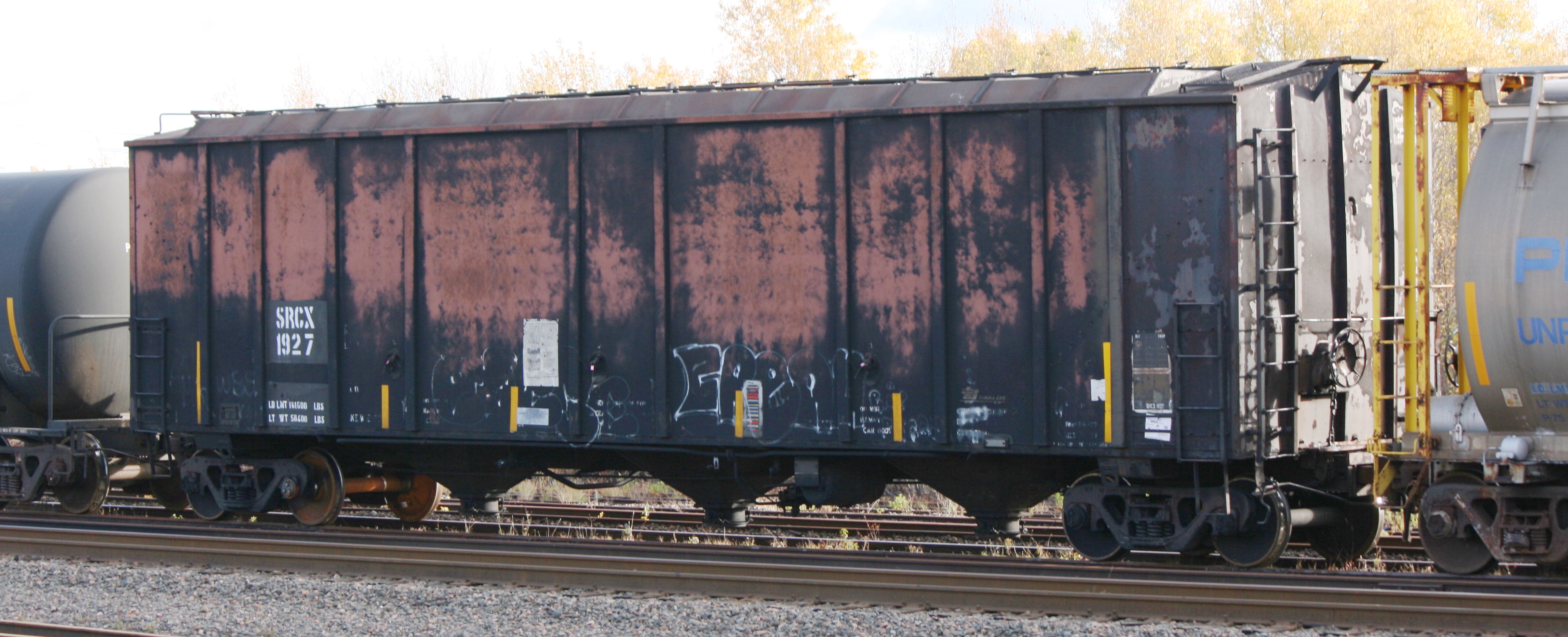 Found throughout North America, these unique freight cars are commonly found in large groups near major carbon black producers or users. They can also be seen singularly or in small blocks of cars in mixed freight trains. Both prototypes were painstakingly researched from field documentation, photographs, reference books, and builder drawings.
During the 1970s, Thrall Manufacturing Co. introduced a new railcar designed for handling carbon black. These 3-bay, 70-ton capacity covered hopper cars boasted a volume of 5750 cubic feet, and measured 51' over their ends. Unlike traditional covered hopper designs, where the end slope sheets are plainly visible, these cars featured an enclosed, boxy design, which was a necessity due to a special design feature to aid in the unloading of carbon black.
At the inside ends of the car are special inflatable bags, called "granuflators". When the car is loaded, they lay flat inside the car. When inflated with pressurized air, the granuflators expand, and push the carbon black towards the outlets. As typical with cars designed to haul carbon black, they featured tight-sealing 16" round roof hatches (22 or 28 depending upon customer specifications), sampling spigots on the car sides, and "butterfly" type outlet gates.
The "1970s" version of the 5750 represents production from approximately 1977 until 1979. This car features ten column-style posts per side and a unique roofline. While the ends are peaked and the end roof panels feature a single slope, the remaining roof panels feature a dual slope and a steep shoulder where it meets the side plate. Many of these cars are still in service today.
Road Name History
: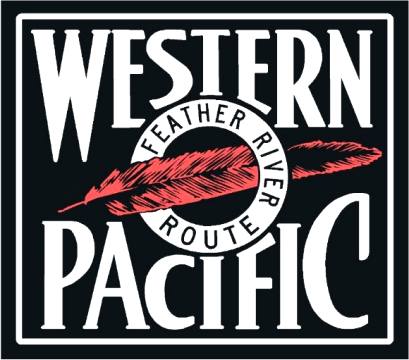 The Western Pacific Railroad (reporting mark WP) was a Class I railroad in the United States. It was formed in 1903 as an attempt to break the near-monopoly the Southern Pacific Railroad had on rail service into northern California. WP's Feather River Route directly competed with SP's portion of the Overland Route for rail traffic between Salt Lake City/Ogden, Utah and Oakland, California for nearly 80 years. In 1983 the Western Pacific was acquired by the Union Pacific Railroad. The Western Pacific was one of the original operators of the California Zephyr.
The original Western Pacific Railroad was established in 1865 to build the westernmost portion of the Transcontinental Railroad between San Jose, California (later Oakland, California), and Sacramento, California. This company was absorbed into the Central Pacific Railroad in 1870.
The second company to use the name Western Pacific Railroad was founded in 1903. Under the direction of George Jay Gould I, the Western Pacific was founded to provide a standard gauge track connection to the Pacific Coast for his aspiring Gould transcontinental system. The construction was financed by the Denver and Rio Grande Western Railroad, a company in the Gould system, which lost access to California due to the attempted acquisition of the Southern Pacific Railroad by the Rio Grande's main rival, the Union Pacific Railroad. The Western Pacific Railroad acquired the Alameda and San Joaquin Railroad and began construction on what would become the Feather River Route. In 1909 it became the last major railroad completed into California. It used 85-lb rail on untreated ties, with no tie plates except on curves over one degree; in 1935 more than half of the main line still had its original rail, most of it having carried 150 million gross tons.
The Western Pacific was acquired in 1983 by Union Pacific Corporation, which in 1996 would purchase its long-time rival, the Southern Pacific Railroad. In July 2005 Union Pacific unveiled a brand new EMD SD70ACe locomotive, Union Pacific 1983, painted as an homage to the Western Pacific.
Brand/Importer Information
:

Precision Masters was founded in 1984 by Bob Byers as a part-time operation. Initially the company was focused on producing a new coupler type that was compatible with Kadee/MTL couplers but had more accurate dimensions. After two years, in 1986, PM released their first entry into Rolling stock with the 5-Bay Ortner Open Hopper. Eventually, their product line grew to comprise 11 different body styles.
Bob's goal with the PM product line was to produce an alternative to the current (1980s) manufacturers releases. At that time, Micro-Trains/Kadee was known for excellent quality models with accurate scale details and high quality printing. All the others produced somewhat clunky models with inaccurately scaled roofwalks, brake wheels, stirrups, ladders and other details. The goal at PM was to produce a close-to-Kadee quality model at a lower price point. One of the ways PM accomplished this was releasing their models in 'easy-build" kit form.
Bob sold substantially all of PM's assets to Red Caboose in March of 1998. Fortunately, Red Caboose continued to release these models until they also sold their assets to Fox Valley Models. Again fortunately, we continue to see releases of these excellent quality models via Fox Valley with InterMountain trains helping with distribution.
Item created by:
Mopjunkie
on 2020-03-25 23:07:55. Last edited by
Lethe
on 2020-05-07 00:00:00
If you see errors or missing data in this entry, please feel free to
log in
and edit it. Anyone with a Gmail account can log in instantly.