Specific Item Information: The Minitrix Auto Rack is, from what I can tell, the largest piece of early N scale B&M rolling stock. These top out at around 89 feet on scale but are, I believe, still intended to operate on standard N scale curves which are around 9 ¾ inch radius. I did a little research into things and it appears the prototype would have been an 89 foot flat car, owned by Trailer Train, which would have been leased to the operating railroad who would have the auto rack attached to the top. When auto service was discontinued the rack could be removed and Trailer Train would still have a perfectly usable flat car. Now this is interesting to me, for all of the detail flaws found on early N scale freight cars, it seems Roco got the idea correct on these cars. The base of the car is in fact marked for Trailer Train (TTX) and the upper rack is marked for the leasing railroad, this seems to be the pattern for all of these Roco made auto racks… most impressive given the standards of the time.
Prototype History
: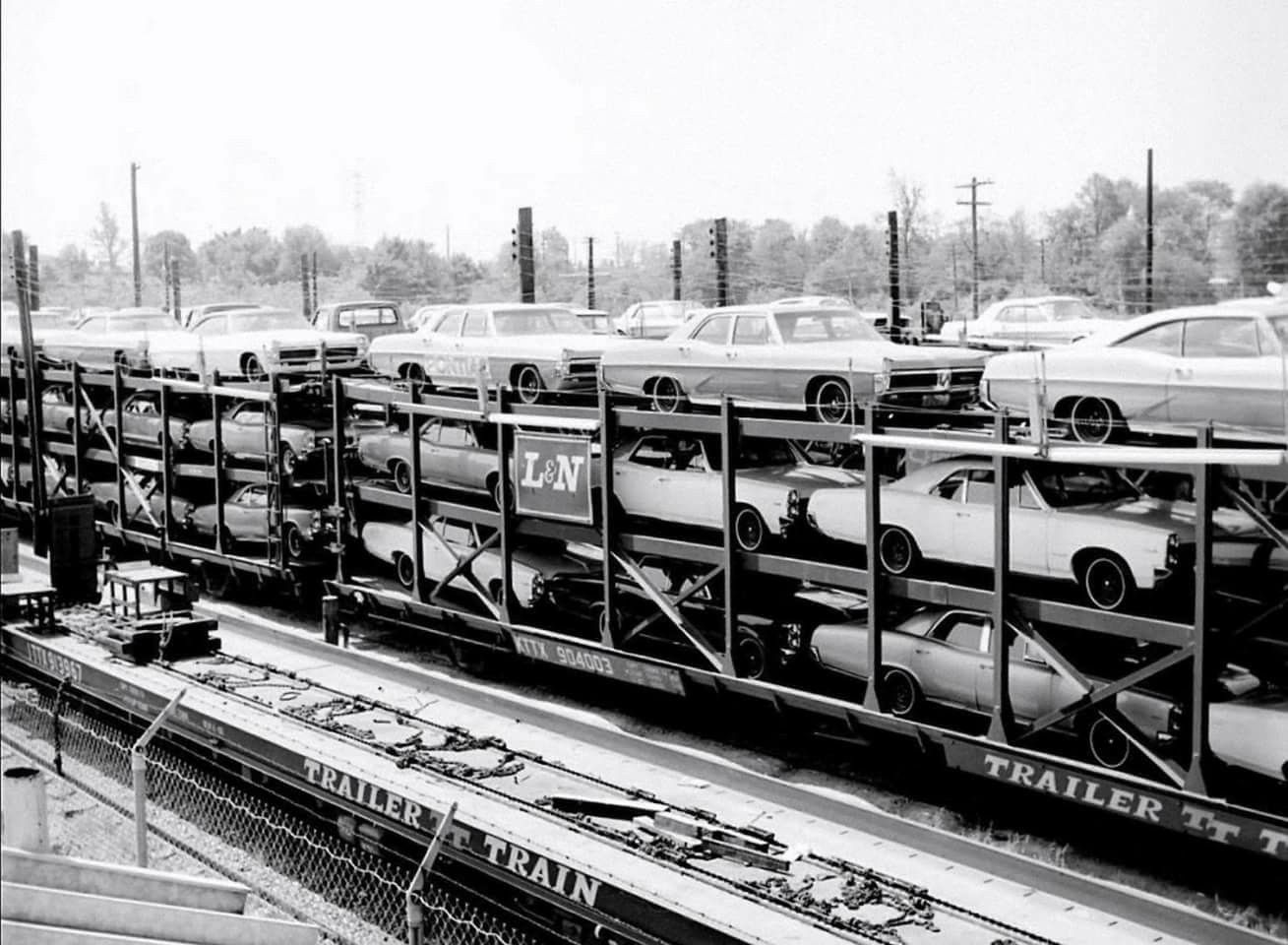 Introduced in the early 1960s, the Trailer Train (now TTX Company) F89F flatcar has been a mainstay of contemporary railroading. A product of Bethlehem Steel Company's (BSC) Johnstown, PA plant, over 9,000 of these (89' 8" over the strikers) cars were built throughout the 1960s. Visually distinctive from other long flatcars of their era thanks to their "C" channel side sills, these versatile cars were adapted for many types of service and loadings over the years, ranging from Trailer-On-Flatcar (TOFC), to autoracks, to structural steel loading. While the majority went to Trailer Train, many were built for various railroads, typically for autorack service. Many were "de-racked" in later years, being reassigned and equipped for other service - TOFC, vehicle loading, pipe service, etc.
Road Name History
: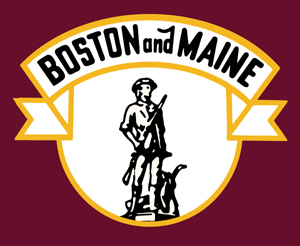 The Andover and Wilmington Railroad was incorporated March 15, 1833, to build a branch from the Boston and Lowell Railroad at Wilmington, Massachusetts, north to Andover, Massachusetts. The line opened to Andover on August 8, 1836. The name was changed to the Andover and Haverhill Railroad on April 18, 1837, reflecting plans to build further to Haverhill, Massachusetts (opened later that year), and yet further to Portland, Maine, with the renaming to the Boston and Portland Railroad on April 3, 1839, opening to the New Hampshire state line in 1840.
The Boston and Maine Railroad was chartered in New Hampshire on June 27, 1835, and the Maine, New Hampshire and Massachusetts Railroad was incorporated March 12, 1839, in Maine, both companies continuing the proposed line to South Berwick, Maine. The railroad opened in 1840 to Exeter, New Hampshire, and on January 1, 1842, the two companies merged with the Boston and Portland to form a new Boston and Maine Railroad.
The B&M flourished with the growth of New England's mill towns in the late 19th and early 20th centuries, but still faced financial struggles. It came under the control of J. P. Morgan and his New York, New Haven and Hartford Railroad around 1910, but anti-trust forces wrested control back. Later it faced heavy debt problems from track construction and from the cost of acquiring the Fitchburg Railroad, causing a reorganization in 1919.
By 1980, though still a sick company, the B&M started turning around thanks to aggressive marketing and its purchase of a cluster of branch lines in Connecticut. The addition of coal traffic and piggyback service also helped. In 1983 the B&M emerged from bankruptcy when it was purchased by Timothy Mellon's Guilford Transportation Industries for $24 million. This was the beginning of the end of the Boston & Maine corporate image, and the start of major changes, such as the labor issues which caused the strikes of 1986 and 1987, and drastic cost cutting such as the 1990 closure of B&M's Mechanicville, New York, site, the largest rail yard and shop facilities on the B&M system.
Guilford Rail System changed its name to Pan Am Railways in 2006. Technically, Boston & Maine Corporation still exists today but only as a non-operating ward of PAR. Boston & Maine owns the property (and also employs its own railroad police), while Springfield Terminal Railway, a B&M subsidiary, operates the trains and performs maintenance. This complicated operation is mainly due to more favorable labor agreements under Springfield Terminal's rules.
Read more on
Wikipedia
.
Brand/Importer Information
:

Trix is a German company that originally made Trix metal construction sets. one of its co-founders was Stephan Bing, the son of the pioneer toy-maker industrialist Ignaz Bing. In 1935 the company began producing the electrically powered model trains that it became famous for, under the Trix Express label. Prior to the outbreak of World War II the Trix company produced a small range of fairly unrealistic AC powered three rail models running at 14 volts.
N gauge models under the Minitrix brand were made from the late 1960s mostly of European prototypes (German and British primarily). North American prototypes were also manufactured and marketed under the Aurora "Postage Stamp" brand; later these items were sold under the American Tortoise, Model Power and Con-Cor brands. Trix sometimes utilized North American consultants to aid in the design of this portion of the product line. The "Hornby Minitrix' brand was used in the 1980s for a short lived range of British outline models using the earlier product tooling.
Trix's owner in the 1980s and 1990s was Mangold, which went bankrupt in the late 1990s and Märklin purchased the assets in January 1997. In part, this purchase was a reflection of Märklin's need for added production capacity; Trix had been manufacturing certain items for Märklin in previous years. The purchase was also in response to the earlier purchase of the Karl Arnold company by the Italian company Rivarossi; Märklin were very keen to take over Trix market share in 2-rail H0 and especially Minitrix, until then Märklin had not marketed N gauge models. In 2003, Märklin introduced its first N gauge models under the well established Minitrix brand. A number Märklin H0 scale three-rail AC locomotives have also been introduced in two-rail DC versions under the Trix logo and many models are shared between the two brands.
From Wikipedia
Manufacturer Information
: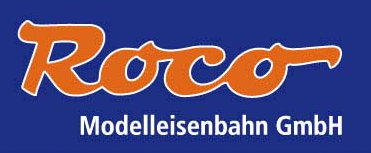 The company was founded in 1960 by Ing. Heinz Rössler and started with a plastic Minitanks series of military vehicles. After export to the USA became successful, the model line was expanded with model trains in HO scale and the smaller N scale. TT scale was also subsequently added to the product line. The model rail product line covers many European countries including Germany, Belgium, Luxembourg, France, Spain, Austria, Italy, Switzerland, Sweden and the Netherlands, and also the USA.
On July 15, 2005 ROCO Modellspielwaren GmbH was declared bankrupt. From July 25 the company continues as Modelleisenbahn GmbH, but still uses the Roco brand and associated logo. On October 1, 2007, distribution of the 'Minitank' product series was assigned to the German model car manufacturer Herpa.
Since February 2008 Modelleisenbahn also owns Fleischmann, which like Roco had gone bankrupt. The two companies continue as separate brands under Modelleisenbahn GmbH, while benefiting from economies of scale through joined development projects, marketing and procurement.
From Wikipedia
Item created by:
gdm
on 2017-03-03 09:15:42. Last edited by
scottakoltz
on 2020-05-22 17:24:42
If you see errors or missing data in this entry, please feel free to
log in
and edit it. Anyone with a Gmail account can log in instantly.