Prototype History
: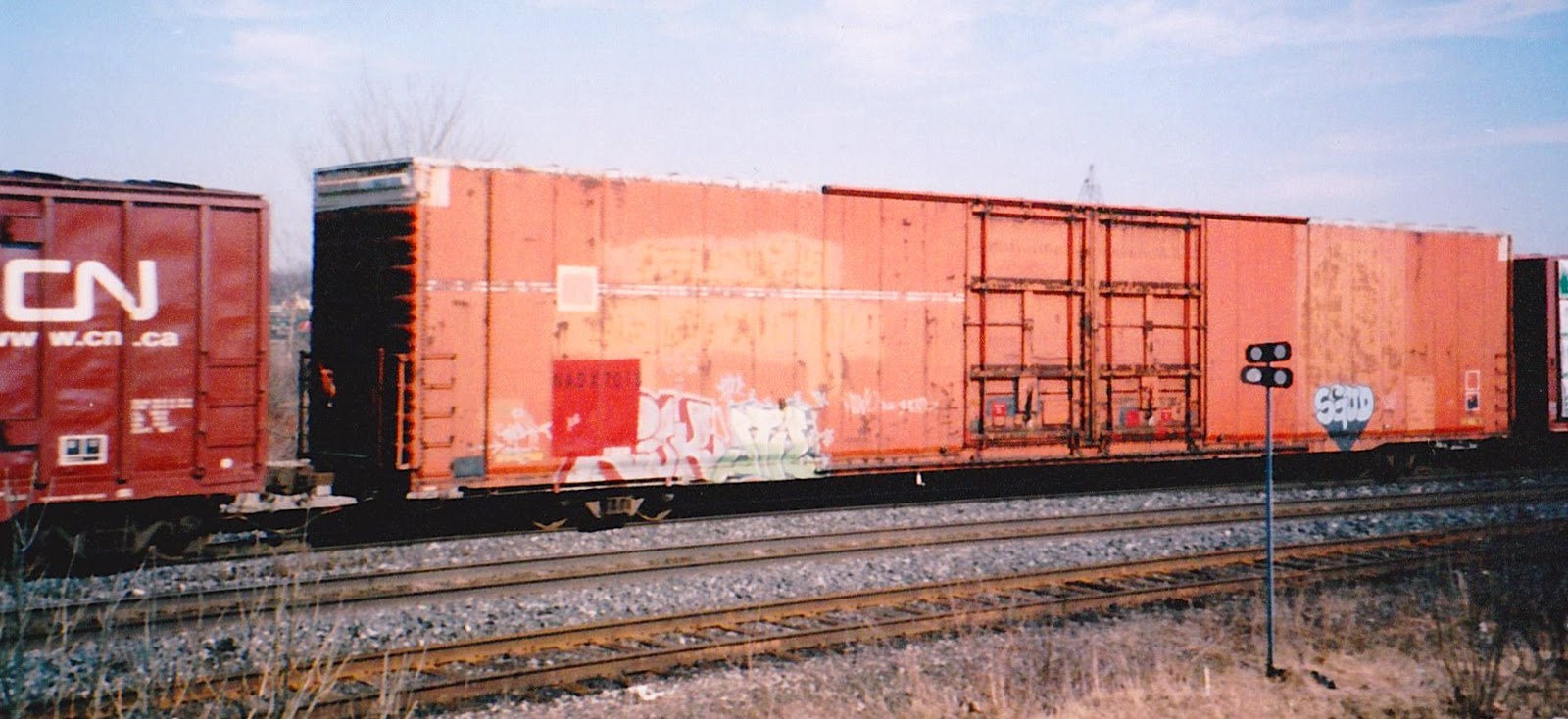 The three major automobile manufacturers in the United States, Chrysler, Ford, and General Motors, each developed specifications in the 1960s for specially built boxcars to transport automobile parts (not actual cars). They stated, if you build this type of car, your will be welcome to pick up and drop off parts at our plants. Thousands of these cars were built in the 1960s and 1970s. Three railcar manufacturers, Greenville, Pullman-Standard and Thrall took up the challenge and constructed 86 foot boxcars.
These cars are not only distinctive for their length (86 foot, also listed as 85 foot) but also for the fact that they were designed for a post-roofwalk world so they took advantage of the fact they didn't need to leave room for the roofwalk and instead are simply built taller. Hence they are considered High-Cube cars. They come in two major varieties: 8-door and 4-door. The eight door types were typically made for use at GM plants and have two sets of 9 foot doors on each side. When these doors are full opened, they created a pair of 18 foot opening on each side of the car. Their 4-door sisters, as specified by Ford and Chrysler, had one pair of 10 foot doors centered on each side, permitting a 20 foot opening.
As containers gradually replaced these cars for use in the auto industry, many were re-purposed for use in other industries that involve low-density commodities such as scrap paper.
Road Name History
: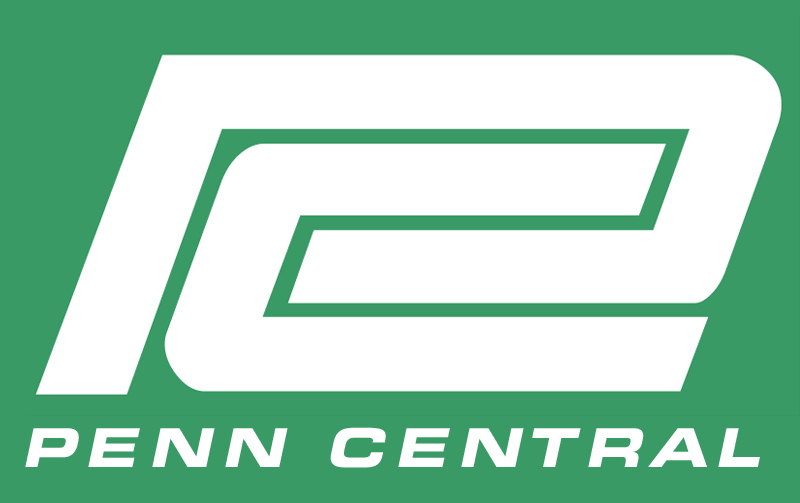 The Penn Central Transportation Company, commonly abbreviated to Penn Central, was an American Class I railroad headquartered in Philadelphia, Pennsylvania, that operated from 1968 until 1976. It was created by the 1968 merger of the Pennsylvania and New York Central railroads. The New York, New Haven & Hartford Railroad was added to the merger in 1969; by 1970, the company had filed for what was, at that time, the largest bankruptcy in U.S. history.
The Penn Central was created as a response to challenges faced by all three railroads in the late 1960s. The northeastern quarter of the United States, these railroads' service area, was the most densely populated region of the U.S. While railroads elsewhere in North America drew a high percentage of their revenues from the long-distance shipment of commodities such as coal, lumber, paper and iron ore, Northeastern railroads traditionally depended on a mix of services.
As it turned out, the merged Penn Central was little better off than its constituent roads were before. A merger implementation plan was drawn up, but not carried out. Attempts to integrate operations, personnel and equipment were not very successful, due to clashing corporate cultures, incompatible computer systems and union contracts. Track conditions deteriorated (some of these conditions were inherited from the three merged railroads) and trains had to be run at reduced speeds. This meant delayed shipments and personnel working a lot of overtime. As a result, operating costs soared. Derailments and wrecks became frequent, particularly in the midwest.
The American financial system was shocked when after only two years of operations, the Penn Central Transportation company was put into bankruptcy on June 21, 1970. It was the largest corporate bankruptcy in American history at that time. Although the Penn Central Transportation Company was put into bankruptcy, its parent Penn Central Company was able to survive.
The Penn Central continued to operate freight service under bankruptcy court protection. After private-sector reorganization efforts failed, Congress nationalized the Penn Central under the terms of the Railroad Revitalization and Regulatory Reform Act of 1976. The new law folded six northeastern railroads, the Penn Central and five smaller, failed lines, into the Consolidated Rail Corporation, commonly known as Conrail. The act took effect on April 1, 1976.
Read more on
Wikipedia
.
Brand/Importer Information
:

Con-Cor
has been in business since 1962. Many things have changed over time as originally they were a complete manufacturing operation in the USA and at one time had upwards of 45 employees. They not only designed the models,but they also built their own molds, did injection molding, painting, printing and packaging on their models.
Currently, most of their manufacturing has been moved overseas and now they import 90% of their products as totally finished goods, or in finished components. They only do some incidental manufacturing today within the USA.
Item created by:
gdm
on 2016-10-28 11:10:00. Last edited by
scottakoltz
on 2020-05-15 13:30:10
If you see errors or missing data in this entry, please feel free to
log in
and edit it. Anyone with a Gmail account can log in instantly.